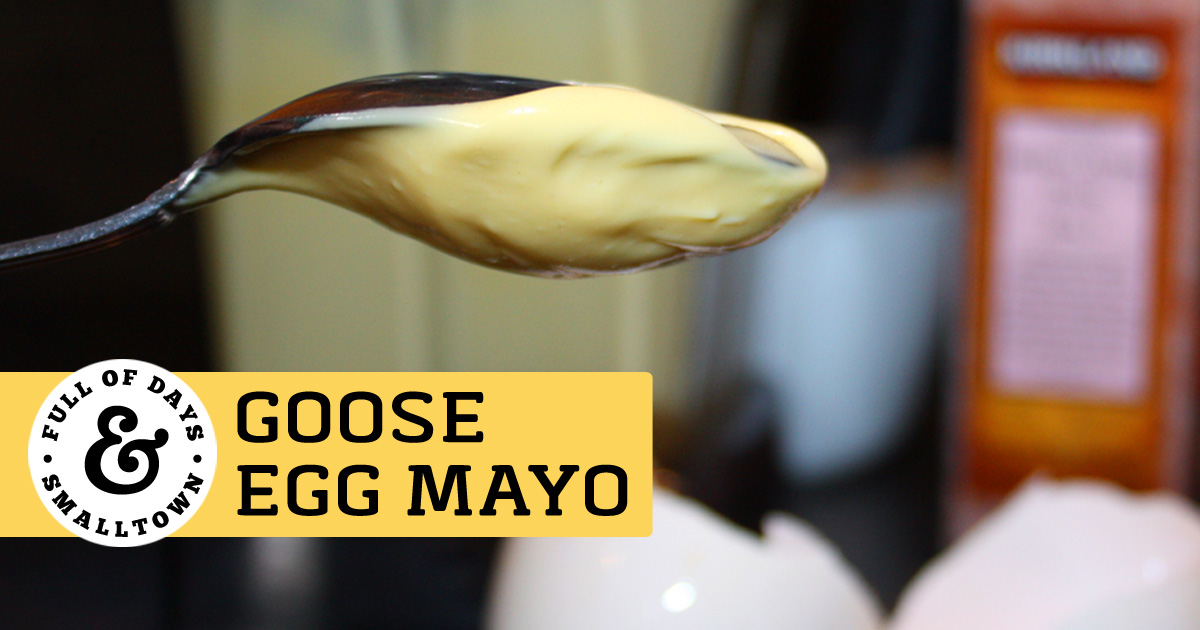 Goose Egg Mayo
I'll just say "you're welcome" now, as this is sure to become your new favorite condiment!
I've had six goose eggs sitting in the fridge for about a week. Six goose eggs I had no idea what to do with. Normally, I would have baked with them and used them up in a jiffy, but because I've been following a hormone balancing and gut healing diet, I haven't been baking. So they just sat…for a week…
I HATE seeing food go to waste, so I was determined to do something with them. That's when I remembered I needed to make more mayonnaise! We typically use chicken eggs for our mayo, but I figured goose eggs would probably get the job done.
Boy was I right! They make the richest, creamiest homemade mayo I've ever tasted! Lucky for you, I happened to have the camera near by and snapped a few photos so I could share this amazing recipe with ya'll!
Do you know one goose egg is equivalent to approximately three chicken eggs? For real! Our dearest "Crazy Chicken Lady" who provides us with our incredible eggs also has geese, and she informed me of the equivalents. So for this recipe, I only used two of the six eggs…after all, I didn't want to make a half-gallon of mayo!
Anyone have an awesome goose egg recipe?
Goose Egg Mayonnaise
Also works with duck and chicken eggs!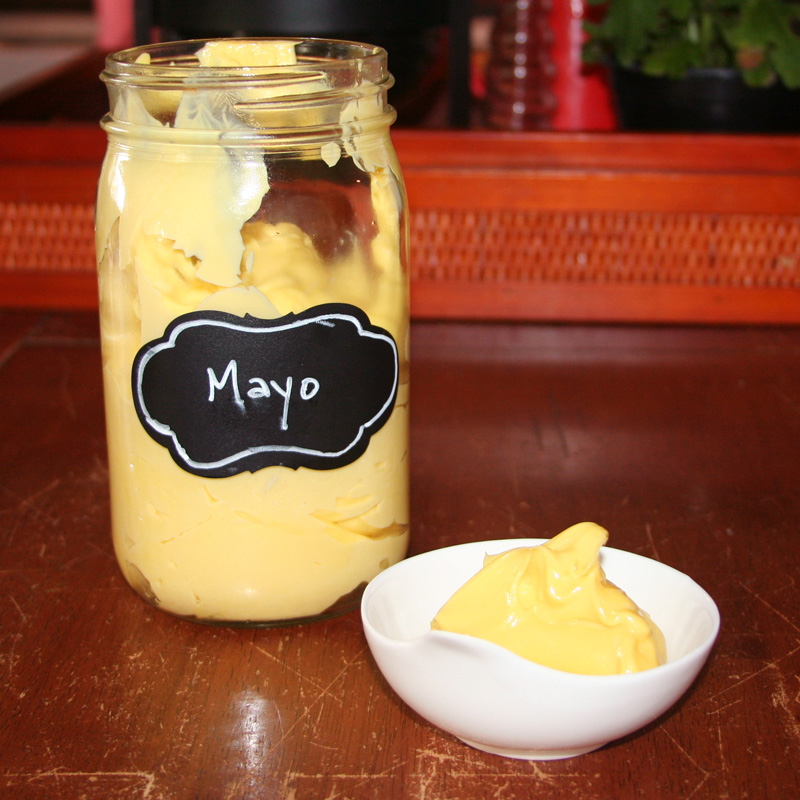 Details
Prep Time: 2 minutes
Hands On Time: 5 minutes
Total Time: Less than 10 minutes
Yield: 2 cups mayonnaise
Directions
Vitamix/Blender:
Separate egg yolk from egg white and add yolk to your blender or a wide-mouth, quart mason jar.
Add the vinegar, mustard and salt. Blend about 30 seconds until combined.
Turn the blender on to medium low and slowly start drizzling in your avocado oil. You should keep a slow, steady stream of oil going into the blender.
Once you see the oil emulsifying (turning white or light yellow), turn the speed up to medium.
If oil starts pooling on top, stop pouring the oil and turn your speed up until all excess oil has been incorporated.
Continue until all oil is incorporated and you have a nice thick mayo.
Voila! You have just made mayonnaise! That was pretty easy, right?
Immersion (stick) Blender:
Add egg yolk, vinegar, mustard and salt to a wide-mouth, quart mason jar.
Slowly add your oil on top of the other ingredients.
Put your immersion blender into the jar, all the way to the bottom and give it a few quick pulses to blend up the egg yolks.
With the immersion blender running, slowly pull the blender up to incorporate the eggs with a little bit of oil, then back down to the bottom.
Once you see the oil begin to emulsify (turn white or light yellow), you can start pulling the blender a little higher, then back down to the bottom. Then a little higher, and back to the bottom.
Continue the up and down motion until all the oil is incorporated and you have a nice, thick mayo!
* This recipe can be cut in half to make 1 cup of mayonnaise.
You Just Made Homemade Mayo, Now What?
Now you make the world's BEST chicken salad and stuff it in an avocado! Honestly, forget the tea sandwiches next time you host your girlfriends. Hop on over for this recipe and impress your guests with a delicious, filling and incredibly healthy lunch.