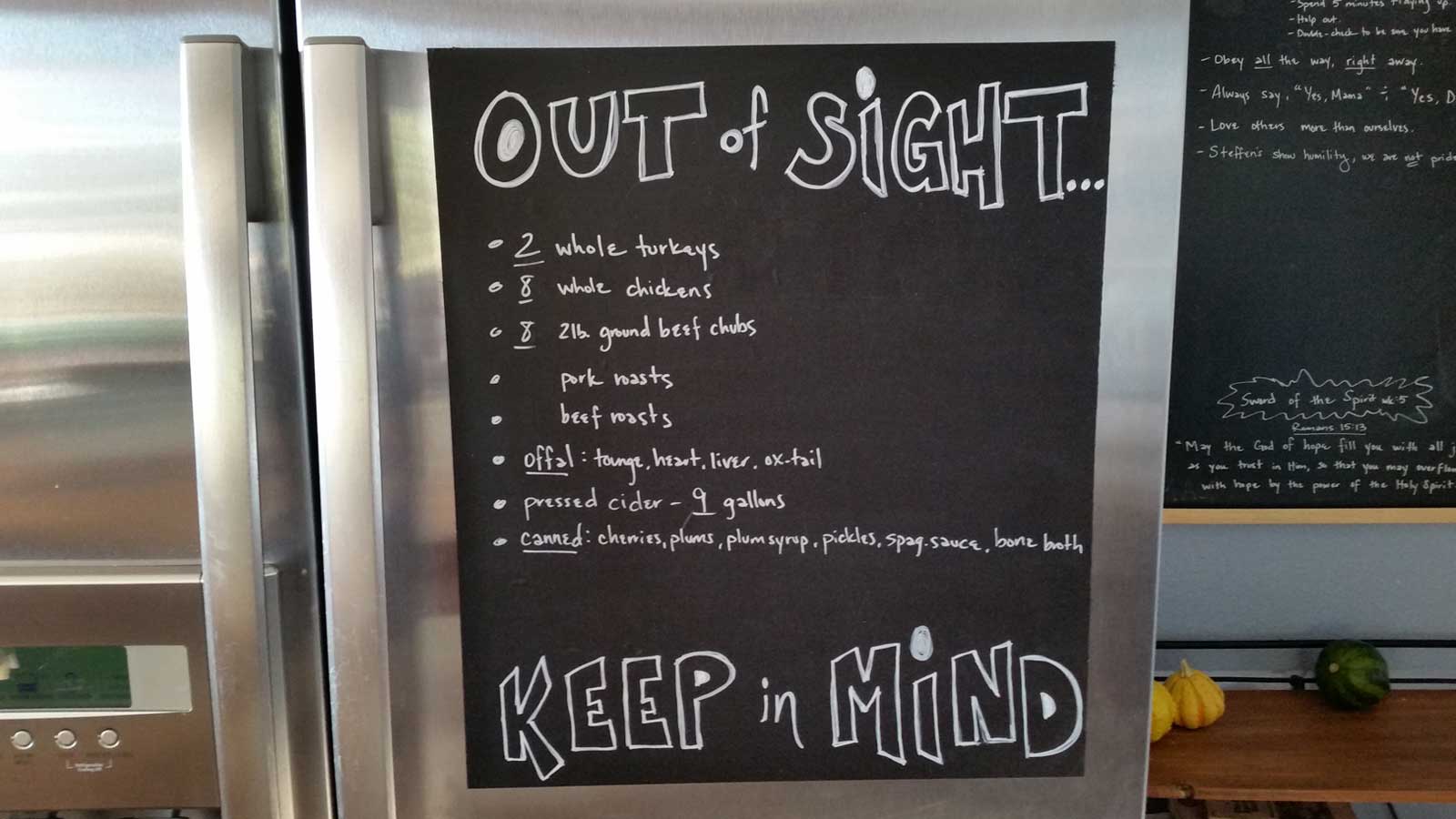 I
f you have a second refrigerator, a freezer or cold food storage in your garage or basement, you'll know what I mean when I say…I CAN NEVER REMEMBER WHAT'S IN THERE!
We have two freezers in our basement, one filled with meat (or it would be, had the hubs had better luck this past hunting season…sigh!) and one filled with frozen fruit, veggies and flours. Beyond the freezers we also have a root cellar where we store our canned goods, potatoes, onions, squash and apples. This last summer we harvested oodles of cucumbers that I turned into pickles, we canned a gazillion jars of plums and cherries, as well as made plum syrup and cherry jelly. This past fall my mom hooked us up with fresh caught tuna that she pressure canned and hand-delivered to us (such a treat!), and I've canned a few batches of spaghetti sauce and bone broth.
Having these things canned and ready to eat is one thing…but remembering they're hiding down in my basement waiting to make my life easier is another! It's as if my mind goes blank when trying to meal plan! Out of sight, out of mind! And, as simple as it is to walk down the basement stairs and open the freezer door to get an idea for meal planning…I just don't! Does anyone know why this is?
I brag about my husband often (he really is a genius!), recently he came up with the best idea for how to keep things in mind that are "out of sight". We just so happened to have a little extra chalk board paper laying around, so we slapped it on the refrigerator and made an "Out of Sight, Keep in Mind" list! This has revolutionized meal planning! I can sit at my kitchen table and make my meal plan based around the frozen meats and veggies in our basement. Then, I fill in the gaps with the necessary pantry or fresh produce items. Done and done!
If food storage in your basement or garage (or the recesses of your cupboards) has been an issue of "out of sight, out of mind" for you, then hop online and order this super inexpensive chalk board paper, some pens and you'll be on your way to keeping things out of site, yet NOT out of mind!