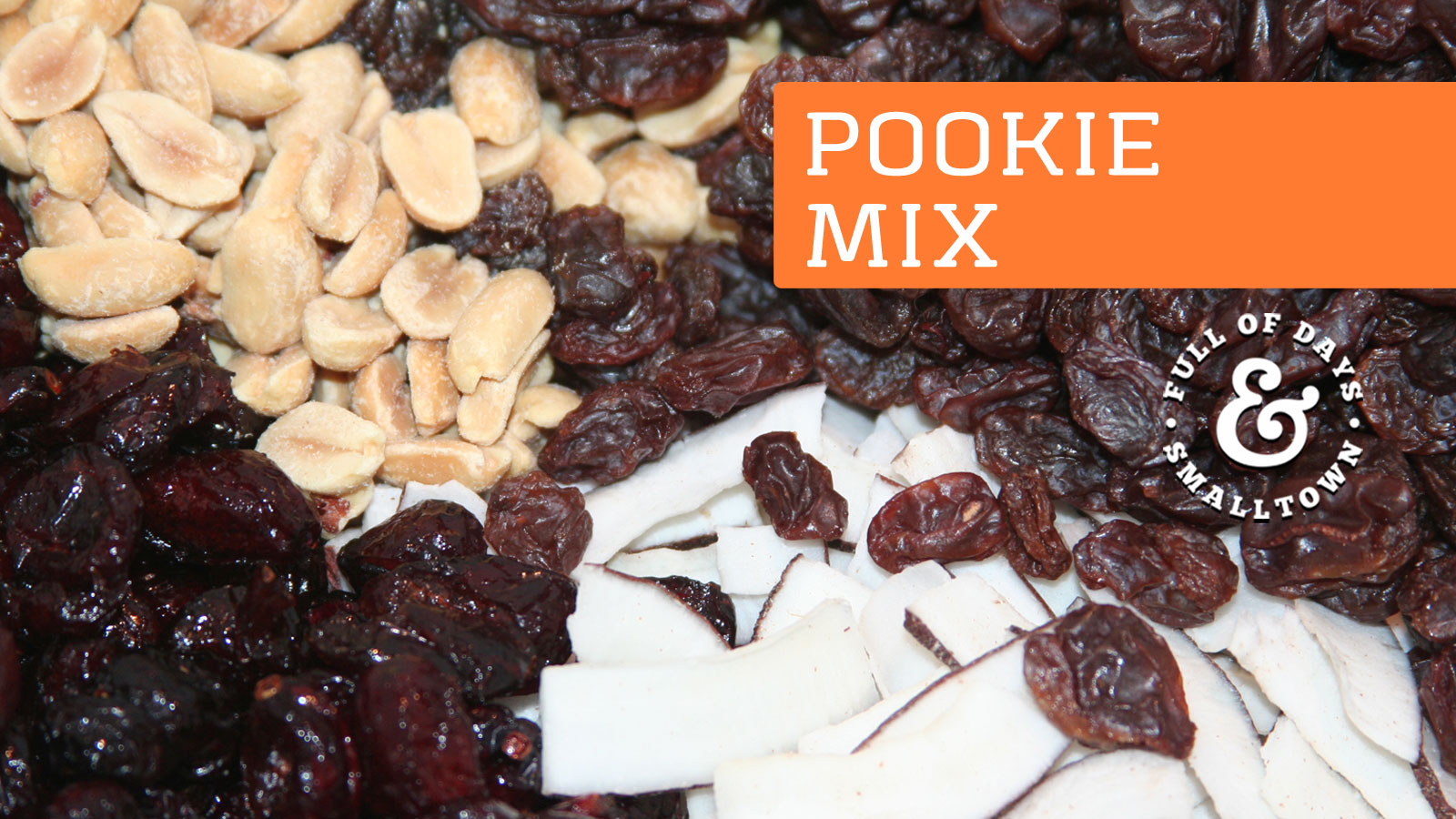 I
remember, as a kid, my family would go on a two-week summer camping trip with close family friends. Every year, Miss Kathy would whip up a huge batch of "Pookie Mix" in the largest Tupperware container known to man (turns out it was only a gallon, but as a kid it was enormous!). In this Pookie Mix was an assortment of nuts, dried fruit and the coveted M&M's. We looked forward to it all year long and always had to abide by two very important "Pookie Mix rules":
No picking allowed! You grab a handful and eat what you get. I can still remember strategically grabbing where it appeared I'd get the most M&M's.
Put the lid back on tight! Otherwise, the precious Pookie Mix was sacrificed to the squirrels.
It's now my turn to pass on this tradition to my own kids. So, whenever we head out on our camping or hiking adventures, I stock the backpack with the necessary accouterments: band-aids, whistles, bear spray…AND POOKIE MIX!
But I'm passing on the tradition with a "Nourishing Traditions" upgrade. The nuts and seeds in our Pookie Mix are first soaked and dehydrated, making them healthier and more digestible for our tummies. Nuts/seeds contain enzyme inhibitors (that help protect the nut/seed until germination and eventual growth in the wild) which can cause serious digestive upset if consumed in excess. By soaking in salt water, enzymes are activated within the nut that de-activate the enzyme inhibitors. It's as though we're tricking the nuts into thinking they're germinating and they give up all their nutrition to grow into a tree. But instead of sprouting into a tree, we dry them in a warm oven or dehydrator until crispy. Believe it or not, crispy nuts/seeds taste so much better than raw nuts/seeds!
To this day, no one remembers how we got the name "Pookie Mix". Adopt the name or come up with a fun name of your own! Choose your family's favorite nuts and seeds, add in some dried fruit and a handful of something extra yummy. We like these chocolate rainbow candies for the kids, yogurt covered raisins for dad and chocolate covered espresso beans for mom (oh my!).
Gather your ingredients and let each family member mix up their own special batch. The variations are endless!
Ingredients
2 cups raw almonds
2 cups raw peanuts
2 cups "raw" cashews
2 cups raw sunflower seeds
3 cups coconut smiles
2 cups dried cranberries
2 cups raisins
2 cups chocolate chips

Add-In options:
Macadamia Nuts
Pumpkin seeds
Banana chips
Dried Mango
Yogurt covered raisins
Pretzels
To Make: It's important to start with raw nuts and seeds. Nuts/seeds that aren't labeled "raw" have been processed with heat and all beneficial enzymes have been destroyed. With the exception of cashews, be sure all your nuts/seeds are truly raw (for cashews, "raw" simply means not roasted). To save time, we recommend soaking/dehydrating a large batch and storing them in the freezer, using as needed for this and other recipes. Alternatively, you could purchase already sprouted nuts and seeds to save this step.
Step 1: Soak and dehydrate 8 cups nuts and seeds of choice. You can follow the above recipe or pick your favorites. The soaking process is the same for all nuts and seeds with the exception of cashews (see "to soak").
To soak: In a large 2 gallon pot, dissolve 4 Tbs. salt into 1 gallon warm water. Add nuts and seeds to bowl (except cashews, if using). Cover and soak at room temperature for 7 hours (or overnight). In a separate bowl, dissolve 1 Tbs salt into 4 cups warm water and add 2 cups cashews. Cover and soak 4-6 hours only (because cashews aren't truly "raw" and have already been heat processed before we get them, they can become slimy and develop an off flavor if allowed to soak too long). 
To dehydrate: Drain nuts/seeds and pat dry with paper towels. Arrange them onto a sheet pan in a single layer. Dehydrate at no more than 150℉ for 12-24 hours, turning occasionally, until completely dry and crispy. Alternatively, if using a dehydrator, arrange nuts and seeds on trays lined with non-stick dehydrator sheets, and dehydrate at 150℉ for 12-24 hours until completely dry and crispy. If you desire to maintain the truly raw state of your nuts/seeds and benefit from the most nutrients available, then keep your dehydrator at no more than 125℉. Because the air in the dehydrator is usually about ten degrees hotter than the actual food itself, this will keep your nuts/seeds at the correct temperature of 115℉.
Step 2: Mix all ingredients into a larger-than-life Tupperware bowl, or this 2 gallon tub with Gamma Seal lid (or pay half the price for the same bucket and lid through Azure). Or, store ingredients separately and allow each family member to mix up their own special blend in a zip-top bag.
Do keep in mind if hiking or camping in warm weather that chocolate will melt…but who doesn't like melted chocolate all over their Pookie Mix?