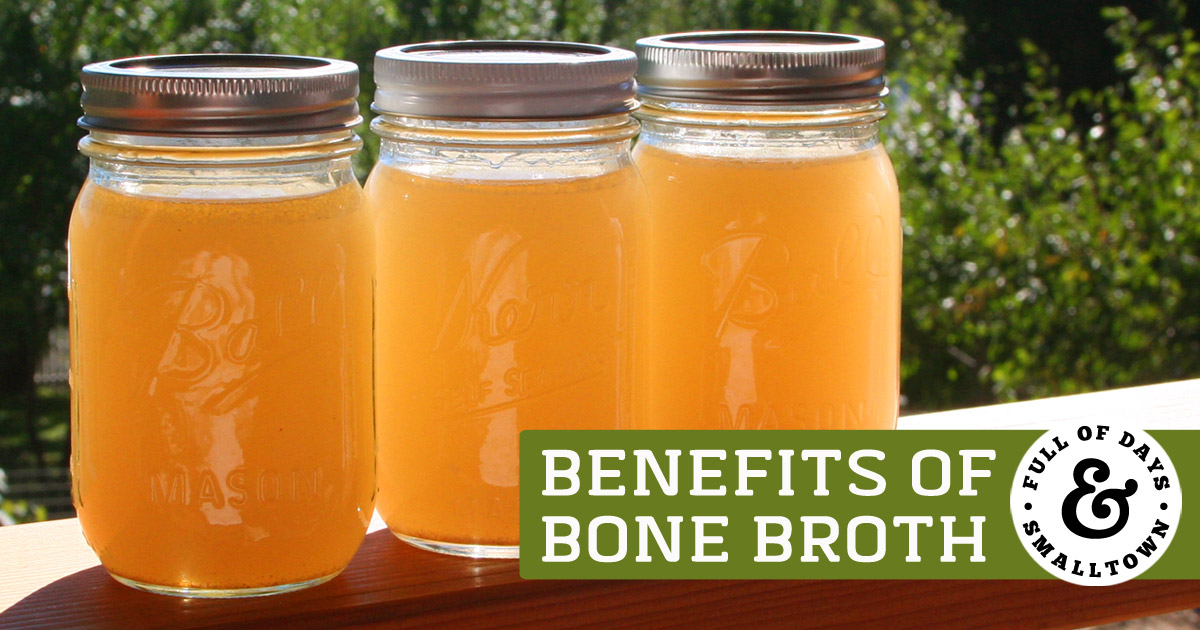 10 Amazing Health Benefits of Bone Broth
The health benefits of bone broth are many. There's no time like the present to add this healthy practice into your weekly (better yet, daily) routine!
Incorporating bone broth at least once a week into your diet is a healthy step for anyone. Soup is a perfect way to do this (and quite frugal too!). If you missed our post on how to make bone broth, go check it out! You'll be glad you did. But here are ten amazing health benefits of bone broth that will make you want to get more of this miracle tonic in your diet.
And before we go on, let me just say, typical store bought broth or stock (aka: chicken flavored water) doesn't hold a candle to nutrient dense, traditionally prepared, flavor-packed bone broth.
So what is it about traditionally prepared bone broth that makes it so darn healthy? Well…the bones of course! But that's not all, the cartilage, marrow and vegetables all play their part too. All these treasures we "Westerners" are conditioned to dump in the trash! With the right method (and adequate time) loads of vitamins, minerals and electrolytes are drawn out of these treasures, making a tasty, nourishing broth.
The best news? If you're just too dang busy to make your own broth, you can get quality chicken or beef broth, made just like grandma used to, delivered right to your door! Sound too good to be true? It's not! Check out Kettle & Fire and prepare to be amazed! We've had both their chicken and beef flavors and love them both, and we keep a few spare containers in our pantry for those times when life happens and doesn't allow for slow-cooked bone broth.
Kettle and Fire isn't like grocery store broth or stock. It's made using the old fashioned, slow-cooked method and made from organic/free-range chicken or beef bones. Although we believe homemade bone broth is best, when time and life don't allow for the best, it's always good to know where we can find the second best!
So what are the benefits of bone broth? Let's find out!
10 Reasons We Should All Be Consuming Bone Broth
1. "Healing and Sealing" a Leaky Gut: A phrase coined by Dr. Natasha Campbell-McBride, author of the GAPS diet (Gut and Psychology Syndrome), popular for healing gut health through proper diet and nutrition. Bone broth plays a role because gelatin in a hydrophilic colloid, meaning it attracts digestive juices for rapid and effective digestion.
2. Reduced Joint Pain: Bone broth contains naturally occurring glucosamine (a supplement prescribed by doctors for aching joints) as well as chondroitin sulphates and other compounds extracted from the boiled down cartilage.
3. Fight Inflammation: Glycine, proline and arginine are all amino acids with anti-inflammatory effects. Those with whole-body inflammation, known as sepsis, have found arginine to be beneficial in reducing this inflammation. (Added bonus – Glycine may help you sleep better due to its calming effects!)
4. Promote Strong Bones: Calcium and magnesium are the hero's for bone health, and (if you have added an acidic medium like apple cider vinegar) bone broth will have these in spades!
5. Increased Mineral Absorption: Again, #gelatin! Because it's a hydrophilic colloid, it quickly absorbs digestive fluids allowing for proper mineral absorption.
6. Inhibits Infection: "Chicken soup has a natural ingredient which feeds, repairs and calms the mucous lining in the small intestine. This inner lining is the beginning or ending of the nervous system. It is easily pulled away from the intestine through too many laxatives, too many food additives…and parasites. Chicken soup…heals the nerves, improves digestion, reduces allergies, relaxes and gives strength." Hanna Kroeger Ageless Remedies from Mother's Kitchen.
7. Reducing Allergies and Food Intolerances: Because bone broth helps boost the immune system while healing and sealing a leaky gut, this also allows for healing from allergies or food intolerance. It's possible that "food allergy" that popped up recently is actually caused by a leaky gut and a compromised immune system, rather than an actual allergy. (I am not a doctor, so be sure to do your own research and work with a natural health practitioner before re-introducing foods that have previously caused reactions.)
8. Fights Colds and Flu: Cystein, another amino acid found in chicken, can thin the mucus in your lungs, making it less sticky and easier to expel (buh-bye Mucinex!).
9. Improves Skin, Hair and Nails: Gelatin to the rescue, yet again! (Are you seeing a theme here?) If you suffer from brittle nails, skin ailments (such as eczema) and brittle hair, try upping your intake of bone broth. You may also consider adding collagen peptides or powdered gelatin daily for similar benefits.
10. Reduce Cellulite: That's right! I said it! Cellulite forms due to a lack of connective tissue, which allows skin to lose it's tone and firmness. Because collagen is needed to form elastin (which is responsible for maintaining skin's "youthful" appearance), and bone broth has collagen in spades, it's also credited for helping reduce the visible signs of wrinkles and puffiness.
Sources: Sally Fallon and Mary G. Enig, Ph.D., Nourishing Traditions; Dr. Joseph Mercola; Hanna Kroeger, Ageless Remedies from Mother's Kitchen (as quoted in Nourishing Traditions)