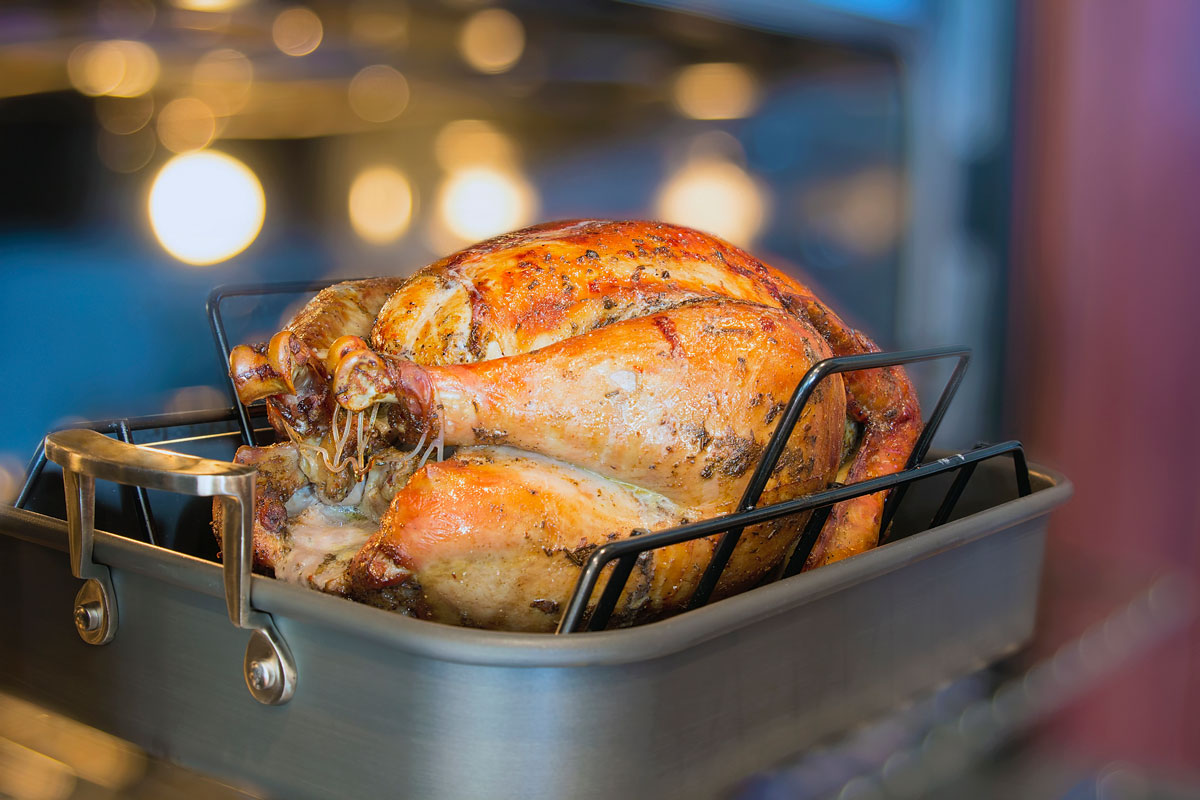 Why I Love This Recipe
You can thank me now, or thank me later. Just don't make me say I told you so! Next time you're cooking up a bird, create the most delicious crispy skin and perfectly moist and tender meat by brining. 
Who else thinks turkey takes a back-seat on Thanksgiving? The Hubs and I agree (or at least we used to) because it's always so dry and lifeless (unless slathered in gravy, which is never a bad thing!). Then, a few years back, a friend recommended we brine our turkey…and we've never looked back!
Do you brine your poultry (or pork)? If not, you should. I promise you'll do a happy dance as you taste that first bite. No joke, we call our turkey skin "turkey candy", it's that good!
No one likes dry meat!
Put simply, brining poultry (or pork!) helps retain the juiciness in otherwise dry cuts of meat. This brine recipe imparts such great flavors, especially to the skin, and even helps keep those leftovers from turning dry and leathery.
Brining turkey is simple, but here are a few helpful tips…
First, choose the right brining vessel. This is determined by the size of your bird. A smaller bird can fit into a large, 3-gallon stock pot (I've fit a 13 lb. turkey in mine). However, a larger bird may need something like a cooler. 

Use plastic garbage bags to hold your brine and bird before placing inside the cooler (no one likes raw poultry juices inside their cooler, they just don't).
Although I'm not thrilled with the idea of plastic touching my food, we're just rolling with it for this recipe. The ease of cleanup overrules my hiccups about plastic here. Also, be sure your garbage bags aren't scented, it may impart unwanted flavor to your bird!
Be sure to keep your bird cold while it brines. No one likes getting sick on Thanksgiving…so be sure to have adequate space in your refrigerator or plenty of ice.
Or stick it in the snow!
We're fortunate to live in the far north of the Idaho Panhandle where our patio doubles as a refrigerator half the year (the picture above is our bird on the back deck, but we've been known to stick it in the snow!). Super handy when fridge real-estate is at an all-time low during the holidays. Just be sure your meat stays nice and chilled.
Pass on the tradition…
Our brining recipe has been passed down from friend to friend and is simple, yet delicious (many thanks to our dear friends who introduced us to brining, our lives are forever changed for the better!). And now that you're thoroughly versed in all things brining, head on over to our Thanksgiving Preparation Countdown to make sure you're ready for the big day, then come back here the day before and brine that bird!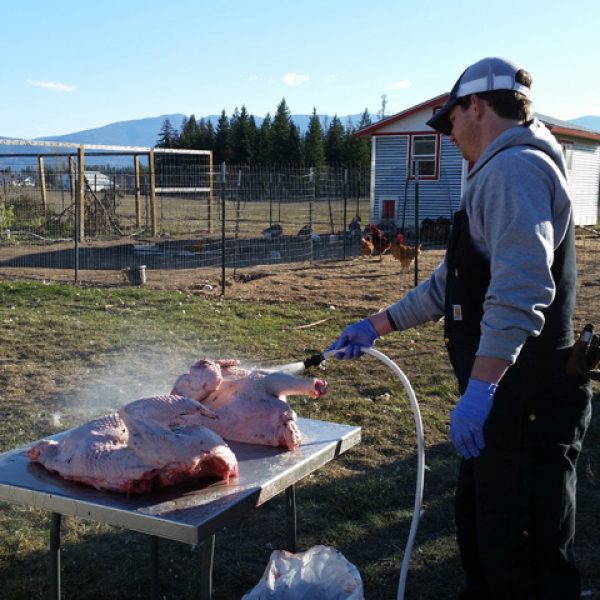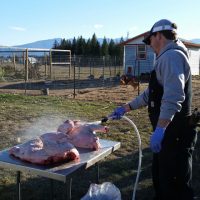 Turkey Brine Recipe
Brining your meat before cooking imparts flavor, helps meat retain its juices and creates the most flavorful, crispy "skin candy" known to man. Brine your bird once and you'll brine forever!
Print
Pin
Comment
Instructions
Boil a gallon of water in a 

large stock pot

. Meanwhile, rinse your turkey and remove the neck and gizzards and set aside 

(it's embarrassing when these get cooked in the bird...I'm not proud.)

.

Add salt and sugar to boiling water, stir to dissolve.

Remove pot from heat and add garlic, worcestershire and hot sauce.

Allow the brine to cool to room temperature, then add the turkey.

Brine for 12-24 hours.

After meat has brined, remove it from brining liquid and rinse well. Discard brine.

Pat meat dry and rub generously with butter (lots of 

butter

). Season with pepper (you won't need additional salt, the brine did the salting for you) and your bird is now ready to cook!

Arrange oven rack to lowest position and preheat oven to 325℉ (use convection if you have it). We roast our turkey breast side down. Why? Because we did on accident once and we had the juiciest, most moist meat we've ever had from a turkey, so we don't question a good thing and keep on roasting "upside-down".

The rule of thumb is to roast your turkey for 15 minutes per pound. So a 15 pound bird needs to be roasted approximately 3 hours and 45 minutes. However, because we use our convection setting, our bird ALWAYS cooks much faster than this. In fact, depending on the size, our turkey has been cooked to temp in just over two hours. Therefore, my recommendation is to use a thermometer that is oven safe, and go with the internal temp of 155-160℉.

Remove the turkey and allow it to rest until the internal temp reaches 165℉. Carve and serve (and be sure to sneak a few pieces of "turkey candy" before it's all gone!)
Notes
Sub brown sugar If you don't have coconut sugar on hand, or you can make homemade brown sugar by following this brown sugar recipe.
We recommend a full 24 hour brine, the longer you brine, the more flavor you'll impart.
Choose the right brining vessel. This will be determined by the size of your bird. A smaller bird may fit into a large, 3-gallon stock pot (I've fit a 13 lb. turkey in mine). But a larger bird may require something bigger, such as a cooler and some kitchen trash bags (it goes without saying, but make sure your vessel is clean!).
Be sure to keep your bird cold while it brines.
If using garbage bags to brine your bird in a cooler, be sure to use the unscented variety! 😉