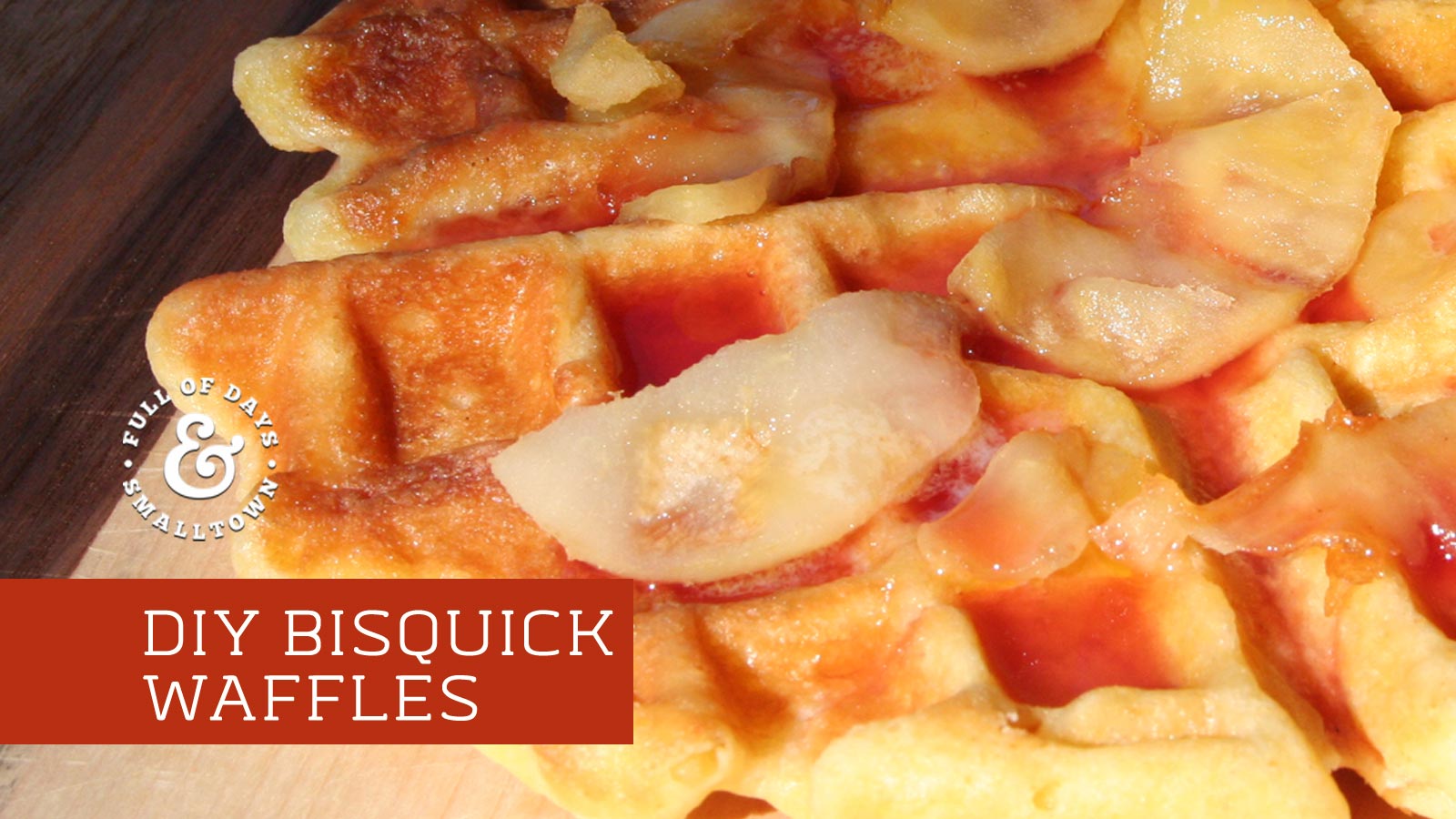 T
he kiddos surprised me this Mother's Day (after graciously allowing me to sleep in an extra hour and a half…HEAVEN!) with the most delicious apple waffles made from "scratch". They were scrumptious served up with melty butter, plum syrup and bacon on the side (with only minimal help from daddy who sliced the apples and cooked the bacon)… oh how I love being a mom!
Having this healthy homemade bisquick mix ready to go is a must! It's part of my "emergency preparedness" kit to have plenty of meals on hand if I ever get sick. With a few added ingredients, this mix can be transformed into a spectacular breakfast! Kudos to the Hubs who thought to slice the apples and lay them in the waffle iron with the batter! Oh YUM!
For all my Gluten Free and Dairy Free friends…don't click away, we have you covered as well! Head on over to this gluten free bisquick mix with a quick and easy pancake recipe.
To make: Be sure to double, triple or quadruple this recipe, toss the extra waffles in a freezer bag and they'll be perfect for those busy mornings there's no time to cook. Pop them in the toaster straight from the freezer and you'll have breakfast ready in minutes! 
Step 1: Heat waffle iron, melt butter in a sauce pan on the stove and peel, core and cut your apple into very thin slices.
Step 2: Add all ingredients (except apples) into the bowl of a stand mixer. Mix with the paddle attachment until ingredients are just mixed through, don't over mix. Add extra milk to reach desired consistency, if needed.
Step 3: Pour batter onto center of hot waffle iron and cook about 30 seconds to a minute, lift lid and lay sliced apples to cover waffle, close lid and continue cooking until steaming stops and waffle is cooked through (about 3-4 more minutes).
Serve up with plenty of healthy butter and a dash of syrup. We made plum syrup last summer with the bounty from our plentiful plum trees, but we found the waffles don't need much! The apples add the perfect sweetness that just a little syrup goes a long way! Cook up some bacon (nitrate/nitrite free when possible), add a few berries on the side and chow down!
Dairy free option: Sub club soda for the milk and coconut oil for the butter. Your waffles will come out light and crispy, a perfect option for those avoiding dairy!