I
've mentioned before that our home was a serious Fixer Upper. We had been lifelong renters when we discovered we could buy a junker, spruce it up ourselves, and pay less per month for our mortgage than we were paying in rent! SCORE! Our remodel was, hands down, the hardest time in our marriage. We can now, after ten years of marriage, work together like pros…we dub the remodel our "training grounds". Bless every frustrating minute of it!
Before becoming a homeowner, I always knew I wanted dark wood floors. I just knew it. It was as though dark flooring was innate, always a part of me, I had to have them. Didn't necessarily care if it was real or laminate, just wanted that dark walnut color.
You'll never get them clean" they said. "You'll regret getting such dark flooring" they warned.
Away with you naysayers, I WANT MY DARK FLOORS! And dark floors I got!
Ugh, I hate admitting that the naysayers knew what they were talking about! I can never get them clean and I regret getting them! Don't get me wrong, they're gorgeous, but they need cleaning ALL.THE.TIME!
Then, about the time I discovered essential oils, I concocted this magical potion that actually cleans and neither streaks, nor adds toxins to my home! Hip-hip-hooray!
Be gone you naysayers! I'm fighting back with my super-awesome, super affordable, anti-bacterial, anti-microbial cleaner! Are you ready for it?
1/2 cup filtered water
1/2 cup white vinegar (you can go non-GMO here, but you're not eating it, so I keep with the cheap stuff!)
1/2 cup rubbing alcohol*
3 drops Liquid Castile Soap
5 drops lavender essential oil (anti-microbial)
5 drops lemon essential oil (disinfectant)
3 drops peppermint essential oil** (anti-bacterial)
Mix all ingredients together in a 16oz. glass spray bottle and reap the benefits of a streak free, shiny and happy floor!
Caution: You can sub peroxide for the vinegar and alcohol, but don't substitute peroxide for the alcohol only. The combination of peroxide and vinegar creates peracetic acid which is very corrosive and can burn the eyes/skin and, if inhaled, can burn the throat and lungs.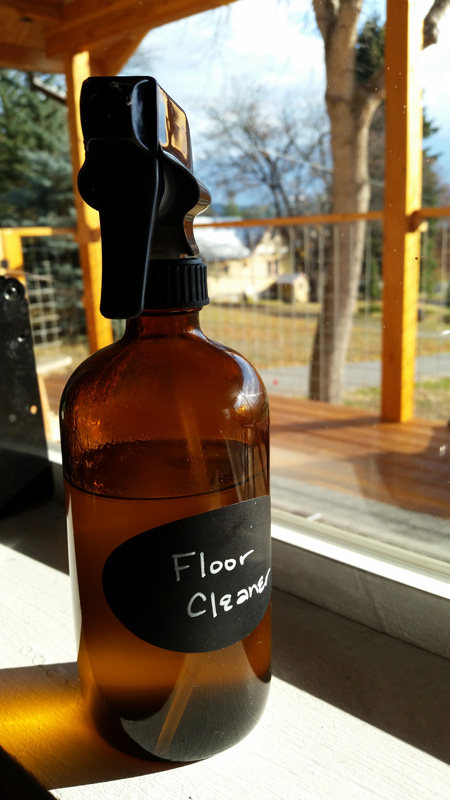 * There is some debate whether rubbing alcohol is considered "safe" as it can cause skin/eye irritation with prolonged or repeated contact and it can seep through your pores, affecting the liver and kidneys. Taking this into consideration, I still choose to use it as I am not exposing my skin to the cleaner, and I only let my kiddos walk (or crawl) on the floor once they are completely dry. Keep in mind, if you substitute peroxide, this solution won't be "streak free". The alcohol speeds up the drying time, therefore no streaking. (Source)
** Get creative with your essential oil add-ins. If you don't care for the scent of peppermint, these other oils have tested just as resistant to bacteria: Lemongrass, eucalyptus and orange.
Our family chooses to use Plant Therapy for their high quality, pure, therapeutic grade essential oils, offered at affordable prices. For $10 off your first order (first time customers only), click through our Plant Therapy link in the sidebar and use promo code: signup10.