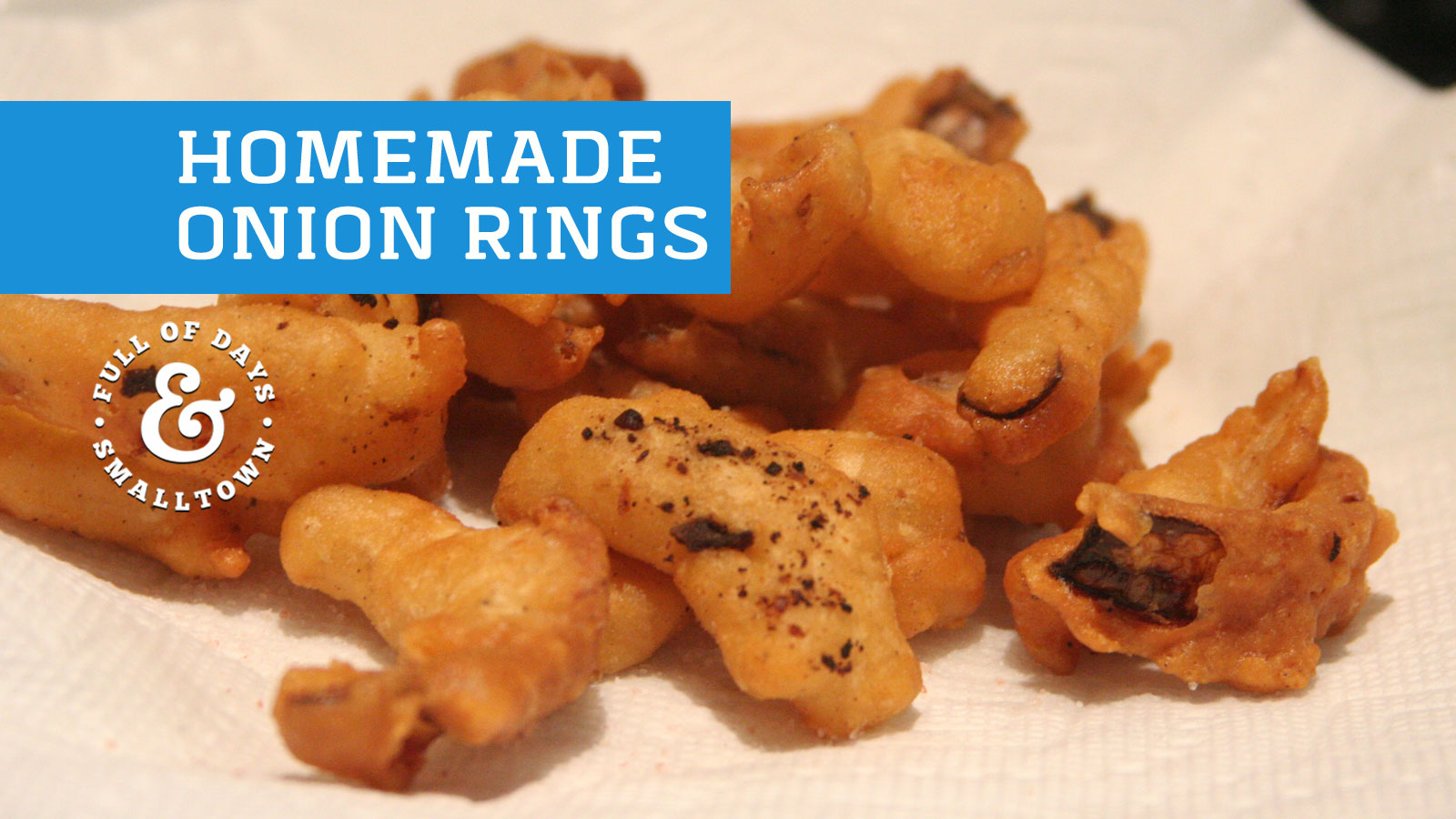 B
lustery" is such a Winnie the Pooh word! So much so that on this particular blustery day we sang "Return to Pooh Corner" all the way home. Once home, with rain and wind making outdoor play so not appealing what is a family of six to do? Duh! Make homemade onion rings and have a family dance party of course!
We should have tried this years ago…it is a really simple recipe.
P.S. Need a soundtrack for your dance party? Mat Kearney works for us.
It's hard to explain how a few precious things
Seem to follow throughout all our lives." – Kenny Loggins
Make today precious…
(Dads…Dancing NOT optional!)
Seasoned Flour Ingredients
2 cups flour
2 teaspoons garlic granules
1/2 teaspoon pepper
1/4 teaspoon cayenne pepper
Batter Ingredients
1⁄3 cup cornstarch
1 1⁄4 cups flour
2 teaspoons garlic granules
1 teaspoons paprika
1 teaspoon salt
1 teaspoon pepper
24 ounces beer (We recommend Fishtail Organic Amber Ale – makes batter light and fluffy!)
4 Vidalia onions (or whatever onions you have!)

Coconut oil for frying*
*Remember refined coconut oil is safe up to 400℉, while unrefined is only safe up to 350℉. If using unrefined coconut oil, please keep a close eye on your temperature to avoid damaging the oil (no one likes free-radicals!).
To Make: This recipe is adapted from Food.com and makes two meals worth for our family of 6.
Step 1: In a heavy bottomed pot, heat coconut oil to 375℉ on the stove over medium high heat (use a thermometer to be sure your oil doesn't overheat).
Step 2: While oil is heating mix together the seasoned flour in a large bowl.
Step 3: In a separate bowl, mix together the flour, cornstarch, garlic, paprika, salt and pepper. Slowly add the beer and mix until combined and no lumps remain.
Step 4: Slice the top and bottom off onion, then slice into long sections and separate each piece.
Step 5: Dust onions with seasoned flour and shake off excess.
Step 6: Dip each flour covered onion into the batter, gently place onions into hot oil and fry about 2 minutes, stirring occasionally.
Step 7: Remove onions with slotted spoon and place on a paper towel lined plate. Season with salt immediately.
These come out light and crispy and hot! Beware, they disappear fast!