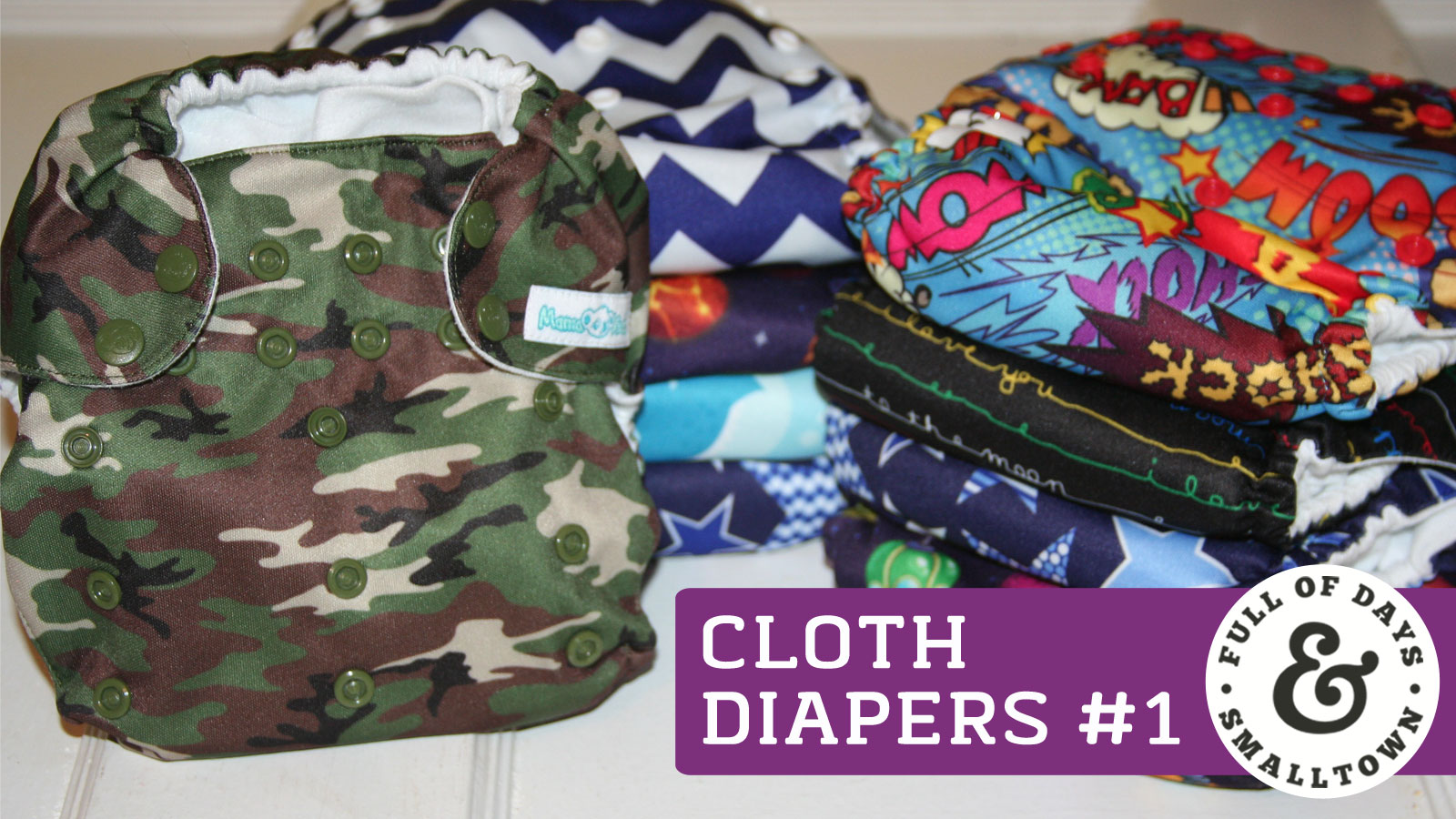 A
bit of a departure from our normal musings, but still very much part of our days 'round here. Cloth diapers have been a mainstay since our surprise baby #4 blessed our family two years ago.
I'd wanted to use cloth diapers with baby #3 (still too disgusted by the idea for babies #1 and #2), but at the time, 7 years ago, the initial investment was too steep. I wish I knew then what I know now!
Although the financial savings is nice (and was the driving force in deciding to take the plunge with cloth diapers) there are other factors that play a huge part. Factors such as environmental burden and chemical exposure are serious concerns when thinking about cloth vs. disposable diapers. Keep reading to find out why we chose to go this route, and why we're so happy we did!
Environmental Burden
Before the 1960's, every little tyke wore cloth diapers, it was the only option! But this changed when Proctor & Gamble introduced Pampers: a one-time use, throw-away diaper. At the time, disposable diapers were a luxury many couldn't afford, and were usually only used while "out and about" for convenience sake. Over the years, disposables became more affordable, and made the slow transition of becoming the "norm" in households across the globe.
I'm not sure anyone saw the outcome of approximately 27.4 billion disposable diapers being tossed into landfills each year, and that's just in the U.S.! Not to mention the potential for viruses and other contaminants from the contents of these diapers finding their way into our soils and water supplies. Did ya'll know it's recommended to rinse and dispose of all fecal matter into the toilet before tossing a disposable diaper into the trash? Who does that? This information is supposed to be printed clearly on each bag/box of diapers, however I only found it on two out of four brands, and it wasn't always easy to see. When skipping this important step, disposable diapers are certainly much easier than cloth, but knowing some basic "landfill rules" will tell you disposing of filled/soiled diapers in the trash is a no-no.  (Source)
Chemical Exposure
Disposable diapers contain numerous chemicals that are emitted and/or absorbed by our babies through the diaper lining, backing and filling. These chemicals, when inhaled, can be toxic to the respiratory system and may cause, or worsen asthmatic conditions. Newer companies such as Honest Co. and Seventh Generation are making "better" alternatives, but these come at a heftier fee. Bottom line is, chemicals such as polypropylene, sodium polyacrylate and bleach have no business being in constant contact with our babies delicate skin for the first 2-4 years of life. (Source)
Disposable Diapers
Let's do some quick math. On average, babies and toddlers use 7 diapers per day for approximately 3 years. That equates to 7,665 diapers for one child. Now, multiply that number by how many children you have and you can see how we end up with 27.4 billion diapers in landfills. But what does this look like financially? There are gobs of diaper brands varying in price, so for an accurate comparison, I'll break down three brands with their varying prices:
Note: For this comparison we'll be assuming babies spend the first month of their life in newborn diapers, the second and third months in size 1, the fourth-sixth months in size 2, the seventh-twelfth months in 3's, their second year in 4's and their third year in 5's. (Prices will vary based on your location. Honest Co. pricing taken from their website.)
Up&Up (Target Brand): $1280.59 for 3 years
Pampers: $2458.45 for 3 years
Honest Company: $3502.20 for 3 years
Cloth Diapers
Now let's compare that with the cost of cloth diapers. We've tried (and loved) many brands, but as with disposable diapers, quality and price differ greatly. A good stock of cloth diapers is necessary, so as to never run out of clean diapers while soiled diapers are washing. For this comparison, we'll base our numbers on 24 cloth diapers at a time. Here is the cost breakdown of three different popular brands, all of which we have used.
Note: Both the pocket and all-in-one diapers are one-size, meaning they adjust to fit your baby from birth to potty-trained by using a series of snaps to adjust the diaper size. Gdiapers (that have an outer cover, and inner shell and an absorbable liner) come in various sizes and you'll need to buy new diapers as your baby grows (sizes are based on weight). 
Financial Savings
As you can see, the savings with cloth diapering is huge no matter which way you slice it. Depending on which cloth diapers suit your needs you could save as much as $3342.24. And this isn't factoring in the savings if you choose to make your own re-usable wipes as well! (But that's another post for another day.)
In Conclusion
Reducing waste going into landfills is always good, especially when it lowers the risk for possible contamination of our soil and water supply. The fact that the majority of disposable diapers contain harmful chemicals which potentially lead to respiratory issues and the fact that, in the long run, they're much less affordable than we think, are all causes to reconsider our choices.
I'm not hoping to change your mind about using disposables (well, maybe I am), but I'm certainly not blaming, condemning or wanting to make you feel bad about your disposable diaper choices. My hope is that you'll step back to consider the convenience of disposable diapers as a whole. Are they really that much more convenient? If we're properly using and discarding disposable diapers the way they're intended (and recommended), they're not much easier than cloth diapers. Just think of the possibilities with all that saved cash. When baby #4 surprised us, we needed to buy a new car because we didn't fit in our old one…the cost savings from using cloth for the past two years has more than paid for the used car we bought! #winning
Cloth Diapers – Part Two
If you're expecting a baby or have little ones in diapers, keep reading in our series at "Cloth Diapers – Part 2" where I compare the different types of cloth diapers (pocket, all-in-one and more) including the pro's and con's of each type, and how to choose which style is right for you. In the third installment, "Cloth Diapers – Part 3", I'll discuss cloth diaper care (pre-washing, laundering, stripping, detergents and products to make cloth diapering easier).
I promise, it's not as intimidating as it seems!