Today's post comes from Mia, my long-time, childhood friend of almost 30 years! Mia started blogging over at Unto Adoption back in 2012 where she and her husband cataloged their family's adoption adventure. Their "Gotcha Day" (where "Little Man" officially became part of their family) was over two years ago and now Mia continues to blog about motherhood, home-school and daily life on their little slice of heaven in Montana. I aspire to write with her wit and creativity and we're ever so lucky to have coerced her into guest blogging for us here at Full of Days – Welcome Mia! – Kelsey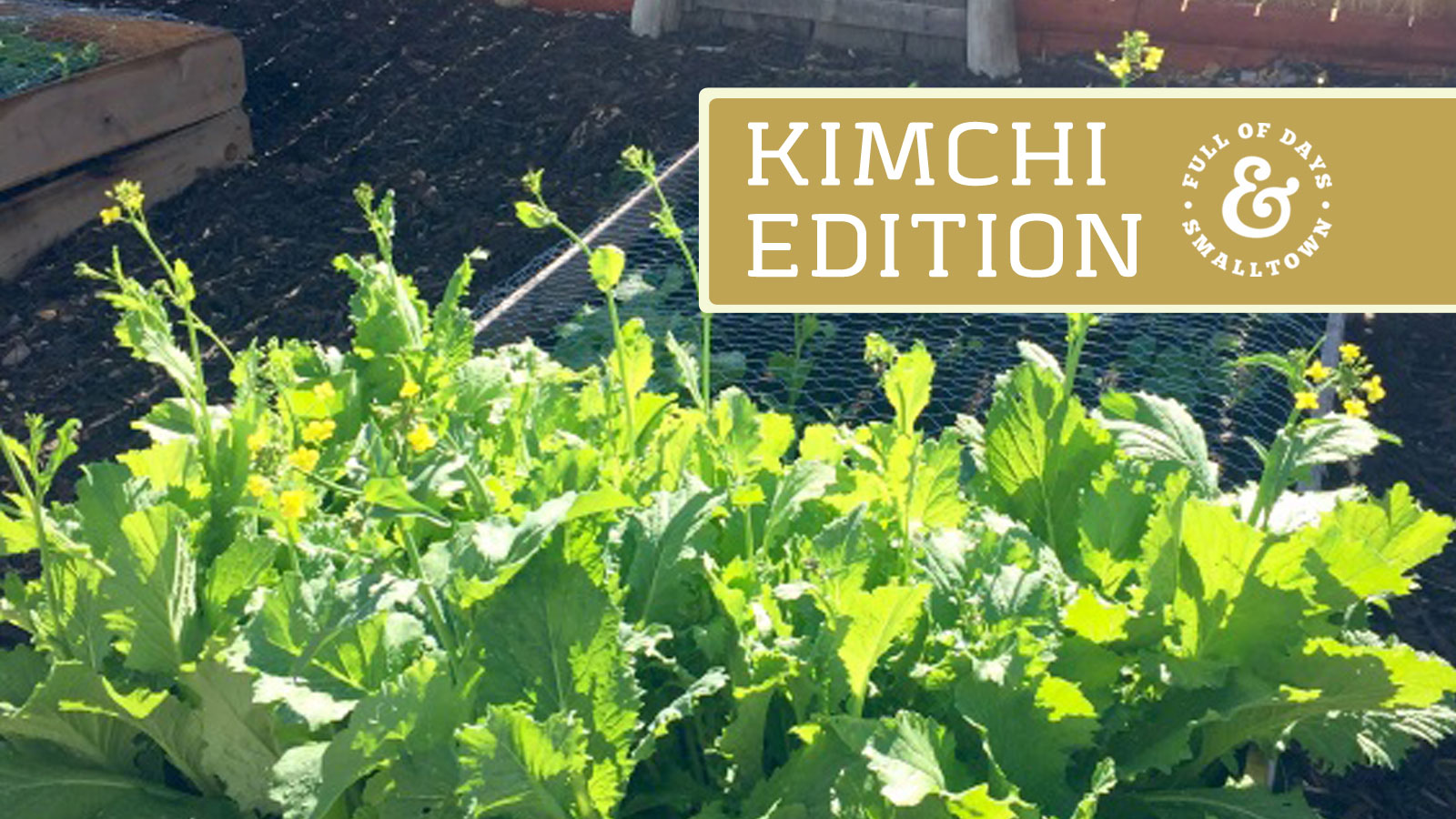 A
ttention all gardeners: Drop the hand trowel and get your gloved fingers on some daikon radish and nappa cabbage seeds—stat! Carrots are already underway in the terra firma, yes? Cabbage and radish are both quick-growing crops with time yet remaining in even the ficklest of climates (ahem, Montana, ahem) to produce a bounty.
Why, pray tell? Well perhaps, like my Handsome Hubby, no matter how hard you try to keep an open mind, no matter how you remind yourself that the probiotics are worth it, maybe you JUST DON'T LIKE KOMBUCHA. Or kefir. Nor sauerkraut, coincidentally. However perhaps you DO enjoy spicy ethnic food? Imagine my delight upon learning that fermented kimchi boasts similar gut-befriending bacteria as each of the former!
My better-half has long enjoyed kimchi, even back when we were still befuddled as to what exactly the stuff was and could only locate it in authentic Asian markets. He eats it alongside everything from eggs at breakfast to rice bowls at dinner. When I began routinely purchasing jars at the local "health-food store" to encourage this healthy habit, he determined to learn to craft it himself and reclaim a chunk of the grocery budget. Nowadays, we maintain a constant stream of jars "in process", on the counter and in the fridge, and have taken the DIY endeavor further by allocating prime garden real-estate to the foundational ingredients of the recipe.
So far as it depends on us, we find it prudent to cultivate our household staples, and kimchi has become just such a staple. Full of Days readers still have time do the same: If you're already a fan of kimchi, or at least willing to give it a try, it'd behoove you to make your own from ingredients grown in your vegetable plot. Get those seeds in the ground ASAP in preparation for the recipe coming in time for the harvest.