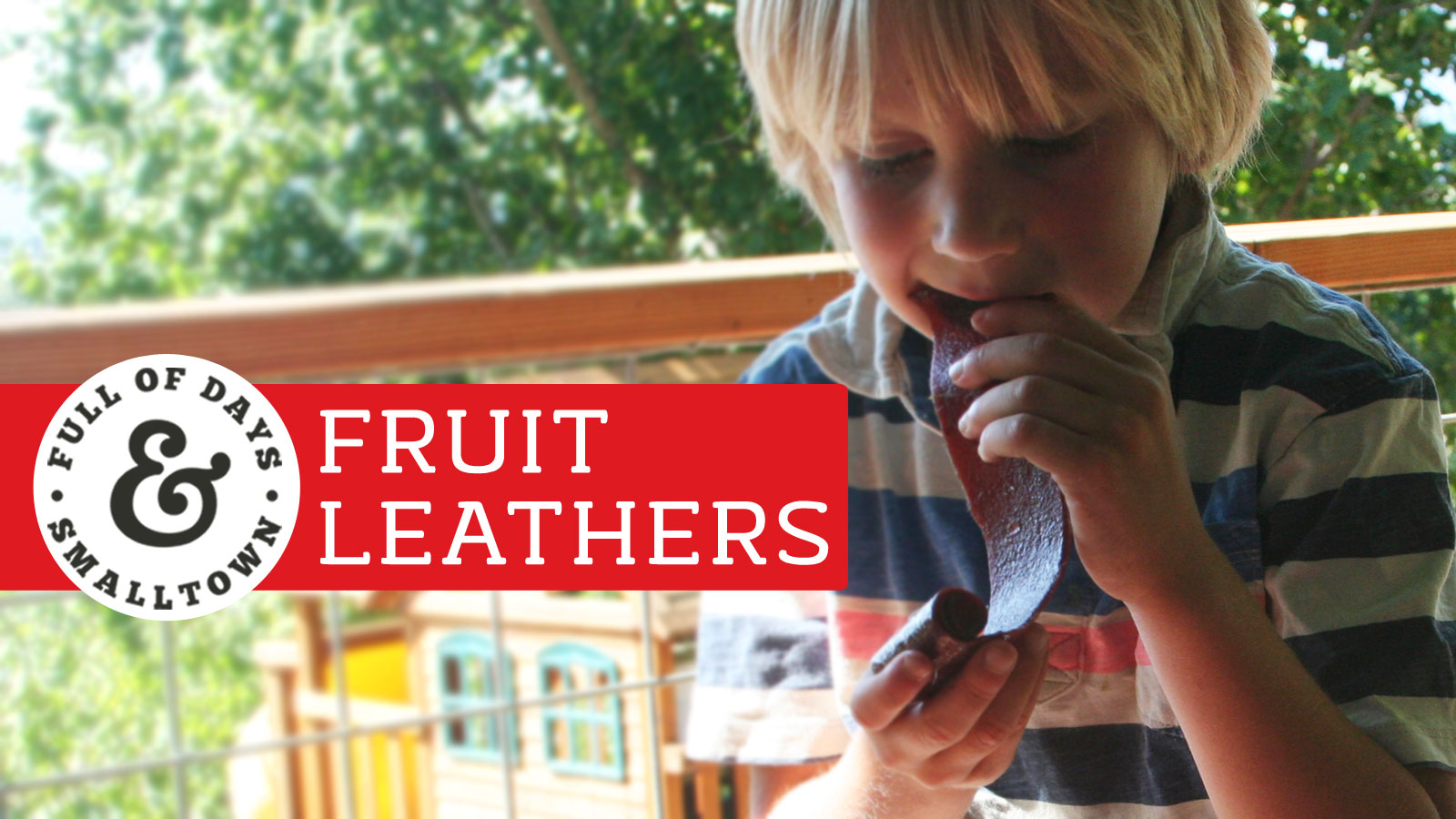 W
ith school quickly approaching, (or already underway if you're like us) I'm in overdrive stocking up on quick and easy snacks that my kids can grab-and-go. These fruit leathers not only fit the bill, but they're made with virtually no out-of-pocket cost to us! We've mentioned before that we have over 20 different fruit trees on our property, and we're constantly finding new and creative ways to preserve this fruit.
Remember when we made marionberry syrup? We use this same method to make plum and cherry syrup as well. Then, with the mash left over from making syrup, we add some sugar, honey or maple syrup, spread it thin on non-stick sheets and pop it in the dehydrator to do its thing!
If you have excess fruit lying around, try getting as much food preservation as possible from one fruit!
Ingredients
4 cups Fruit Pulp
1 cup Honey, Maple Syrup or Organic Sugar
1 Tbs Lemon Juice
To Make: Before making fruit leather, it's best to get as much juice out of your fruit as possible (if using juicier fruits). Instead of dumping that amazing juice down the drain, try making syrup with this recipe. 
Step 1: If you have fruit pulp, continue to Step 2. If you don't have pulp left over from making syrup, then pit or core and roughly chop your fruit. Add it to a sauce pan over medium heat and add 1/2 cup sweetener of choice. Bring to a simmer while stirring and mashing fruit to allow juices to release. (If using fruit such as apples or pears you may not get much juice and can omit this next part.) Strain fruit in a fine mesh colander and press firmly to strain out as much liquid as possible. Save the juice for syrup if desired.
Step 2: Add strained fruit and lemon juice to blender. If your pulp is hot, and you're not using a vented blender, be careful while blending to avoid explosions or burns.
Step 3: Starting on low, begin blending and gradually increase the speed to high. Blend on high for 15-30 seconds until fruit is a nice, smooth puree. Taste for desired sweetness, add the remaining sugar (if needed) and blend for another 10 seconds until sugar is incorporated.
Step 4: Arrange non-stick dehydrator sheets on dehydrator trays and coat with a thin layer of coconut oil. If you don't own a dehydrator you can line a cookie sheet with parchment paper and preheat the oven to 170℉ (no need for coconut oil if using parchment paper).
Step 5: Smooth puree as evenly as possible at 1/4 inch thickness onto dehydrator sheets. Pay careful attention to thin or thick spots as these will dehydrate unevenly and result in either a tough and brittle, or thick and sticky fruit leather.
Step 6: Arrange trays in dehydrator and dehydrate at 170℉ for 6-9 hours. This time will vary greatly depending on wetness of puree, and the thickness you spread the puree. After 4 hours, I recommend checking the fruit leather as you don't want to over-dehydrate.
Step 7: Once dehydrated, your fruit leather will feel slightly tacky (but not gooey) and should lift easily from the non-stick sheets. Lay parchment paper or saran-wrap over the top of the fruit leather. (If you used parchment paper, omit this step.)
Step 8: Carefully, and tightly roll your fruit leather into one long log. Then, cut each log into rolls about 1-2 inches wide. Store in an air-tight container in the refrigerator, or freeze and pack them into your kids lunchbox frozen. Come lunch time they'll be defrosted and ready to eat!
What are your favorite flavors? Ever made fruit leather? What are some of your favorite fruit combinations?