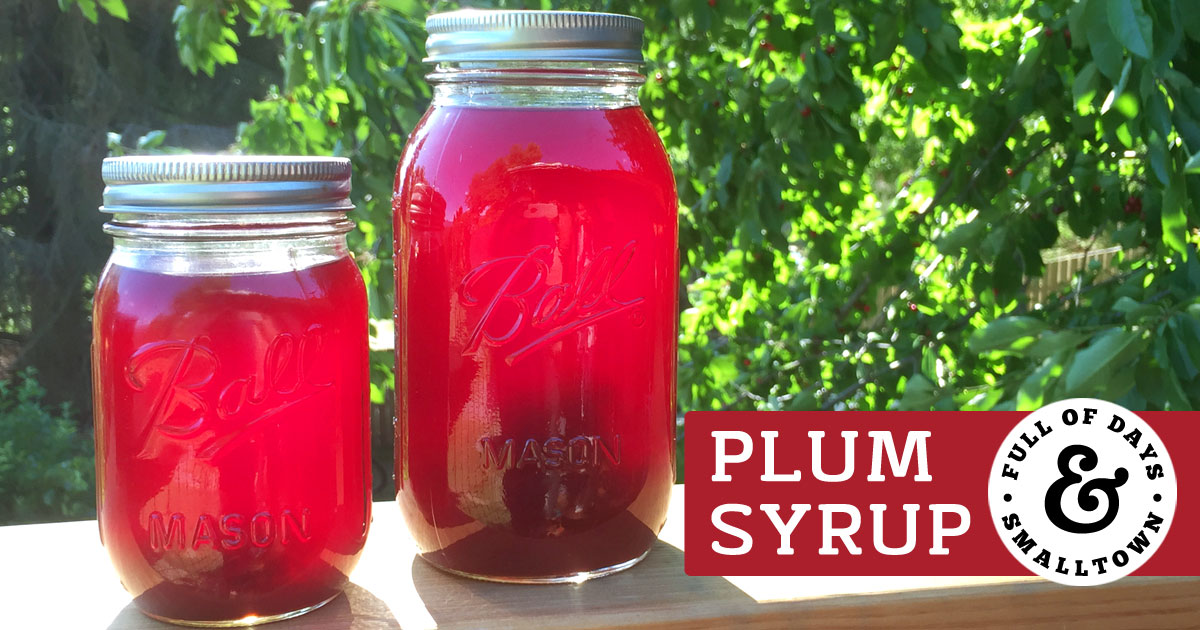 Plum Syrup – Every year, as summer draws to a close and fall abounds, we have plums coming out our ears! The first summer in our home left us with many surprises; we looked at and bought our home during the tail end of Winter and moved in during Spring, so we had no idea what fruit trees were on our property. Boy were we surprised to find 6 varieties of fruit trees, 12 of them being of the various plum varieties. Like I said, they were coming out our ears! 
We ate as many as possible straight off the tree, but knew we had to find a way to preserve this abundance of free food. The first year we dehydrated, froze and canned our fair share, but none of these held a candle to eating them fresh. After all our hard labor, a friend told us they grew up making plum syrup…so we tucked that info away for next year. Lo and behold, the next year we made plum syrup and were sold after the very first batch!
We go through a quantifiable amount of maple syrup in our home, and quality, organic Grade A Maple Syrup (formally known as Grade B), costs a small fortune! Since I like using maple syrup in my cooking and as a sweetener,  finding an affordable alternative to the syrup we drizzle over pancakes, waffles and even cuts of pork was a huge bonus!
Even better, with the pulp left over from making this syrup, I blended it up in the Vitamix, sweetened it up with a bit of sugar, and popped it in the dehydrator for homemade fruit leathers! Virtually no waste!
Ingredients
Plums (any variety)*
Organic Sugar
Lemon Juice
Vanilla Extract (optional)
Cinnamon (optional)
* The quantities for this recipe will vary based on the amount of juice you're left with after cooking/straining your plums. Continue reading for ratios below.
To Make: This plum syrup recipe is best done over the course of two days, but it can be squeezed into one full day if needed. 
Step 1: Halve and pit plums and place in a large pot (don't fill pots completely, it makes step 5 much harder).
Step 2: Add just enough water to cover the bottom of the pot by 1/4 inch (this is to prevent burning) and turn stove onto medium-low. Add lid and cook for about ten minutes. Keep a watchful eye that your plums don't burn, stir if needed!
Step 3: Once plums are simmering and juices begin to release, remove lid and bring to a boil. Stirring every 10 minutes or so, keep plums at a boil for 20-40 minutes until they are soft and mushy (this will depend on how many plums you have). You can mash plums a bit to help release as much juice as possible.
Step 4: Turn burner off and allow to cool for 30-60 minutes (we don't want any burns when pouring).
Step 5: Place a colander over a large bowl, line the colander with cheesecloth or a tea towel and pour plums through cloth. The juice will strain through to the bowl beneath, so be sure it's large enough to catch all your juice!
Step 6: I like to leave this to strain for several hours or overnight (you'll be amazed how much juice strains through). Place a tea towel over the top of your plums to keep any bugs out.
Step 7: Gather your canning supplies and prepare your jars/lids.
Step 8: Measure how much juice you have and pour into a heavy bottomed stock pot. Don't discard the pulp! Put it in a ziptop bag and refrigerate or freeze to make sweet and chewy fruit leathers later on.
Step 9: Turn the burner on medium to medium-high and for each cup of juice, add 1/4-1/2 cup sugar, one tablespoon lemon juice and optional flavorings (1/2 tsp. vanilla extract or 1/8 tsp. cinnamon per cup of juice).
Step 10: Continue stirring until your mixture comes to a boil. At this point, taste and adjust according to your preferences. The original recipe calls for 1 cup of sugar per cup of juice, but we find 1/4-1/2 cup makes it plenty sweet.
Step 11: Your syrup is now ready for canning! However, if you'd like a thicker syrup, continue stirring/cooking until mixture has reduced down to your preferred thickness (keep in mind, syrup thickens up as it cools, so don't reduce too much).
Step 12: Carefully ladle syrup into hot jars, wipe rims with a damp cloth and add lids. Screw on bands to fingertip tight and process for 10 minutes. Remove jars and let cool on a wire rack. Remove bands and wipe jars clean. Store in root cellar, pantry or dark cupboard.
Use this syrup on waffles, pancakes, to flavor your kombucha or water kefir, to top ice cream or as a dip for pork (as pictured above)!