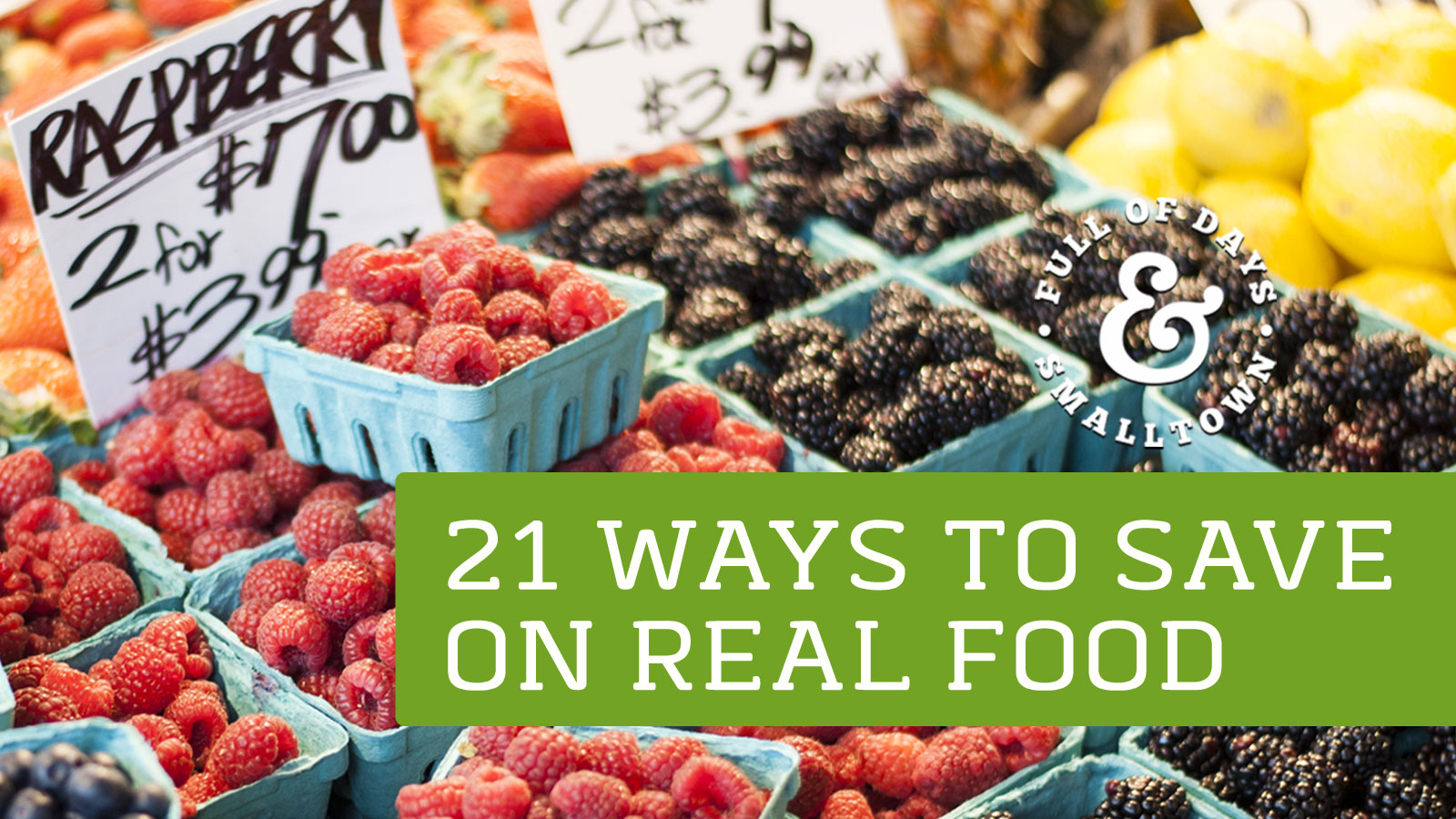 Y
ou can spend time or you can spend money…but if you want to feed your family real food, healthy food, you will have to choose one. Will you spend extra time in the kitchen making food from scratch using real ingredients? Or will you spend money buying the pre-made options that come with a hefty price tag (and still aren't as healthy)?
I've compiled a list of the ways we have saved money in order to eat the highest quality foods and nourish our bodies without breaking the bank.
1. Eat Real Food – It's true, pre-packaged, processed foods are cheaper than real food. So it may seem counter-intuitive to suggest eating real food to save money. But the reason it's my number one tip is because by eating real food, you eat less food. Real food nourishes your body on a cellular level, is made from real ingredients (not food-like substances) and is recognizable by our bodies which means we can utilize the food quickly and efficiently. In turn, our tummies are satisfied, our blood sugar is stabilized, and our brains no longer scream for fuel. Check out this post on raw milk vs. pasteurized milk as an example.
2. Meal Plan – If you know exactly what your family will eat each day this week before going to the grocery store, you won't mindlessly grab and toss items into your cart. Items which oftentimes go bad because there was never a plan to use them once you got home! Been there, done that!
3. Out of Sight, Keep in Mind – We have a running list on our refrigerator that tells us what's in our basement, freezers and root cellar. This list helps me shop my home first, before shopping the stores. If it's already in my home, it's less money out of my pocket!
4. Shop with a list (and never shop hungry!) – After you've meal planned and shopped your home, make a list of the items you need for your meal plan. Again, this keeps you from mindlessly grabbing and tossing items into your cart. I find it's even helpful to organize my list by aisle or section of the grocery store to save time while shopping. Less time in the store, less chance of over-spending! Why are there so many varieties of organic chocolate bars to choose from?
5. Buy Online – Azure Standard and Thrive Market are both great options for organic food. I've found their prices are pretty comparable, but if you shopped both you could price compare and get the best deals from each.
Azure Standard is an online market that offers a wide variety of organic produce, organic packaged foods, as well as bulk offerings. When produce is at peak season you can often stock up on 20-50 pound boxes at rock bottom prices, then can, dehydrate or freeze for later, saving you money. They also have a large selection of non-food items, garden & farm supplies, books, storage options, etc. There is no membership fee or delivery fee and they're continually expanding their delivery routes. Many deliver every 2 weeks, while others monthly. Check out this post for more information, and to see if there's a delivery location near you! (There may or may not be a small "drop-site fee" depending on where you live, and they have a "small-order fee" for orders less than $50.)
Azure Advantage is part of Azure Standard. In Spring of 2016 they launched their membership program to help those wanting deeper discounts the advantage of getting them. With a yearly membership fee of $180 you can save upwards of 30% on many products. When you sign up for Azure Advantage you'll also receive "Discovery Boxes" six times a year filled with free products (and the free boxes essentially pay for your membership!). If $20 of free groceries sounds too good to be true, it's not! Azure has given Full of Days a special deal for new members, to sign up and start saving, click this link and start shopping!
Thrive Market is quickly growing in popularity, and for good reason! They're like Costco meets Whole Foods on a budget! For a small membership fee ($59.95 annually…less than $5 per month), you can have organic products shipped directly to your doorstep. Thrive is continually offering new products and they'll frequently throw in freebies with your order. Freebies you'll actually like! Thrive Market offers a one month free trial for new customers, so what are you waiting for? FYI: The Organic Salted Brown Butter Dark Chocolate Bar by Alter Eco is reason enough to sign up! For more information on Thrive Market, read this post.
6. Plant a Garden – You don't need much acreage to plant a modest garden. Even a small herb pot planted on a sunny balcony will add up to savings. We're experimenting this year growing vertically by utilizing some extra fence pieces from our deck project. We gained 370 square feet just by growing a few of our crops on A-frames! Even growing just one crop can save you money. Think about what your family eats frequently…potatoes? Tomatoes? Onions? Many of these can be stored away and consumed throughout the year. Grow a garden of only tomatoes and can pizza sauce, spaghetti sauce and diced tomatoes. You'll never buy a tomato product again! Talk about savings!
Figure out how to harvest your own seeds and you can start your own plants each year. You'll virtually eat tomatoes for free the rest of your life…then come teach me!
7. Buy Local – It's true that buying online can often save money, however great deals are to be found by shopping local.
Join a CSA (Community Supported Agriculture): Many times CSA's will offer FREE weekly boxes of produce in return for a few volunteer hours a week! Read this post for finding CSA's near you.
Farmer's Markets: I always find great prices on produce at our local farmers market. Not only that, but I love supporting local agriculture and knowing where my food came from and how it was grown. We also buy raw, unfiltered honey at a great price from a local apiary that sells annually at our farmers market. I love knowing my honey came from bees pollinating local trees and flowers!
Bountiful Baskets: Although not local, Bountiful Baskets offers great deals on fresh organic produce all over the US. We recently ordered 18 pints of organic heirloom cherry tomatoes for $15! I price compared them to the grocery store and found I'd saved $110!
8. Make Meat and Dairy the Priority – It's true these hold a higher ticket price, but sourcing quality meat and dairy is so important to our health. Here are a few ways to help lessen the cost of these essentials:
Meat on the side – Make meat the sideshow, not the main attraction! Up the veggies and lessen the meat…couldn't we all eat more veggies?
Buy and Cook Whole Chickens – We order cases of whole, free-range chickens for $2.10/pound. The birds average 6lbs. and our family of six can stretch one bird into 4-6 different meals! After cooking the bird, I'll shred the chicken and divide up the meat to make enchiladas, tacos, sandwiches and soup. Then we'll use the carcass for homemade bone broth.
Learn to Hunt or Buy a Whole Cow – Here are a few reasons our family is learning to hunt. Not a hunter? Can't afford a whole cow? Don't have the space to store that much meat? Go in with other families and buy 1/2, 1/4, or even 1/8 of a cow! We bought half a cow at $3.50/lb for all cuts!!! This included rib-eye, T-bone and filets which sell for $19/lb. It's worth it to shop around, sometimes families will raise a few cows on their property. If they sell 2 they can pay for the feed and the one they keep for themselves. Families like this are often willing to sell for less than market price as they're not in it for profit. Check out our daughter literally "putting meat on our table" in this post by The Hubs.
Hop on the "Meatless Monday" bandwagon – A great way to save a few bucks is skipping the meat one day a week. Beans make a great filler for taco bowls, burritos and soups. You may not even miss it (once in a while, that is)!
Shop local farms – Raw milk costs $6.58 per gallon at our grocery store, but I buy it from a local farmer for $5.00 per gallon. For more ways to save on raw milk, read this post.
Shop meat clearance and sale items – keep your eye out for those clearance meat sales. Meat that hasn't sold by its "sell by date" is often price reduced significantly (sometimes by 50%). Buy it all and bring it home to immediately toss in the freezer. Or even cook it up then freeze it for future quick and easy meals.
DIY Dairy – Try making yogurt, cheese, ricotta and kefir yourself. You'll be amazed how much money these homemade products save.
Price compare – We love Kerrygold butter, but it packs a hefty punch with the high price tag. We shopped around and found if we buy it from Costco, we basically buy 2 sticks and get the third free compared to our local grocery store prices. Even better yet, by buying truckloads of butter at a time (our closest Costco is an hour and a half away so we stock up a few times each year) we actually save enough money to pay for our Costco membership…booyah!
9. Bake your own bread – Yes, baking bread takes time (and a little patience), but the savings can be HUGE. Traditional sourdough bread only uses three ingredients and is much healthier (and easier to digest) than even organic store bought breads. Read this post on how we save $1,480 a year (and get free eggs to boot!). For all you gluten-free friends, check out our gluten-free sourdough bread recipe!
10. Skip the Expensive Drinks – Do you love kombucha? Kevita? How about fancy specialty coffee drinks? These are often $3-$4 a pop, stealing precious dollars from your grocery budget. Just one drink a day can quickly add up to $100 a month. Kombucha and water kefir can be made at home for pennies a cup and flavored countless ways. Avoid pasteurized milk, high fructose corn syrup or artificial sweeteners and make your own specialty coffee at home.
11. More Bang for Your Buck – Do you love coconut milk? Instead of buying a carton from the refrigerater case at the grocery store, buy organic, dried coconut flakes and make your own from scratch in about 90 seconds! You'll not only have coconut milk (without all the junky additives), but you'll be able to make coconut flour from the pulp left behind! That's what I call a "two-fer"!
12. DIY Condiments – Making condiments at home is easier than you might think! Get started with this simple Ranch Dressing recipe. For more ideas on making your own condiments read this post.
13. Add Protein to Your Meals – Vital proteins collagen peptides is an easy way to bulk up a smoothie and help keep you feeling fuller longer. You can add it to smoothies, pancakes, bread recipes, coffee, tea, milk. It's odorless and tasteless. Adding 2 scoops (20g) adds 18 grams of protein to any drink or meal. Although it may seem like an added expense, it can actually help you eat less overall by curbing those snack attacks.
14. Barter goods with friends – Read here how I barter homemade sourdough bread for free-range farm-fresh eggs and save $1,480 a year! Do you bake bread? Awesome cookies? Can jams or jellies? Perhaps you can barter your goods with a friend! Not a baker or a fantastic cook? Can you clean? Run errands? Grocery shop? Walk a dog? Don't limit it to food, people are often more than happy to barter, especially when it's a win/win for both sides.
15. Buy in season – We've all seen the price of apples when they're out of season compared to the dirt cheap price when they're in abundance. Buying in season also allows you to buy in bulk and can, freeze or dehydrate the surplus. (See #5 above)
16. Buy in bulk – Buying in bulk always saves money…if I buy flour by the 5lb bag at the grocery store I'll pay $6.99, instead I buy it by the 50lb bag from Azure Standard and pay only $0.99/lb.
17. Invest in money saving equipment – We have a few kitchen gadgets that were on the more expensive side. But we utilize them so often they have literally paid for themselves in the money they've saved us.
Dehydrator – our dehydrator is going almost 24 hours a day during the months of September and October making dried plums, apples, pears and herbs. We also make fruit leather with the pulp from making plum syrup. Throughout the year, I soak and dehydrate large batches of nuts (for better digestion) and I also make up large batches of jerky. Some people even make yogurt in their dehydrator, although I prefer my heating pad method!
Vitamix – my kitchen gem…and a kitchen tool I use daily. We make smoothies, soups, salad dressings, mayo and more. With the dry canister I also grind my own grain (which can be sprouted and dehydrated first for extreme cost savings on sprouted flour). 
KitchenAid Mixer – another tool used almost daily. Without this machine I wouldn't bake my own bread. But with the dough hook attachment I simply dump my ingredients in and turn it on. Five minutes later my dough is ready to rise! And since I save over a grand a year by baking my own bread, I'd say this machine has paid for itself!
18. Reduce, re-use, Recycle – Sounds cheesy, I know, but pay attention for an entire week at what you throw out.
Bruised or "past prime" fruit: Freeze bananas for banana bread (peel them first, you'll thank me later!). 

Mushy apples make great applesauce, b

ruised or almost rotten strawberries make fantastic strawberry kefir water! Pretty much any old fruit tastes good when blended up into a smoothie! And if it's really past its prime, toss it in the compost bin!
Bone broth – DON'T TOSS THE BONES! You're throwing out some of the most nutritious part of the animal! If making a batch of bone broth isn't something you can squeeze in right away, toss the bones in a ziptop bag and freeze until you can make a giant batch of broth to can or freeze.
Organ meats – Read this post to see why organ meats are so good for you, but if you simply can't get yourself to eat them, chop them up and add them to your dog's food…at least someone will be getting the benefits! Click to watch an awesome video on utilizing the entire animal. We're big on "no waste".
Veggie scraps like celery tops, onion skins and carrot peels can be frozen and added to bone broth. Most other scraps can be composted (but not citrus peels).
Old spaghetti sauce or pickle jars can be washed out and saved to freeze that bone broth you made with your veggie scraps!
19. Regrow food – Green onions, celery, pineapple tops…what else regrows in a cup of water on your windowsill or replanted in the garden?
20. Eat Ethnic Foods – Dollar for dollar, most ethnic dishes are pretty frugal! Many cultures utilize herbs and spices to improve the taste and flavor of more inexpensive cuts of meat (even organ meats). Meals are frequently paired with rice, couscous, bulgar, or some type of inexpensive grain (and when properly prepared can be a fantastic addition to a healthy diet). Stir-fry's are a great way to incorporate more veggies, and flavorful sauces can be whipped up with minimal ingredients. Although not traditional, we frequently enjoy teriyaki bowls for dinner.
21. Host a beehive! – OK, I realize this is location permitting, but a friend mentioned it to me and I had to share! She's hoping to host a beehive on her property (which is fantastic for pollination, btw) in exchange for fresh, raw, unfiltered honey! How cool is that? If it's possible, consider raising your own bees, our neighbors do and the honey they get is amazing! (This is obviously not one we'll all run out and do, but it was definitely worth the mention!)