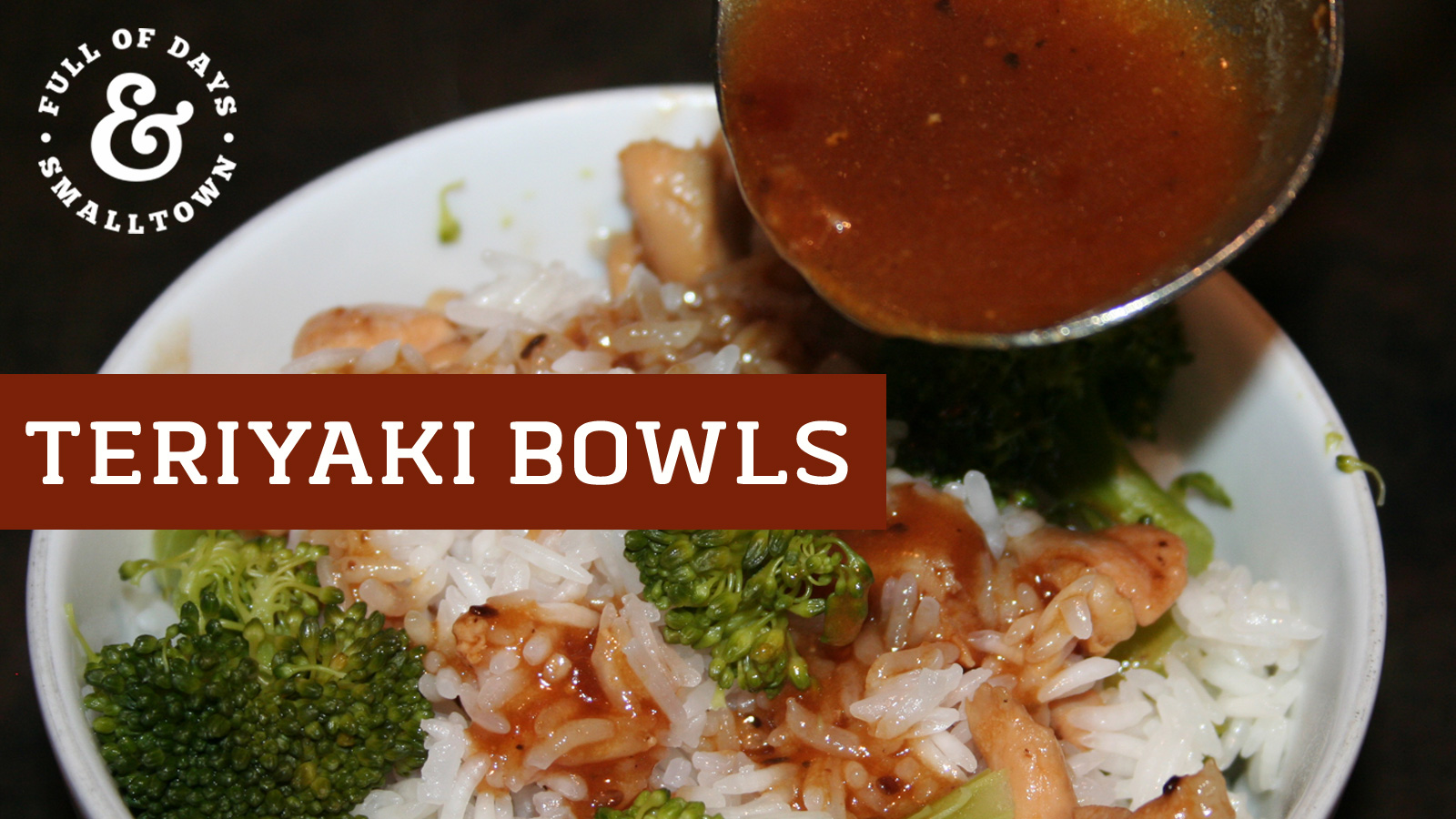 W
e love Asian inspired cuisine here in the Steffen house. From stir-fry to sushi, lettuce wraps to spring rolls, we love it all! And these teriyaki bowls don't disappoint. They're the perfect "quick and easy meal" when your busy weeknight schedule leaves you pressed for time.
Put on a pot of rice, steam some veggies and brown your favorite sliced meat (we used chicken tonight, however beef, pork, venison and elk all fit the bill nicely). 
Ingredients
2 c. white rice
2 Tbs. coconut oil
2 lbs broccoli
2 lbs. chicken thighs (sliced)
Sesame oil (or other oil)
Teriyaki Sauce (try our homemade recipe here)
2 Green Onions (chopped)
Sesame Seeds
Salt & Pepper
To make: (This recipe serves our family of six, with just a little extra rice left over.)
Rice: Place 2 cups rice, a few dashes of salt (1/2 tsp or so) and 2 tablespoons coconut oil in a pot. Place your pointer fingertip on the top of the rice and fill the pot with water until it reaches the crease of your first knuckle (This is an islander trick I learned from my uncle who grew up in Micronesia…try it, you'll never go back to measuring! I don't even measure my rice, using the knuckle trick my rice is always perfectly cooked!)
Cover pot and bring rice to a boil for 10 minutes, remove from heat and allow to sit (covered) until ready to serve. Fluff with a fork.
Broccoli: (Cut up your broccoli before your chicken so you don't have to use a second cutting board!) Cut broccoli into florets and don't throw away those stems! Simply peel off the outer skin and slice 'em up, they're completely edible…besides, you paid for them! While your chicken is cooking toss your broccoli into a steamer basket (if you have one), or pot. Add about an inch of water and drop your steamer basket in. Bring to a boil and steam broccoli, covered, for 10 minutes (or to your liking…we prefer "al dente").
Chicken: (Buy dark-meat chicken with skin and fat on when possible. The fat has co-factors that help your body digest and utilize the protein in the meat.) Slice chicken and brown in some sesame oil (or other high heat oil) over medium heat. Resist the urge to stir your meat until it has released from the pan. Once meat is almost cooked through, add your teriyaki sauce. You want to add enough for it to reduce down and thicken, with enough sauce left over for topping your rice. We used the whole bottle because we like our bowls "saw-say!"
In a hot pan, toast  sesame until golden brown (trust me, toasted is the bomb!) and slice up the green onions for garnish.
Create your bowl: We like to layer our bowls so we don't wear it trying to dig down and get everything in one bite! Add rice, chicken, broccoli, rice chicken and broccoli to your bowl (be sure to get extra sauce!). Top with green onion and toasted sesame seeds, eat and enjoy!
This is sure to become a weekly favorite!