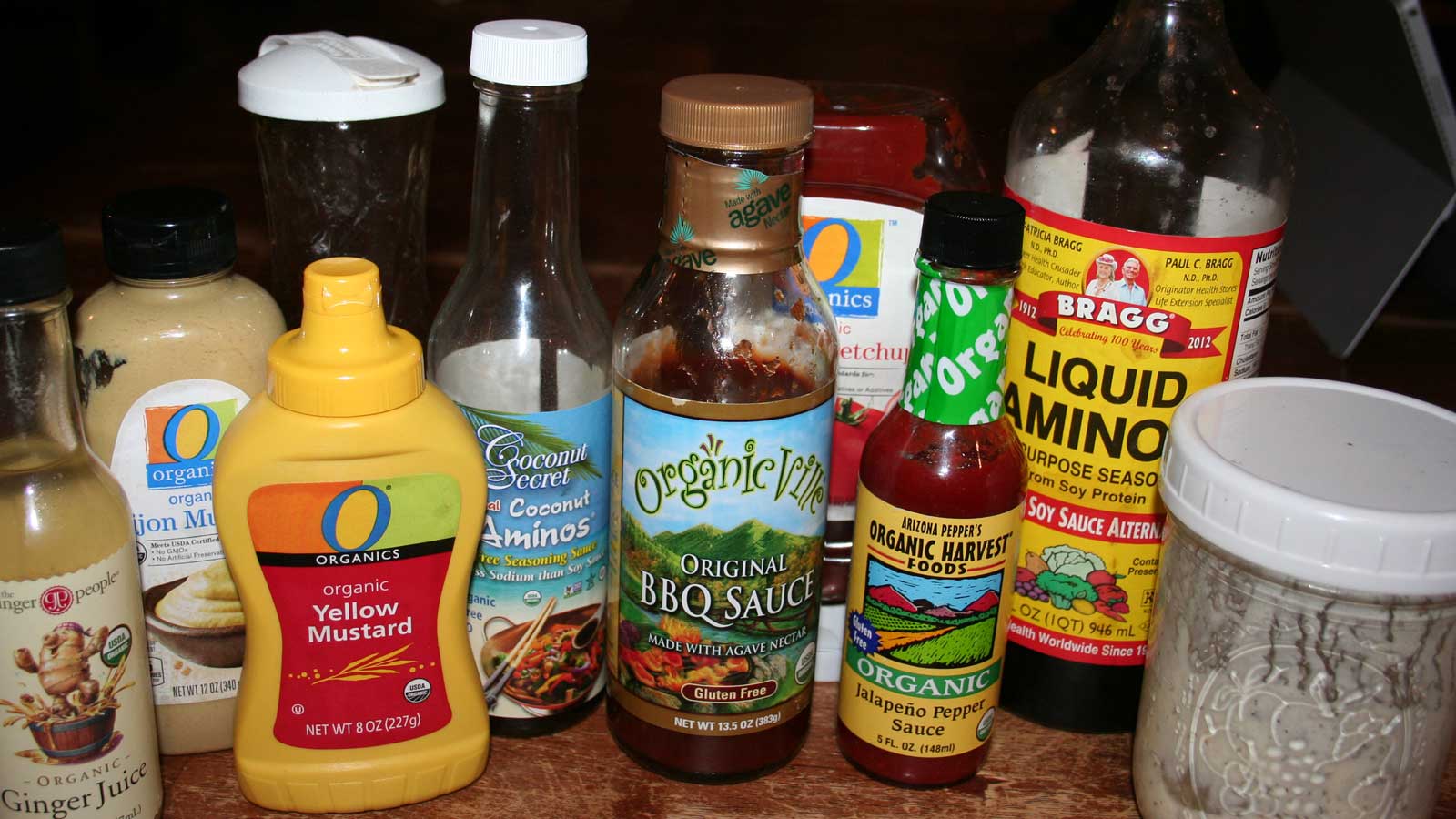 I
f you took inventory of your refrigerator, chances are the majority of the products would be in the fridge door, or the top shelf…you know which products I mean…condiments.
How many condiments do you have in your refrigerator? Seriously, I want to know! Don't feel embarrassed…we have surprisingly few, mainly because we stopped buying them years ago when we swapped out for organic brands. But before that? We could count 50 different condiments with ease!
The sad truth is, many of the organic counterparts hold a hefty price tag. But, when comparing ingredients, side by side, it's worth it. To compensate, we pared down the number of condiments we buy. Turns out you really don't need them all! Go figure!
If you want to cut the costs even further, you can make many condiments at home, using higher quality ingredients to boot! I've successfully been making our own homemade mayo for a year (but have also found a few alternatives when in a pinch…I'll share the recipe and the alternatives below).
If you haven't figured it out already, healthy change #8 is to ditch the chemical-laden, preservative-filled condiments lurking in your fridge. I know, I know, this can be hard to do, especially with those specialty ones that have been in there for years (and miraculously, haven't reached their expiration date!). Ever wonder why some of these have such a long shelf life? #preservatives
In case it's not completely obvious by now…we heart lists!
So, yet again, whip out a piece of paper…better yet, just get yourself a spiral notebook where all these lists can be kept together, in one place, for easy reference! On a fresh sheet of paper, write out all the condiments in your refrigerator. Tally them up and let us know your magical condiment number in the comments below! It'll be fun! You can even get fancy here, making column headings such as "Use daily", "Use Weekly", "Use Seldom" and "Use…can't remember when!"
With list in hand, you should be able to quickly see which condiments you'll want to replace ASAP. For us it was ketchup, BBQ sauce, mayo and mustard (both Dijon and yellow). Because I can quickly whip up a batch of salad dressing with kefir, yogurt, oil and vinegar or this rockin' ranch dressing, it didn't top my list of priorities. Your list will probably look different than mine!
I only want you to focus on the "Daily" and "Weekly" columns…for now. Which condiments need to be added to your next grocery list? Organic ketchup should cost you less than $5. Organic mustard is even cheaper…
As the weeks go on, add another condiment to your grocery list. Each time you shop, replace a preservative filled condiment with an organic replacement (but do check the ingredients!).
A word to the wise…simply because the word "Organic" is slapped on the label, does NOT mean it's healthy! Follow our rule of thumb…if you can't pronounce it, and it's not an ingredient you'd cook with in your own kitchen, you don't want it in your food!
If you're feeling quite adventurous, (and you happen to run out of ketchup this week) try making this super simple homemade ketchup from Mommypotamus!
If you've kept up with our healthy changes and replaced your cooking oils, then you will be able to make homemade mayo! Have you ever looked at the ingredients on your jar of mayo? (You may not want to…just open the trash, grab the jar and toss!) 
Using all your healthy cooking oil to make a batch of mayo may not seem like the best choice, but the taste is like no other and you'll be so glad you gave it a try. Homemade mayo is so delicious, thick and creamy with just the right tang. And there's something about knowing each ingredient you used to make it! Here's a link to a mayo recipe, from Mommypotamus (and another mayo recipe that's whipped up in a matter of minutes using an immersion blender).
If making your own condiments is just not a priority, (and I get it, we all have to draw a line somewhere!) Annie's brand has some great condiments and we frequently buy their ketchup, mustard (Dijon), and Worcestershire.
Condiments are varied, and we all have our preference, so it may take some trial and error to find your families faves. We have found we like my homemade BBQ sauce best, but only if it's going on food that will be cooked…it's a bit too spicy if used plain. So our store bought alternative is from Organicville (original flavor).
As for mayo, a quality brand will come with a hefty price tag (as will the homemade version since you're using your healthy oils). There's just no getting around the fact that most mayo offered in the grocery store is made from unhealthy oils. Even the ones touted to be healthy! Maddening, I know! After checking around online, I found this mayo made with avocado oil, which is the same oil I use when making mine at home! The choice is yours, but FYI, I can make about 4 batches of homemade mayo for the same price!
You have your list, now ask yourself if making condiments from scratch is worth it…if so grab the ingredients needed to make them at home and go for it! Let us know which condiments you're going to try and how they turn out.
Also, if you find a fantastic homemade recipe or store bought brand, please…let us know about it in the comments!