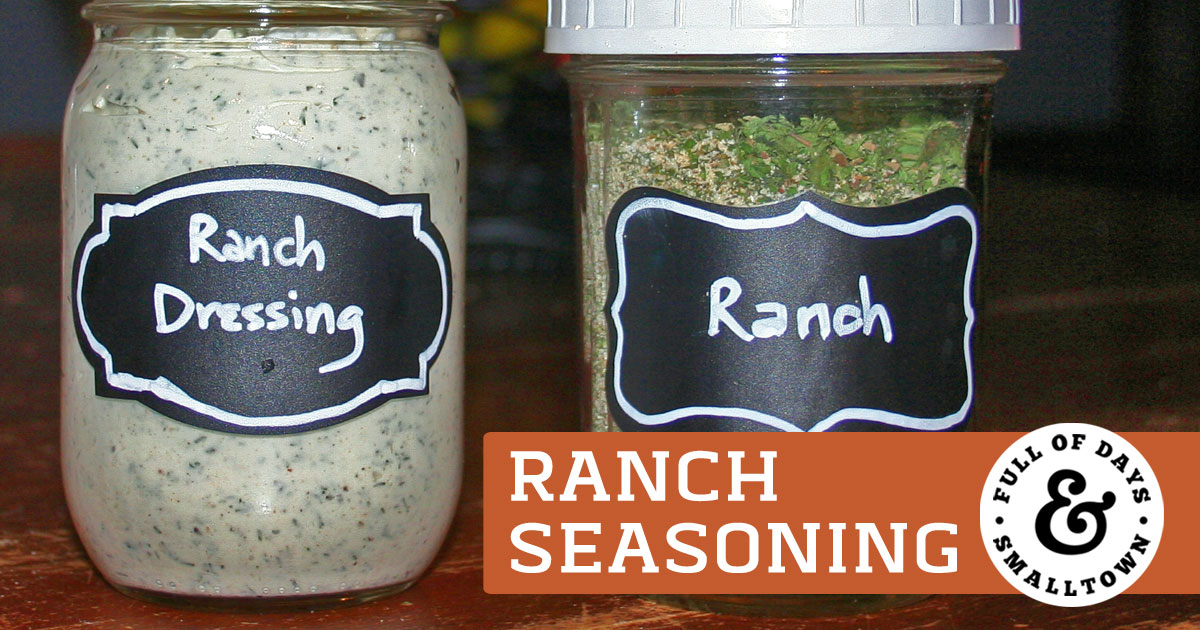 DIY Ranch Seasoning
The perfect mix for dressings, dips and seasoning!
Doesn't everything taste better with ranch? Salad! Carrots! Celery! Pizza!… Cake!…OK, so maybe not cake, but that may be the only thing!
This is, hands down, our favorite homemade ranch recipe we have EVER tried (and I've made a lot…my kiddos love them some ranch dippers!).
Back in my high-school days, I worked at a local pizza parlor that had the best tasting ranch known to man. I used to make batches of it by the garbage can full using a whisk the size of my arm (true story!). I don't recall the ingredients used in that ranch, but I do remember dumping gallons of mayo and buttermilk into the mix. Probably why my favorite base for the following recipe is homemade mayonnaise and buttermilk!
I mix up a 2 cup batch of the dry mix and store it in a mason jar in the pantry. Then, whenever we need some dressing, I can whip up a batch in no time with whatever base ingredients we have on hand. The best part is, it's totally customizable (did I just make that word up?)! If we want it as a dip, I'll add more mayo or sour cream and less milk. If it's for salad dressing, more milk, less mayo (or I'll use milk kefir or yogurt for a probiotic salad dressing…even better!).
On to the recipe…
Ranch Seasoning Recipe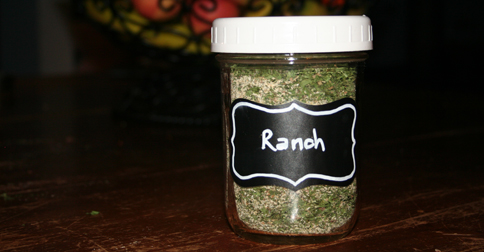 Ingredients

3/4 cup dried parsley
1/3 cup dried dill
1/3 cup garlic powder
1/3 cup onion powder
1/4 cup dried basil
1/4 cup pepper
2-3 tsp salt (or to taste)
Details

Prep Time: 5 minutes
Total Time: 5 minutes
Yield: appx. 2 cups dry seasoning
Directions

Measure out and mix all ingredients into a large bowl. Stir with a whisk and store in an airtight container.
You can make ranch dressing or dip with the following combinations, adding 1 tablespoon of dry ranch seasoning. Try each variation until you find your family's favorite!
1/3 cup yogurt and ¼ cup milk
1/2 cup mayonnaise, ¼ cup sour cream and 1-2 tablespoons of milk or buttermilk
1/4 cup mayonnaise, ¼ cup sour cream, 1 teaspoon olive oil, 1 teaspoon lemon juice, 1-2 tablespoons buttermilk
TIP: If you're looking for more of a "dip" consistency, mix the milk in last and only add enough until desired thickness is obtained. For a thinner dressing, add more milk to your preference (dip tends to thicken as it sits, so whip up your dip/dressing ahead of time, and thin with milk as needed).
These are just some basic guidelines. Once you get the hang of making ranch you can use just about anything creamy in your fridge. We've used homemade cashew milk, cream or half and half instead of milk, kefir instead of yogurt, apple cider vinegar instead of lemon juice and avocado oil instead of olive oil. Get creative and let us know your favorite combinations in the comments below!
For a killer avocado ranch dressing/dip recipe, you might want to check out our 14-Day Meal Plan! It's outta this world!
I hope you love this recipe as much as we do…having this dry seasoning on hand keeps me from grabbing a bottle of chemical laden ranch from the grocery store, not to mention saves money, keeping those dollars in my wallet!