Homemade Kombucha - Full of Days

HOMEMADE KOMBUCHA - Season 1, Episode 3 from Full Of Days we're sharing how to make homemade kombucha. This healthy, fermented, probiotic drink is so good for our bodies, and by making it at home, it's easier to consume on a daily basis. Naturally fermented, kombucha is filled with B vitamins, enzymes, probiotics and a high concentration of acid (acetic, gluconic and lactic). All key components for good health and a strong immune system. Get the full RECIPE here >> https://everydayfull.com/make-kombucha/

Posted by Full Of Days on Monday, January 15, 2018
Homemade Kombucha
Making Kombucha at Home is Both Simple and Affordable
Imagine I'm giving you a big high-five right now! I'm so excited for you! You're ready to brew your own kombucha.
THIS IS A BIG STEP! Be proud of yourself! You're now a proud parent of your very first Kitchen Pet! You did know that a SCOBY is alive, right? It needs proper care like feeding, cleaning, changing…and they really like when you sing to them!
I tease, but it really is alive. I'll introduce you to all my kitchen pets throughout the next few months (I rotate between 6-7 pets, but usually only 3-4 at a time).
Wait, I'm getting ahead of myself…first things first, your pet needs a name!
Meet my first kitchen pet; pictured above is Kombucha-Kevin! 
Kevin has been with me ever since I fell in love with kombucha  (going on 4 years now!).  We've been the best of friends (although, I did have to put him into hibernation during my post pregnancy months as he was getting a little neglected…which basically means I threw him in a jar filled with kombucha and forgot about him…we've since made up!).
But enough about Kevin, you're here to make your own kombucha.
Gather Your Supplies
Glass jar (the size is completely up to you, we have a 2 gallon dispenser jar)
SCOBY (it's best if you get a SCOBY from a friend, but I had success using this starter culture if it's your only option)

Kombucha starter tea (basically, plain kombucha**)

Coffee filter and rubber band

Non-metallic spoon or spatula (wooden spoon works great)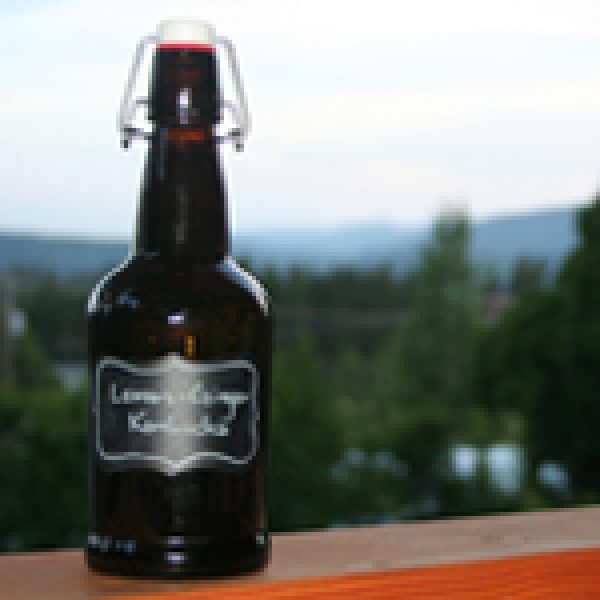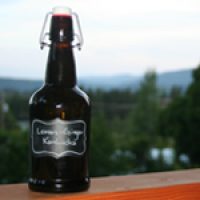 Homemade Kombucha
Homemade kombucha is as simple as brewing some tea and adding a bit of sugar. Follow this recipe and you'll be enjoying this delicious drink for just pennies a serving.
Print
Pin
Comment
Servings:
2
gallons kombucha
Ingredients
1 3/4

gallon

filtered water

2

cups

organic sugar

4

cups

starter tea

plain kombucha
Instructions
Boil 1 ¾ gallon water (28 cups). Once water is boiling, turn off heat.

Add 2 cups of sugar. Stir to dissolve.

Add 12-16 tea bags and let steep for ten minutes, remove bags and let cool until room temperature (I use 12 tea bags as I prefer a mild kombucha).

Once your tea is room temperature, pour into your glass vessel

 (we love this 2-gallon dispenser to have kombucha "on tap" at all times)

. It's important to note that your vessel have no metal parts as this can be damaging to your SCOBY.

Add 4 cups of starter tea to your glass vessel.

Carefully place your SCOBY on top of your tea. (It should want to float, although sometimes my SCOBY is lazy and floats sideways in my jar. Whatever your SCOBY wants to do is fine, be accommodating and gracious, he's going to provide you with delicious nectar in about a week or two!)

Cover your vessel with a coffee filter, paper towel or tea towel and a rubber band.

This is perhaps the most difficult step…WAIT! How long? I'm not sure!

SCOBY's love temperatures between 68-85℉, but can survive above or below that. The colder it is, the slower the SCOBY will ferment your tea (they just aren't as hungry when they're cold). The warmer it is, the quicker the ferment.

The best part is getting to taste-test your kombucha. Once your baby SCOBY has formed, you can start tasting your brew. If you're not using a dispenser jar, then carefully dip a non-metallic spoon into your jar, and give it a taste (the goal is to taste your kombucha while keeping the SCOBY floating on top). If it's still pretty sweet, then let it keep going. This is completely preferential though! Your taste buds will tell you when it's ready!

When your kombucha is to your liking, drink away! If you leave it at room temperature it will continue to ferment and get a stronger flavor. Or, you can remove the SCOBY and a bit of starter tea (and start your next batch of kombucha) and place it in the refrigerator to enjoy!

The longer you allow your kombucha to ferment, the less sugar content and caffeine it will have, so this is a good reminder if you're letting your kids drink it (or wanting to drink it in the evening).
Notes
It's best if you can get a SCOBY from a friend, however, I had success using this starter culture.
I successfully started my very first batch of kombucha from a bottle of store-bought plain kombucha (GT brand). However, if you read reviews about using store bought kombucha, you'll find varying opinions/results following this method. So I leave you to use your own discretion.
When choosing your kombucha vessel, be sure there are no metal parts as this can damage the SCOBY.
Natural sweeteners like honey or maple syrup are not favorable for making kombucha as the SCOBY tends not to thrive on these sweeteners (and raw honey contains natural microbes that can interfere with the SCOBY).
Don't worry about the large amounts of sugar added, most is consumed by the SCOBY during the fermentation process.
When covering your kombucha, be sure it's fine enough to keep all bugs out. Fruit flies love kombucha and finding tiny fly larvae on your SCOBY is not a pleasant experience (true story!).
Nutrition
Serving:
8
oz
|
Calories:
240
kcal
|
Carbohydrates:
56.3
g
|
Sodium:
80
mg
|
Sugar:
16.3
g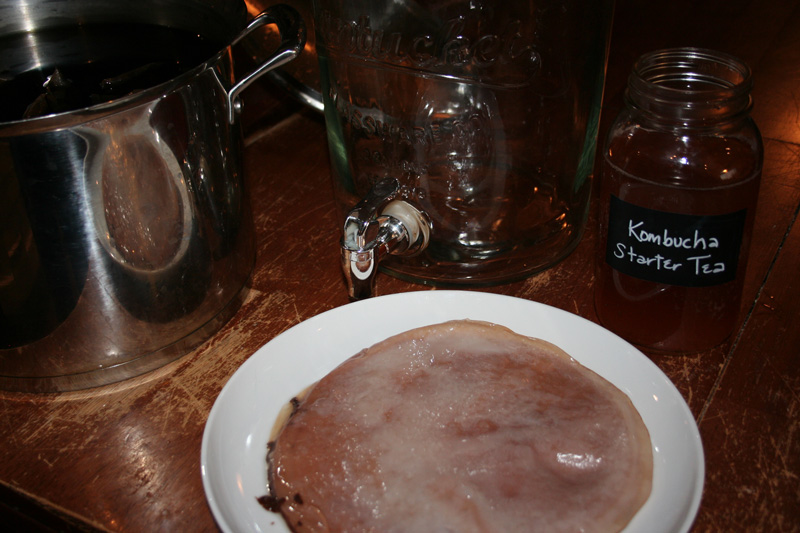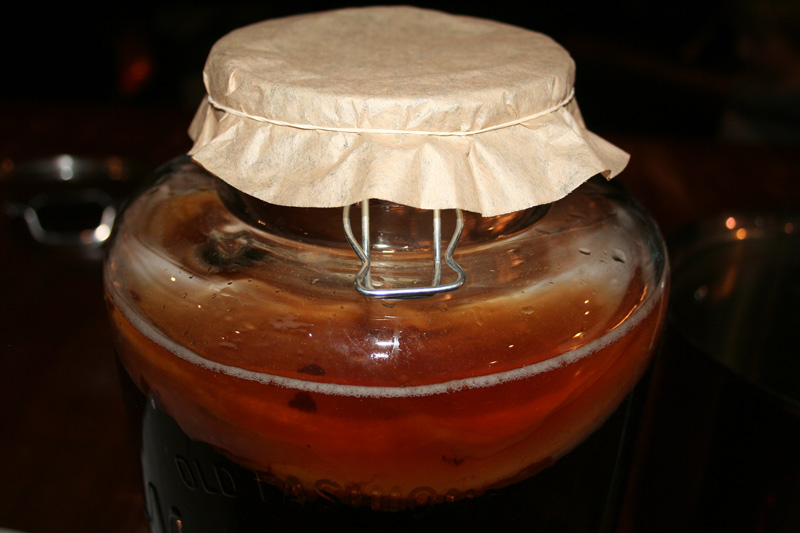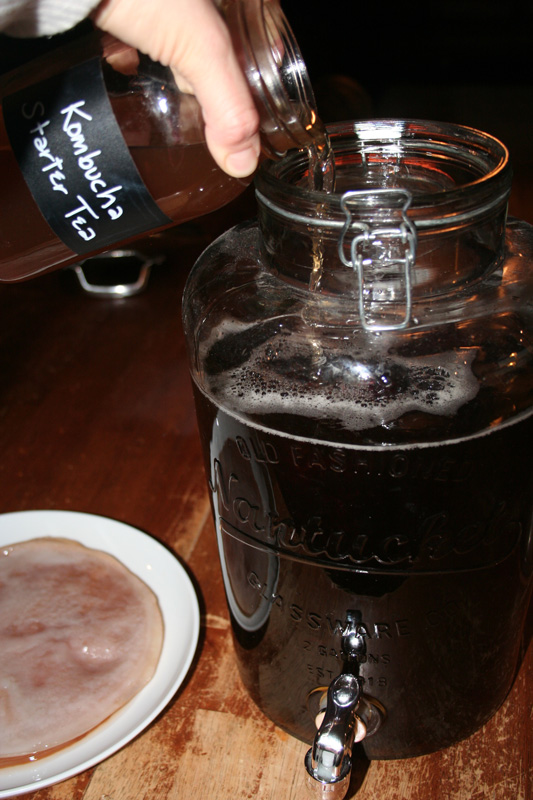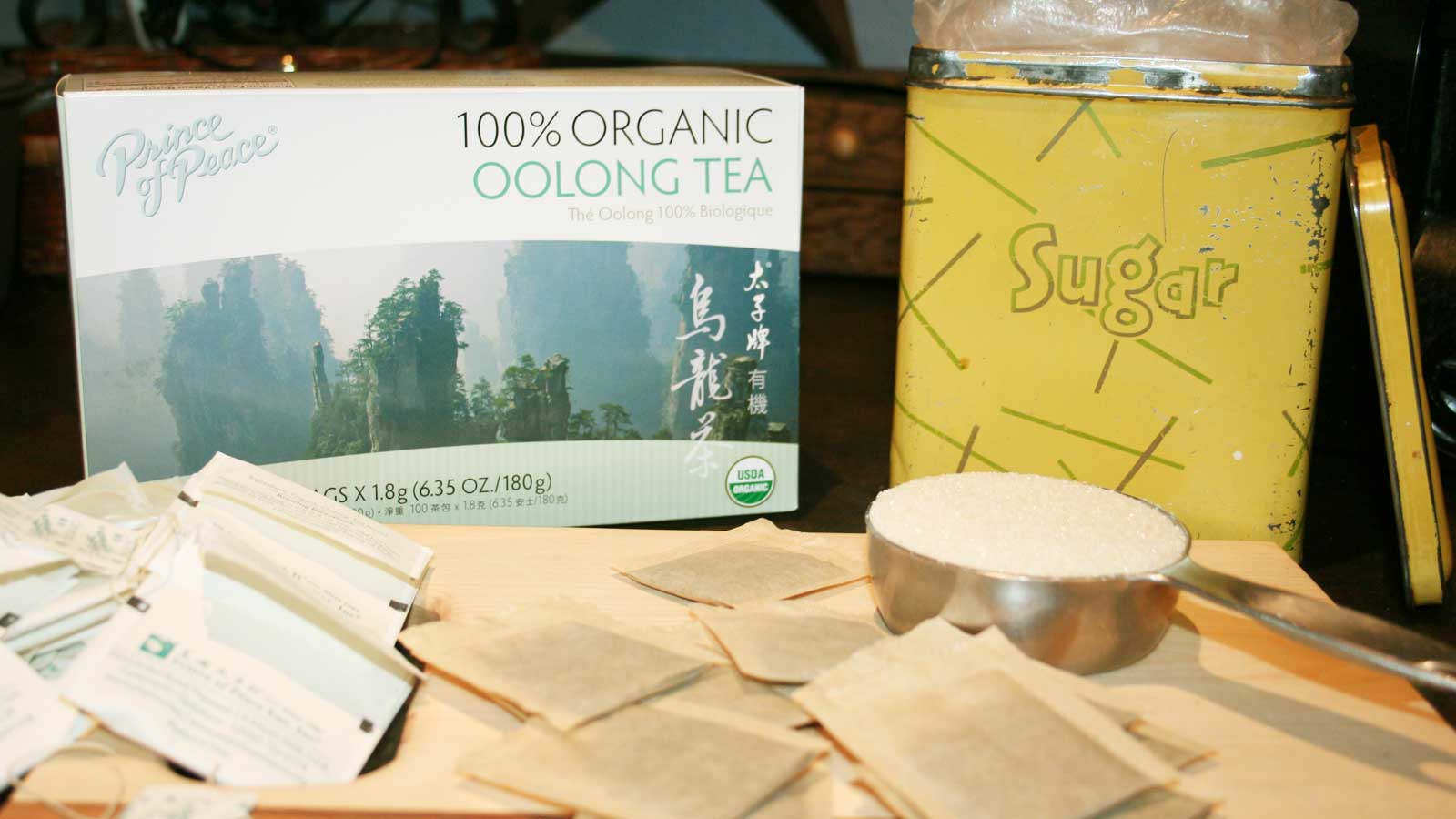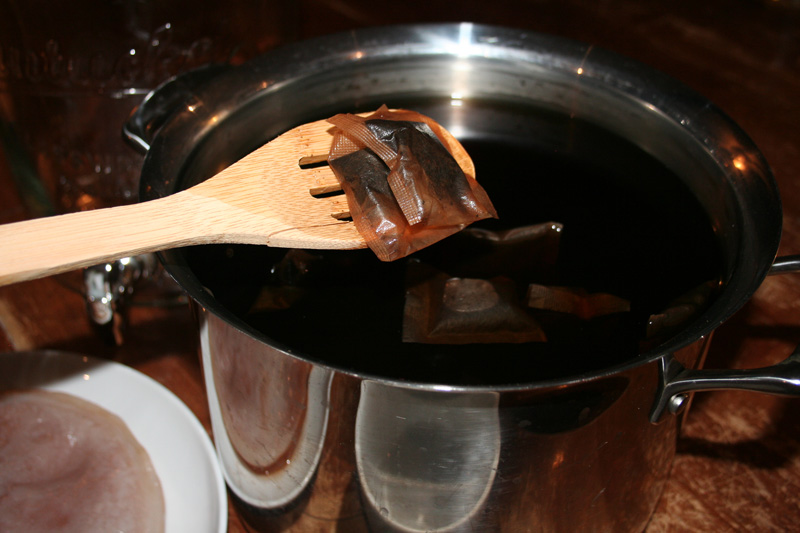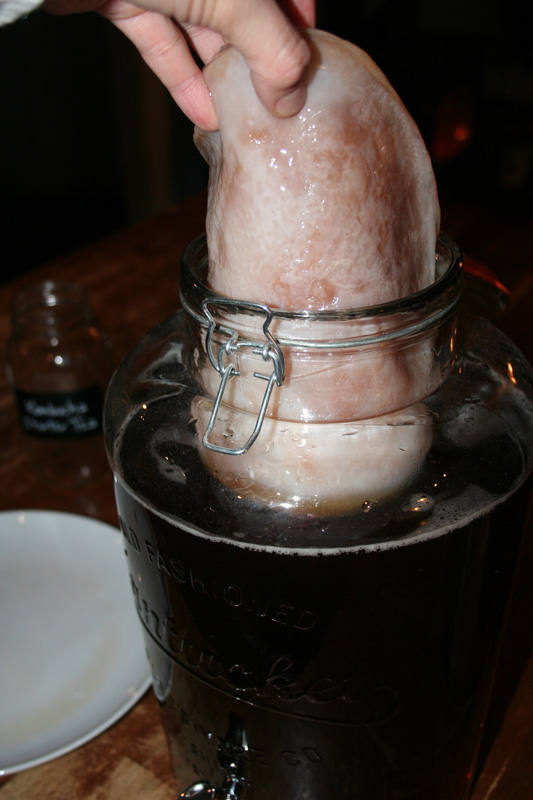 I thought it might be helpful to mention this kombucha starter kit from Amazon. It has all your necessary supplies (except the jar, but you can throw one of those in your cart at the same time) and you'll be well on your way to brewing kombucha in no time.
When I started brewing kombucha, I invested in these fun grolsh bottles for doing a second ferment and they, along with the culture and starter tea, paid for themselves within two months! Read this post for tips and recipes on second fermenting kombucha and water kefir.
A few helpful tips
Remove strings and tags before adding tea bags to your water, this eliminates having to fish out soggy paper floating around in your tea (live and learn!).
Prepare your tea in the evening and let it steep 10 minutes, then cool overnight. The next morning it will be ready to proceed with step 4.
If you're really in a hurry, you can steep your tea for 10 minutes and then plunge your pot into a sink full of icy water to speed up the cooling time. (Your tea MUST be room temperature before proceeding to step 4, or you risk killing your SCOBY…and that would be sad.)
Once you have a new "baby" SCOBY you can now gift it to a friend, or add both SCOBYs to your next batch of kombucha. The larger your SCOBY the quicker the ferment!
Be sure to save some of your kombucha tea to use as your "starter tea" for your next batch.
If you can't keep up with your kombucha and need to take a break. You can let your SCOBY "hibernate" in an airtight jar (remember, no metal), covered with kombucha. You'll find varying recommendations for how long a SCOBY can be left unattended in the refrigerator, but mine was dormant for the better part of a year and still came back strong.
Things that are NORMAL
After 3-7 days you should start to notice a slight "film" on the top of your tea. It will look white and cloudy, this is perfectly normal! Meet your new, "baby" SCOBY!
If you have procured a mature SCOBY from a friend there may be brown stringy pieces that float down into your tea (mature SCOBYs tend to have these strings more often than new "baby" ones). As long as the strings are light to dark brown (see "SCOBY" pictured above) and not black this is perfectly normal.
Baby SCOBYs tend to be a milky white color while older SCOBYs become darker with age. This is simply due to staining from the tea and perfectly normal.
Things you do NOT want to see
Any black mold is not OK and you will need to discard everything and sadly, start over.
If, after 30 days, you do not see a new "baby" SCOBY appear on the top of your tea, then your ferment was not successful and you'll need to discard everything and sadly, start over (although it should be possible to reuse the same SCOBY in a new batch, but you'll need to get new starter tea before trying again).
It also needs to be mentioned that cheese-cloth is not a suitable covering for your kombucha as fruit flies have been known to sneak in and lay their larva atop your SCOBY. If this happens, to your dismay, within a few days you will see tiny worms crawling all over your SCOBY…again, discard everything and sadly, start over (this is, unfortunately, a true story, thankfully not my own! But the phone call, although disappointing, was quite hilarious once we figured out what had happened!)