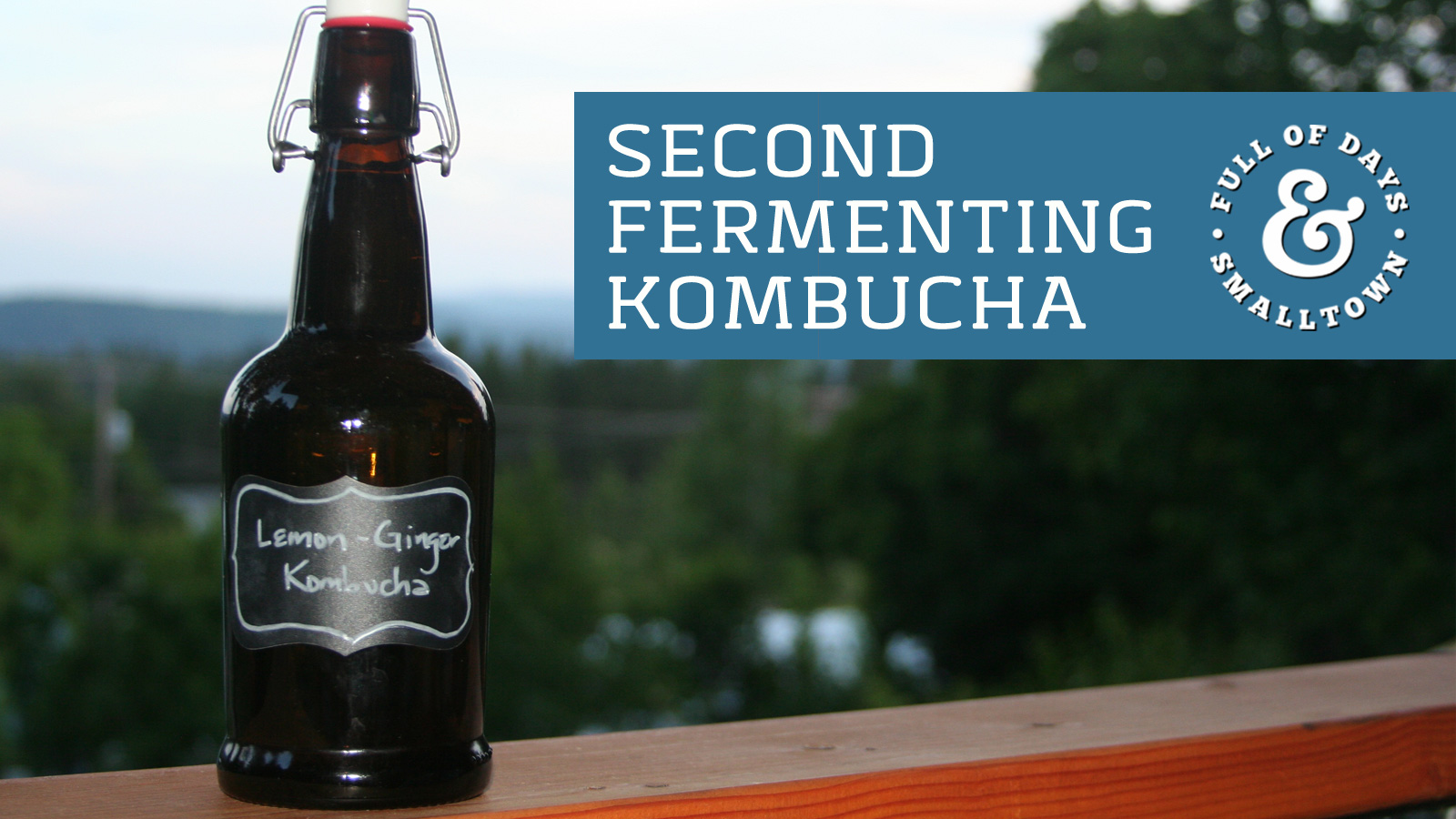 Second Fermenting Kombucha & Water Kefir
Adding delicious fizz and flavor to your favorite drink!
Editor's note: This post was originally written for second fermenting kombucha, however these same recipe combinations are delicious for water kefir as well! Check out the basics for kombucha and water kefir before gearing up for second fermenting!
Those who have made their own home-brewed kombucha usually report back with one of two comments: "It actually tastes better than store bought!" or, "It's kinda gross!"
Which do you relate with? Whatever your experience, a double ferment of your kombucha (or water kefir) will have you jumping for joy.
In our opinion, home-brewed plain kombucha tastes superior to store bought. But, if you're not a fan of the original, plain flavored kombucha, you may not enjoy your home brew either. And that's ok! But if I've learned anything through a traditional lifestyle, it's this: if I don't love the end result, I won't stick with the healthy habit!
Double-Fermentation is the super-hero of Kombucha Land! He adds delicious flavor that even the greatest skeptics will enjoy! (Sometimes we don't tell our guests exactly "what" they're drinking until after they've fallen in love with the taste. We're sneaky like that!)
So get creative, get fancy, and have some fun! Check out some of our favorite flavoring options below and let us know which is your favorite! These flavors work great for both kombucha and water kefir. Mix and match, try new flavors, and by all means, share your flavor creations with the rest of us by commenting below!
Each of these recipes is for a 16 ounce serving. We use these Grolsh Style Bottles when double fermenting our kombucha or water kefir. Always leave about 1/2 inch of head space in your fermenting vessel. Cap tightly and ferment at room temperature for 3-7 days (check after two days for desired fizziness). Once bubbly, refrigerate and enjoy! 
Lemon/Ginger Kombucha – Add a thin slice of fresh ginger with 1/4 cup organic lemonade (or the juice from 1/2 lemon for a no-sugar option) and top with kombucha. (I was told this tastes exactly like authentic Ginger Beer from Africa!)
Arnold Palmer Kombucha – Add 1/4 cup organic lemonade (or the juice from 1/2 lemon for a no-sugar option) and top with kombucha.
Cranberry Kombucha – Add 4-5 cranberries (or 1/4 cup organic cranberry juice), 1/2 teaspoon sugar, maple syrup or honey and top with kombucha.
Strawberry Kombucha – Add 3 strawberries (slice if necessary to fit into bottles), 1/2 teaspoon sugar, maple syrup or honey and top with kombucha.
Powerhouse "Green" Kombucha – Add 2 teaspoons greens powder, 2 Tablespoons lemon juice and top with kombucha.
Grapefruit Kombucha – Add two grapefruit sections (diced into small pieces), 1/2 teaspoon sugar, maple syrup or honey and top with kombucha.
Tropical Kombucha – Add 2/3 cup coconut water, 2-1 inch cubes fresh pineapple (or 2/3 cup organic pineapple juice) and top with kombucha.
Any flavor Fizzy Kombucha – Add 1/4 cup of your favorite organic juice and top with kombucha.
Any flavor Chia Seed Kombucha – Add 3-4 Tablespoons chia seeds to any of the above, already double fermented, room temperature kombucha flavors. Stir frequently for 5-10 minutes until chia seeds are swollen and begin to gel. Refrigerate and drink within 1-2 days. (I recommend emptying kombucha into a 16 ounce glass then adding chia seeds. They can be difficult to clean out of the grolsh bottles.)
As mentioned above, we prefer double fermenting in the flip-top bottles.  We did the math and realized with the savings of making kombucha at home, these bottles cost no more than buying store bought kombucha! Plus, once you've made 12 bottles, you're now making kombucha for pennies!
Grolsh bottles are designed to handle the pressure of the C02 buildup which occurs during the second ferment. I've heard reports of people getting a little fizz using mason jars with saran wrap under the lid, or even old store bought kombucha bottles, but these jars are not designed to safely handle the pressure buildup of CO2. If using these jars, "burp" them every day to avoid the possibility of exploding glass.
Have any flavor options not mentioned above? Please share with us in the comments below!
Bottom's up!