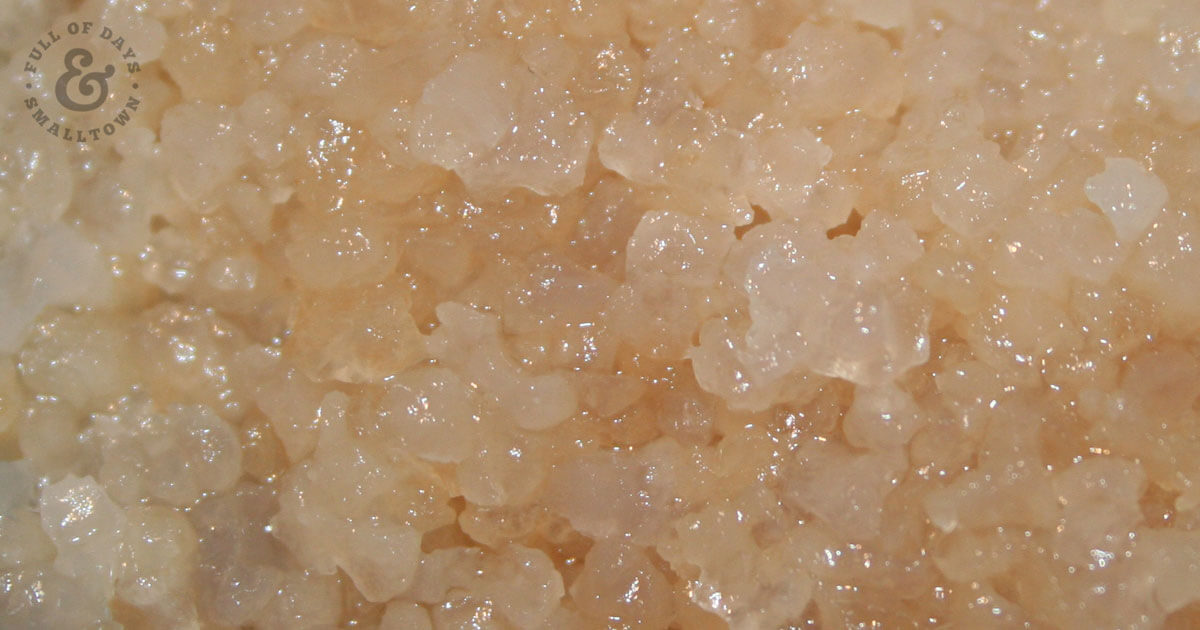 How to Make Homemade Water Kefir
This simple tutorial for homemade water kefir will produce a healthy and delicious alternative to soda and sugary sports drinks!
When I married my husband he was a Gatorade addict! He'd been drinking it his whole life and reasoned that it helped him meet his daily water quota. Bottom line? He didn't enjoy drinking plain water. Ya'll, I actually used to buy him the giant tubs of powdered neon-colored Gatorade from Costco (shudder)!
Once we began eliminating processed food from our diet and following a more "traditional" way of eating, he was stuck again with just water to drink. He did train himself to drink (and even like) kombucha, but there was still the desire for something "lemon-limey" and cold and refreshing to sip throughout the day.
Why is Water Kefir Good for You?
In an attempt to up our probiotic game I bought some water kefir grains. I had never tasted water kefir before, so it really was a shot in the dark. After making our first batch I added a splash of organic lemonade and gave some to The Hubs to try…
Sayonara Gatorade! There's a new kid in town! And it's packed full of beneficial bacteria! Hello happy tummies! Due to The Hub's affection for Gatorade (and subsequently Gator Nation), we lovingly named our newest Kitchen Pet, Stokely*.
As with most other fermented foods/beverages, water kefir supports gut health. Even though the recipe calls for quite a bit of sugar, the beneficial bacteria in the water kefir grains consume this (like food), as they metabolize the sugar, they produce beneficial bacteria, B vitamins, beneficial acids and food enzymes (helpful for digestion). The end result is a drink that's very low in sugar, slightly fizzy (from the byproduct of natural carbon dioxide), and pleasantly sweet.
More Health Benefits of Water Kefir
Although water kefir has fewer strains of bacteria than milk kefir, it still has more than other fermented products like yogurt or buttermilk. My general rule of thumb is to eat fermented foods with each meal, and to eat a variety of fermented foods to populate my gut with as many strains of the "good guys" as possible.
Furthermore, fermented beverages are said to be more beneficial to our bodies than plain water! Excess water puts unnecessary strain on our kidneys because it's devoid of electrolytes. Our body will try to excrete it as quickly as possible (I'm sure you've experienced this when you increase your water consumption…#gottapee!). Too much water consumed close to, or during meals can also dilute stomach acid. This inhibits proper digestion and causes undue strain to our digestive process, upsetting a proper pH balance. However, sipping a fermented beverage during meals actually aids digestion by providing lactic acid and digestive enzymes.
Is there Alcohol in Water Kefir?
Yes, but it's such a tiny amount that I don't even hesitate to give it to my kiddos. Whenever you're fermenting beverages, a small amount of alcohol will be produced. Depending on how long water kefir is brewed, it typically has around 0.5% to 0.75%. To put this into perspective, this is less than what you'd find in over-ripe fruit (which hovers at 0.9% to 1%). If you're concerned at all, you can test the alcohol content in your water kefir (or other ferments) with this inexpensive hydrometer.
What Supplies do You Need to Make Water Kefir?
This is one of the easiest ferments, especially if you're just getting used to fermenting beverages and foods on your own. The supplies are minimal, and although it may cost a bit to get started, once you have your supplies you'll be making delicious, probiotic water kefir for pennies a serving.
Where can I get water kefir grains?
Yes, most importantly, you need to get some water kefir grains. If you have a friend who makes water kefir, it's possible they may have some to share. Otherwise, these are the grains we use and recommend. Water kefir grains (also called tibicos) are a symbiotic colony of bacteria and yeast (aka a SCOBY). If you care for your water kefir grains properly, they will grown and reproduce as you brew multiple batches.
What type of container do I ferment my water kefir in?
A simple half gallon mason jar will do! You'll need a loose fitting lid, a coffee filter and rubber band, or a bit of cheesecloth (be sure fruit flies cannot get to your water kefir, they tend to like fermented products).
Do I need to use filtered water for water kefir?
Using tap water can be OK if you live in a region that doesn't have chlorinated or fluoridated water. Otherwise, filtered water is advised. If you have well water, your grains may proliferate quickly with the added mineral content.
What kind of sugar do I use for making water kefir?
I know the amount of sugar used for making kefir seems like A LOT! But don't worry about the amount, the majority of the sugar is consumed by your water kefir grains during the fermentation process. We use a simple organic sugar for our batches. And it's not recommended to use honey as it's naturally anti-bacterial and can have a negative effect on your grains after a while.
For information about other sugars, read "Keeping Water Kefir Healthy" below.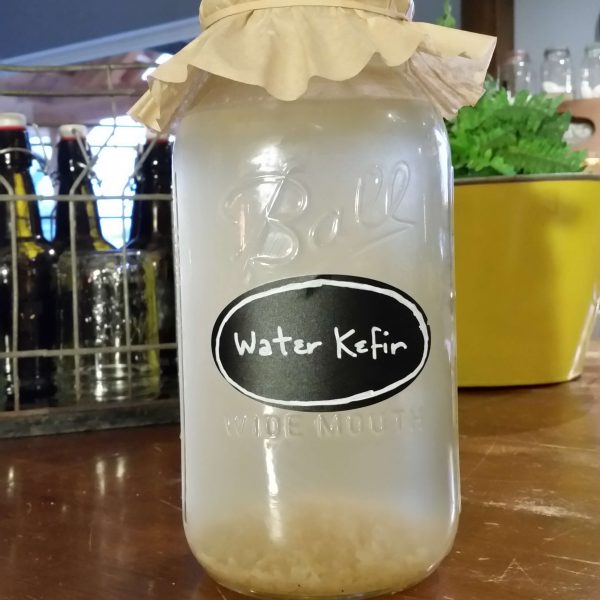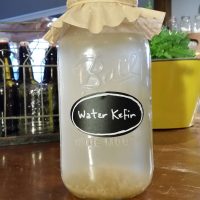 Water Kefir
Homemade water kefir is a fizzy and bubbly probiotic beverage that can be flavored countless ways. Consider it healthy homemade soda!
Print
Pin
Comment
Instructions
Bring 1 cup water to boil and add sugar. Stir to dissolve.

Add remaining 7 cups water and kefir grains into a clean 1/2 gallon glass jar.

Cover jar with a coffee filter, paper towel or loosely fitting lid. Secure coffee filter/paper towel with a rubber band.

Let sit at room temperature for 24-48 hours (ferments best between 68-85℉).

Strain water kefir through plastic funnel.

Refrigerate and enjoy!

Begin a fresh batch with the same grains by starting again at step 1.
Notes
We like using a half-gallon glass mason jar to make water kefir.
This plastic funnel is great for straining because it catches the kefir grains.
If you'd like to second ferment the water kefir to add both flavor and carbonation, read this post for instructions.
Lemonade just happens to be our favorite way to flavor water kefir, but we have tried many of these flavor options and most all were delicious.
UPDATE: My new favorite flavoring method is to toss half a frozen sliced peach into the jar before fermenting! The result tastes like a peach Italian soda! 
You can also double ferment water kefir (just like you would kombucha) in these Grolsh Style flip-top bottles.
Nutrition
Serving:
8
oz
|
Calories:
40
kcal
|
Carbohydrates:
9.9
g
|
Sugar:
5.1
g
Can I Use my Kefir Grains for Milk Kefir?
No, milk kefir grains are a different composition of beneficial bacteria and yeasts. They rely on lactose (milk sugar) to grown and reproduce. If you're interested in milk kefir, its benefits and different ways to use it, read here.
Can I Make Water Kefir with Coconut Water?
Yes, it is possible to make coconut water kefir, but it's recommended to return your kefir grains to plain sugar water between batches to make sure they're getting adequate "food". If you notice your grains looking mushy, or reducing in size, return them to sugar water and take a break from making coconut water kefir for a while.
Is Making Water Kefir Easy?
Water kefir is simple to make, and only requires 24-48 hours to ferment. Water kefir grains will last indefinitely, making the only cost the initial purchase and a steady supply of sugar to keep them "fed". As a thank you, the grains will consume the sugar creating a carbonated, very low calorie, lacto-fermented drink.
Furthermore, if you mix a 50/50 amount of kombucha and water kefir together, you will create an extremely delicious probiotic "Arnold Palmer".
If you've been leery of giving kombucha a try, fearful everyone in your family will hate it, you might find you have successful results with water kefir.
*In 1967, the Florida Gators (fueled by the newly invented "Gator-aid") beat favored Georgia Tech for the coveted Orange Bowl title…years later, my husband memorably recalls buying "Stokely's" Gatorade as a young boy. (It's times like this, when discussing sports history, I'm certain I make my hubby proud!)
Keeping Water Kefir Grains Healthy
Water kefir grains love minerals, so they proliferate (multiply) best in a high-mineral environment. I like using organic cane sugar over white sugar because there are trace amounts of minerals (it also results in a cleaner taste and clearer drink). However, occasionally I'll add in some mineral-rich unrefined sugars like coconut sugar, jaggery or rapadura. Another option is to add a few drops of Concentrace, a liquid mineral supplement.
How do I Flavor Water Kefir?
A simple splash of lemonade, or a squeeze of lime juice makes a refreshing drink. But the flavor combinations are only as limited as your imagination! Try a splash of ginger juice to "spice things up a bit".
How do I Second Ferment Water Kefir?
Once your water kefir has fermented (after 24-48 hours) you can do a second ferment to increase carbonation and add flavor. Grab some grolsch style bottles and read this post for more information on second fermenting.
Water Kefir Tips & Tricks
You can double ferment water kefir (just like you would kombucha) in these Grolsh Style flip-top bottles. But consider yourself forewarned that they build carbonation much quicker than kombucha! The Hubs was the recipient of a kefir bath after I asked him to "check to see if the kefir 'pops' yet!" (It was like Old Faithful!) Use these chalkboard labels to help remind you how you flavored your kefir and when you started your second ferment!
If you need to take a break from making water kefir, you can let your grains "hibernate" in a quart of sugar water in the refrigerator. Be aware that they may take a little extra time to "wake up" once you start fermenting again. Read this post for more information.
Water kefir grains are known to grow and double in size over time. Share the love and gift some to your friends! Their tummies will thank you, too!
Other Fermented Recipes