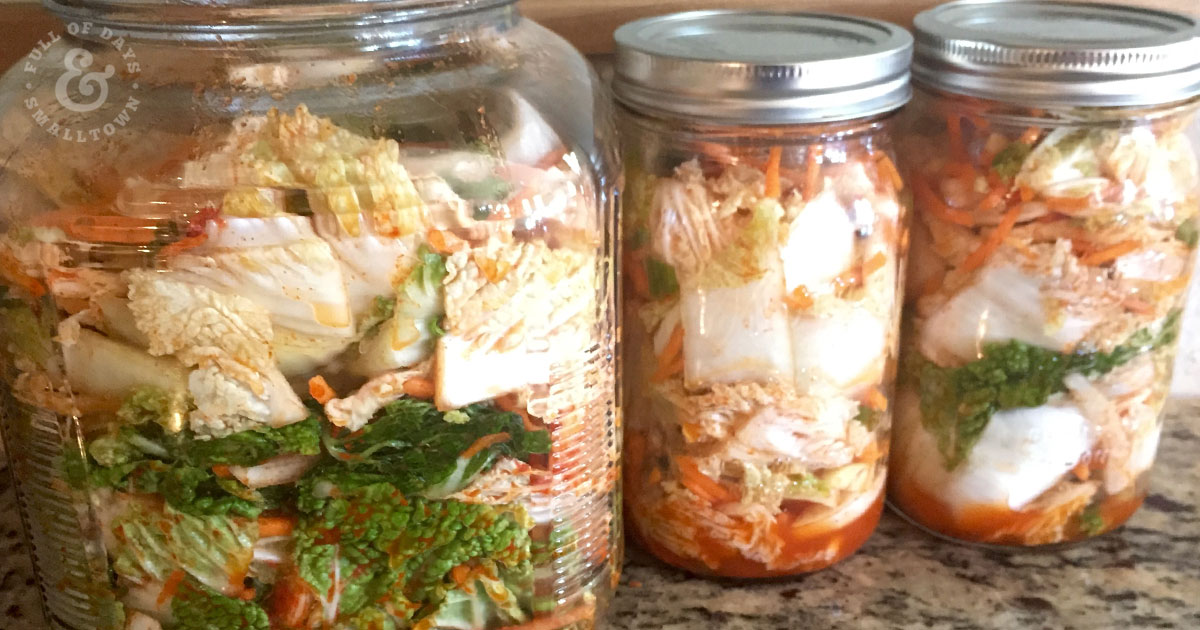 Easy Homemade Kimchi Recipe
Kimchi is a delicious addition to meals and adds a healthy probiotic kick for added gut health. With this homemade recipe you can make your kimchi as spicy or as mild as you like it.
Confession: While I love kimchi as much as the next guy, making it is really my Husband's endeavor. With each fresh batch I strive to be a trusty sous-chef and cheerleader, chopping and tidying alongside as he works his magic, but the recipe and kudos belong entirely to my better half.
Previous Post: Grow Your Own Food: Kimchi Edition
This past weekend I awoke to find the process already underway (15 years into our marriage, I'm keenly aware that there's no stopping my man once he starts a project. This is not a complaint.); so though I missed the front end of preparations, I hastily retrieved my go-go-gadget camera phone to snap pics whilst he charged on like a freight train. Here's what I gleaned by observing from the sidelines:
As with all ferments, this is a several days long process… plan accordingly.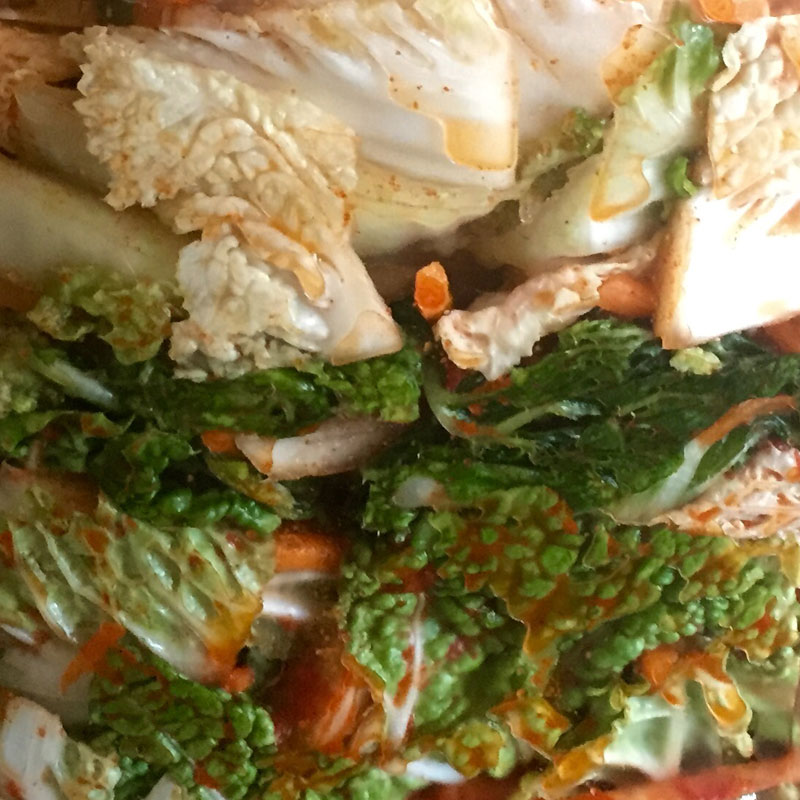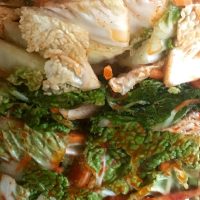 Ingredients
2

heads Napa cabbage

1

Daikon radish

julienned

1

cup

carrots

julienned

1

head of garlic

peeled and minced

3

green onions

thinly sliced

5

Tbs

Korean Red Pepper

Adjust according to taste

4

Tablespoons

sea salt
Instructions
Day One: Core and rough chop nappa cabbage into 2" lengths.

Add to a large bowl of salt water and soak for 24 hrs on counter.

Rest a plate on top to keep cabbage fully submerged; cover in plastic wrap.

Day Two: Strain cabbage and thoroughly rinse.

Return to bowl and set aside.

Chop radish and carrots into matchsticks, mince the fresh garlic, and use kitchen shears to slice the green onion.

Toss together with pepper powder and just enough water (a few ounces) to create a thick paste that will coat the vegetables.

Add veggie/pepper mixture into the large bowl of rinsed cabbage and mix with hands until evenly coated.

Pack tight into sterilized jars or crock.

Leave an inch of space on top for the fermentation gasses. Close jars and leave out on the counter 24 hours.

Day Three: Open each jar to release gasses (this should be audible), then transfer jars to the refrigerator or cold storage.

Day Six-Eight: Kimchi is now ready to eat! But we prefer to wait about ten days for best flavor.
Notes
If you don't grow your own green onions, keep them in a jar on the windowsill and they will regenerate indefinitely.
Kimchi can have serious kick, so go easy with your first batch and increase spiciness if desired in the next go-round.