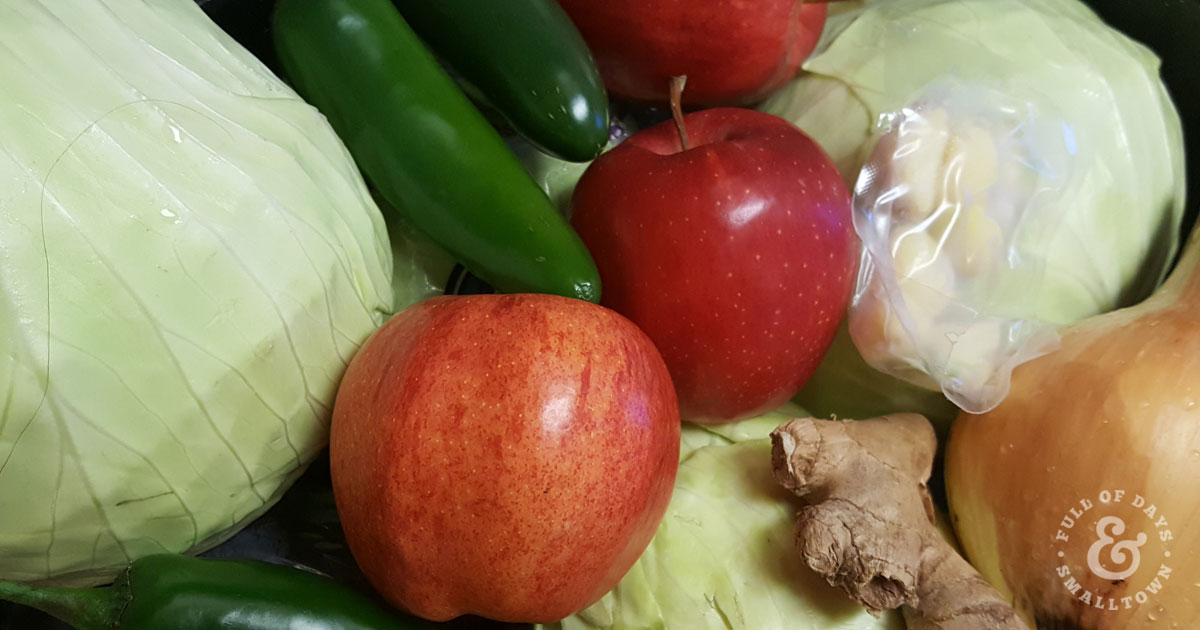 Heirloom Homemade Sauerkraut
Homemade sauerkraut is a gut friendly food full of beneficial probiotics. Enjoy this homemade sauerkraut recipe, handed down from generation to generation, with a delicious twist that will add healthy, immune boosting benefits to your diet.
We met in a little house tucked up in the woods, each of us bringing ingredients to make the best sauerkraut I've ever tasted. Seriously the best! My friends, their dad and all our kiddos were there to learn. I was greeted with warm smiles and a calm welcome, then we got to work.
As we chopped and worked together, I listened. I listened as the recipe giver calculated the recipe. I listened as he gave instruction to his daughters. I listened to his voice. I listened to the years of experience. I listened to the tone of his voice. I listened to the words. And as I listened, I learned to make 'kraut.
I learned that keeping it pressed down using the potato masher technique is very important. I learned that chopping evenly and measuring accurately is imperative. I witnessed the bond between Father and daughters in the kitchen, how willing the girls were to do just what Dad asked and how willing he was to let them try a new way. It was a beautiful morning, learning the skill of fermentation, spending time with friends, watching and listening. I witnessed a family heirloom recipe lived out in a little kitchen inside a wood sided home.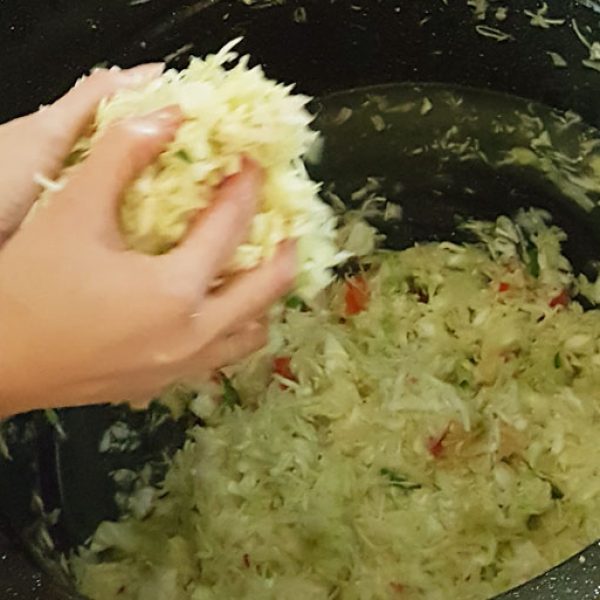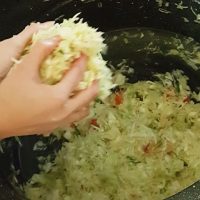 Heirloom Sauerkraut With a Delicious Twist
A deliciously sweet and spicy surprise to the traditional sauerkraut recipe. This heirloom recipe has been handed down from generation to generation, we hope it becomes part of your family traditions as well.
Print
Pin
Comment
Ingredients
5

lbs

organic cabbage

cored and shredded

2

+ cloves organic garlic

minced

1

medium organic onion

chopped

1/2-1

medium organic apple

chopped

1/2-1

organic red bell pepper

chopped

1/2

organic jalapeno pepper

minced (seeded for less spicy)

1

Tbs

fresh organic ginger root

minced (or 1 tsp ginger juice)

3

Tbs

sea salt
Instructions
Finely chop cabbage and weigh out five pounds. Set aside.

Finely chop or mince garlic, onion, apple, red bell pepper, jalapeno and fresh ginger, mix together in a bowl. (If using ginger juice, wait to add that until step 4.) Try to keep all sizes uniform, then set aside.

In a large bowl, layer cabbage with fruit and veggie mixture, pressing firmly and mixing together after each layer.

Once cabbage and fruit/veggie mixture are combined, add ginger juice (if using), mix well, then sprinkle salt over the top.

Using your hands, continue to mix and press HARD until the cabbage begins to release its juices. This pressing and mixing hard is crucial!

Transfer your cabbage mixture to the fermentation container.  NOTE: You may use canning jars or traditional crock containers, but be sure your crock isn't coated with lead paint! Alternatively, you can use a stainless steel pot.

The final press.  Press the kraut down, we used a potato masher. The key step is to insist the sides above the mixture are clear of debris.  Mold can grow and ruin a ferment. Press down with all your strength. You want enough liquid that it covers the sauerkraut.

Now to weight the sauerkraut and let it ferment. Using a ceramic plate that is slightly smaller than the pot you chose, place it on the top of your kraut, then use a quart jar filled with water to weigh down the plate. Cover with a light dish towel. Set on your counter or place of choosing (best results when temperatures are between 68℉ and 76℉).

Check ferment daily and repeat steps 7 and 8,, if needed. Do this for 7 to 10 days. Give the 'kraut a little "taste test" as you stir each day, once your desired taste is reached you can transfer it into glass mason jars and store in the refrigerator or cold storage.
Notes
The beauty of sauerkraut is the flavor tends to get better with age. So whip up a few batches and figure out your favorite!
Nutrition
Serving:
1
/4 cup
|
Calories:
16
kcal
|
Carbohydrates:
3.8
g
|
Protein:
0.7
g
|
Fat:
0.1
g
|
Sodium:
360
mg
|
Fiber:
1.4
g
|
Sugar:
2.2
g
Homemade Sauerkraut tips:
The "traditional" way this recipe was taught is without measurements, but by taste, look and feel. Because each cabbage will yield different amounts, it's important to weigh out five pounds and start there.
This recipe can easily be doubled, tripled, or multiplied to your desired size.
Additional ingredients may vary,  some may prefer to stay with the basics of just cabbage and salt. Or maybe a simple garlic, onion and jalapenos recipe. To be honest, the apples and red bell peppers are a delicious twist that pleasantly surprised me.
Play with the recipe, make a couple of different batches with different ingredients to see which you prefer.
As you mix and press, make sure the sides of your container remain clean throughout the process.
Enjoy the ease and simplicity of this heirloom recipe.
The morning spent with this dear family is a treasure.  I asked the daughters, what do you love about working in the kitchen with your dad.  The shared that they love the life lessons he brings into the process, the memories he shares as he chops, how at times he's taken back to when he was taught the process. They love gathering together and spending time in Dad's kitchen.
Time spent, in a humble wood-sided house, in a kitchen where memories are alive, families are bonded, and fermentation is taught. It was a full day, family heirlooms handed down, recipes learned, and memories made.
Looking for More Fermented Recipes?