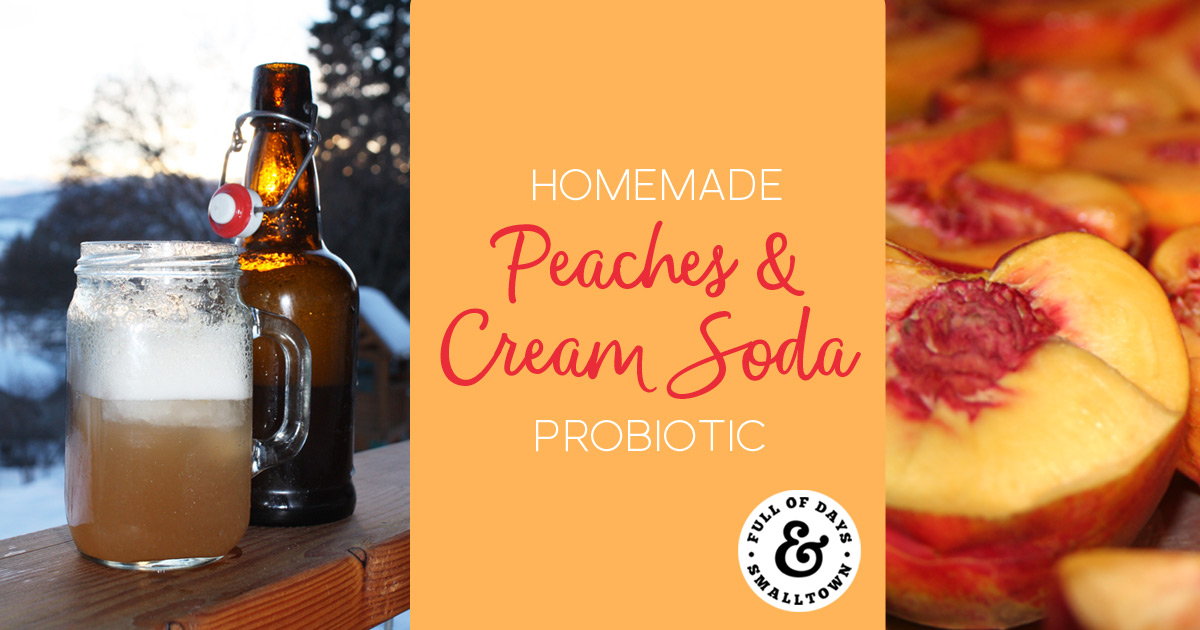 Fermented Peaches and Cream Soda
A homemade drink that's fizzy and sweet and free from the harmful ingredients of regular soda.
I love a fizzy and sweet beverage in the afternoon. There's just something so refreshing about those bubbles and the ice cold sweetness from a drink that'll wash away the cares of the day. This naturally fermented peaches and cream soda is sure to do just that, and you'll be surprised at just how easy it is to make!
Homemade sodas don't contain ingredients like high fructose corn syrup or caramel coloring, they're made with real food ingredients and a culture to naturally ferment the beverage. The benefit of this traditional method is the culture imparts beneficial bacteria that's helpful to our tummies and good for the immune system.   The trick to getting enough carbonation, which is what makes all those perfect little bubbles, is to use an airtight container such as these grolsh style bottles. I wished I'd bought the clear grolsh bottles because it's easier to tell what's in them, but if you already have these dark amber grolsh bottles like us…then just grab some chalk labels and write what's in them! This is also handy for writing the date you bottled your soda. If you're anything like me, you'll forget how long it's been fermenting, which can easily result in a soda fountain when opening the bottle. Funny…but not great, because you'll likely lose half your bottle of delicious soda!  
I learned the basics of fermenting soda from the Weston A. Price Foundation website. There are many flavoring options when it comes to making soda, so be sure to hop over there for more ideas.
Peaches and Cream Soda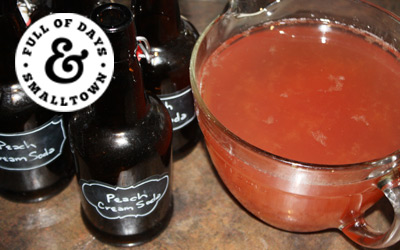 Ingredients
5-6 cups fresh or frozen peaches
1 1/2 cups organic sugar
14 cups filtered water
3-4 Tablespoons organic vanilla extract
1 cup whey
Details
Prep Time: 25 minutes
Fermentation Time: 3-10 days
Total Time: 10 days, 25 minutes
Yield: 1 gallon, or 8 grolsh bottles
Serving Size: 8 ounces
Directions
In a large pot, combine water, sugar and peaches and heat to a boil.
Reduce heat and simmer for 15-20 minutes.
Squash the peaches to release their juices and flavor (a potato masher works well). 
Allow liquid to cool to room temperature and then pour through a fine mesh strainer into a large bowl.
Add vanilla extract and whey then stir to combine (be sure your liquid is room temperature before adding the whey or you might kill the culture).
Transfer to a jar with a lid (two half gallon or four quart sized mason jars will work, lids do not have to be air-tight). 
Allow to ferment at room temperature for 3-7 days before transferring to airtight flip-top bottles.
Once bottled, test your soda for carbonation daily by opening a bottle. Continue to ferment at room temperature until you hear a decent "pop" upon opening.
Some Helpful Tips
When making soda, be sure to use bottled or filtered water, and not chlorinated tap water. The chlorine will inhibit fermentation.
You can substitute different sugars for the organic sugar. Sucanat, maple sugar and jaggery are all great options. I don't recommend using darker sugars such as coconut sugar, rapadura or molasses as the flavor can be overpowering.
Honey can be used to sweeten the beverage after fermentation (if desired) however shouldn't be used as the sugar source as it has anti-bacterial properties that interfere with fermentation. It is possible to ferment with honey, however it will take much longer and result in less of a soda flavor, and more of a wine flavor.
If you don't have any whey, you can obtain it easily by simply straining it from whole milk yogurt (not greek yogurt, as most of the whey has already been strained out). For one cup whey, take approximately 2 cups yogurt and strain over a jar for an hour or two (a coffee filter works well as no milk solids will seep through).
If you want a soda that's on the sweeter side, stick to a ferment of 24 hours in the jars, and 2-4 days in the airtight bottles. If you want a soda that has less sugar content (meaning the sugar has been consumed during fermentation) then ferment for the full 7-10 days.
Each home will ferment differently depending on temperature, ingredients and vessels. If your soda is fermenting too quickly, try moving it to a cooler area of the home (something between 64-68 degrees). If after 7 days you're still not getting carbonation, try moving it to a warmer area of the home (the top of the refrigerator tends to be a little warmer).
Once your soda has reached desired "fizziness", store in the refrigerator to stop the fermentation process. If you don't have space in your refrigerator, a cold basement will do.
If one gallon of soda is too much to make, you can cut this recipe in half and it will make approximately 4, 16 oz grolsh bottles of soda.