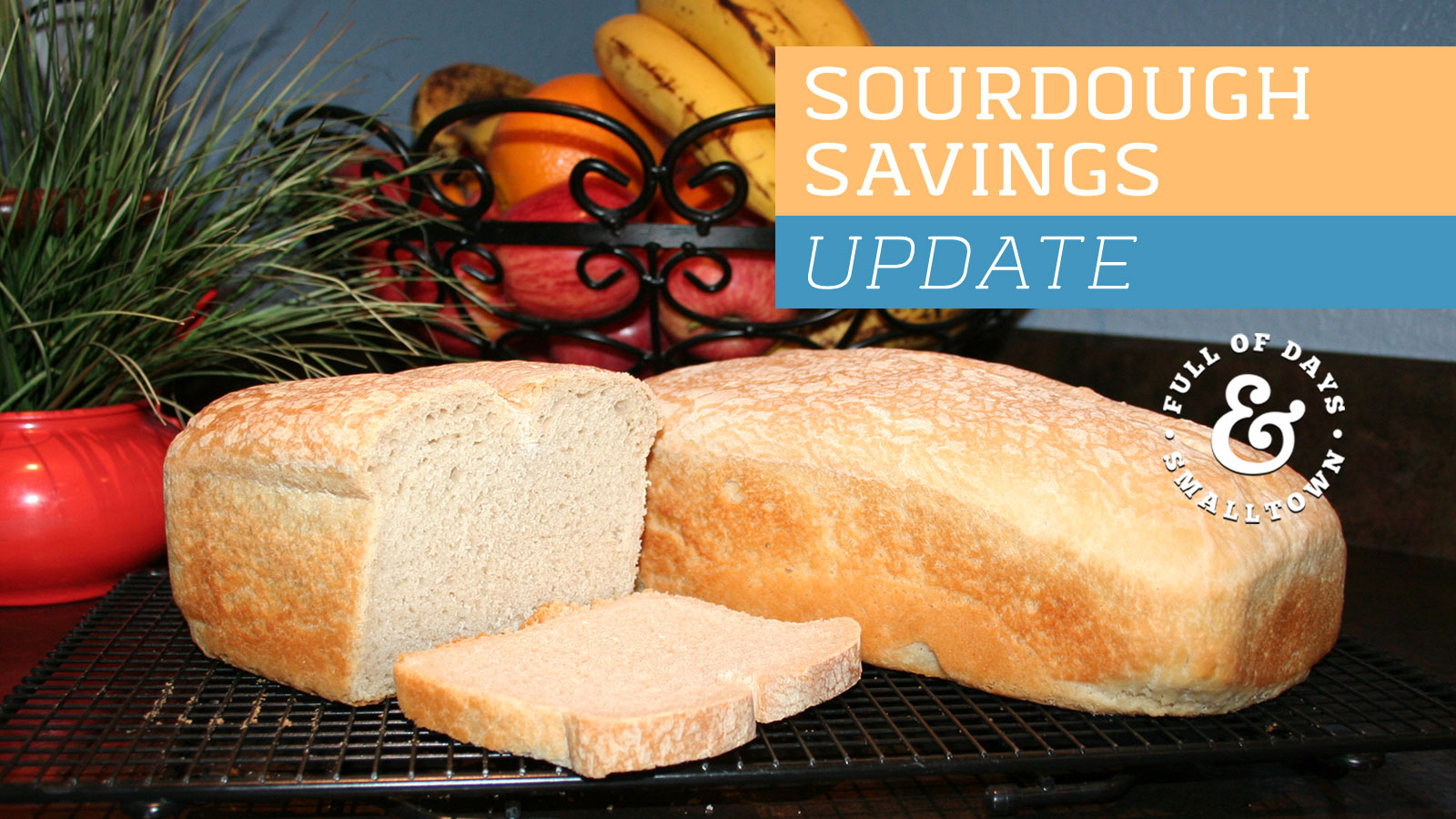 Sourdough Savings
How our family saves $1,480 a year JUST by baking bread!
We are a family of six. When sandwiches are on the menu, we're likely to consume an entire loaf of bread in one fell swoop. Because sandwiches are an affordable option, we eat them regularly. Beyond this, we will have toast with our breakfast, and bread with soup. This can easily add up to four loaves a week. Making our own bread at home adds up quick, this is why we're sharing our sourdough savings with you…how much money could you be saving?
An average loaf of bread can range from $2.00-$6.00/loaf (and upwards of $9.00/loaf for traditional sourdough). Let's assume we're buying an organic $5.00 loaf of bread. If a family of 6 consumes 4 loaves of bread per week, this adds up to $1,040/year FOR BREAD! (Even the $2.00 loaf totals $416/year.)
Because we want to continue eating a traditional diet, I'm constantly looking for areas to save money. Baking my own bread happens to save us…a lot!
We buy organic whole wheat flour at $.99/lb from Azure Standard. Non-organic varieties sell for as low as $.60/lb, but we're trying to steer clear of pesticides, chemicals and GMO's (as we all should!). I can bake approximately 30 loaves of bread from 50 pounds of flour (this includes feeding my sourdough starter daily). Because I'm making sourdough bread and not a fancier yeast bread, my ingredients list is pretty small.
Flour, salt, and water.
My starter is simply flour and water, so I don't count it as a fourth ingredient. Since the ingredients list is so short, there are minimal added costs to this recipe (we're talking pennies for the tablespoon of salt). A loaf of my homemade sourdough bread cost $1.63/loaf. Four loaves of bread per week makes my grand total $340 per year on bread. The equivalent traditionally prepared sourdough bread would cost $1,820.
That's $1,480 savings FROM BREAD ALONE!
If you want to start baking your own bread, but feel overwhelmed and don't know where to start, check out my sourdough post for recipes and useful tips for getting started. I'll demystify this simple (yet daunting) kitchen task and break it down, step by step. Trust me, if I can do it, you can too!
And it's so worth the time and minimal effort, because the taste is out of this world! So much better than store bought sourdough (which, for the record, should never have more than three ingredients and never ever include yeast…check your labels!).
As if you needed more reasons to make the swap to homemade bread, by making a slow-rise, traditional sourdough bread, you'll also be doing your tummy a favor! Be sure to read up on grains and why they're incredibly difficult for our bodies to digest, and also how eating them without properly preparing them can be damaging to your gut. 
And last, sourdough starter can be used for so many other homemade goodies. Grab our eBook Everyday Sourdough: Recipes for the Everyday Baker which is filled with sourdough recipes for bread, tortillas, flat bread, muffins, cakes, bagels, english muffins and MORE! We're continually posting new and creative ways to use up that sourdough starter (like these amazing Amish style cinnamon rolls)!
So, what would you do with an extra $1,480 each year? Imagine the possibilities!
5.18.2016 Update: Time spent in the kitchen can sometimes seem like a burden. But knowing I'm feeding my family the best possible food and pinching pennies where possible is extremely rewarding. It's these tangible results that keep me going on this real food journey.
I realized since writing this post, our bread consumption has lessened. We're consuming roughly 2-3 loaves of bread each week instead of the listed 4. Earlier this year I began bartering freshly baked bread for farm fresh eggs (since we can't have our own egg-laying ladies within city limits) so this changed our bread numbers again…I crunched the numbers and was so excited I had to share the results!
3 loaves of bread for my family
+ 2 loaves bartered for eggs
= 5 loaves of bread total
5 x 20 weeks = 100 loaves of bread made this year (give or take a few!)
My loaves of bread cost $1.63 to make.
$1.63 x 100 = $163 spent on bread this year to date
Traditional sourdough bread costs $8.75 per loaf. This is the only traditional sourdough bread I've found with only three ingredients.
$8.75 x 100 loaves = $875 I would have spent buying bread (or $525 just on the loaves for my family).
Bread savings = $362-$712
But this is where it gets fun…organic, free-range eggs would cost roughly $3.50 to $6 per dozen (depending on store and availability), and I get four and a half dozen eggs each week in trade for bread.
$3.50-$6.00 x 4.5 = $15.75-$27.00 I would have spent on eggs each week.
$15.75-$27.00 x 20 = $315-$540 I have SAVED on eggs so far this year!
Since I have spent $163 on bread, but have saved $315-$540 on eggs, I'm now $150-$375 ahead by simply taking a few hours each week to bake bread. My sweet friend who raises healthy, free-range chickens is happy for her fresh baked bread, and I'm happy for my delicious farm eggs! And we're both saving money!