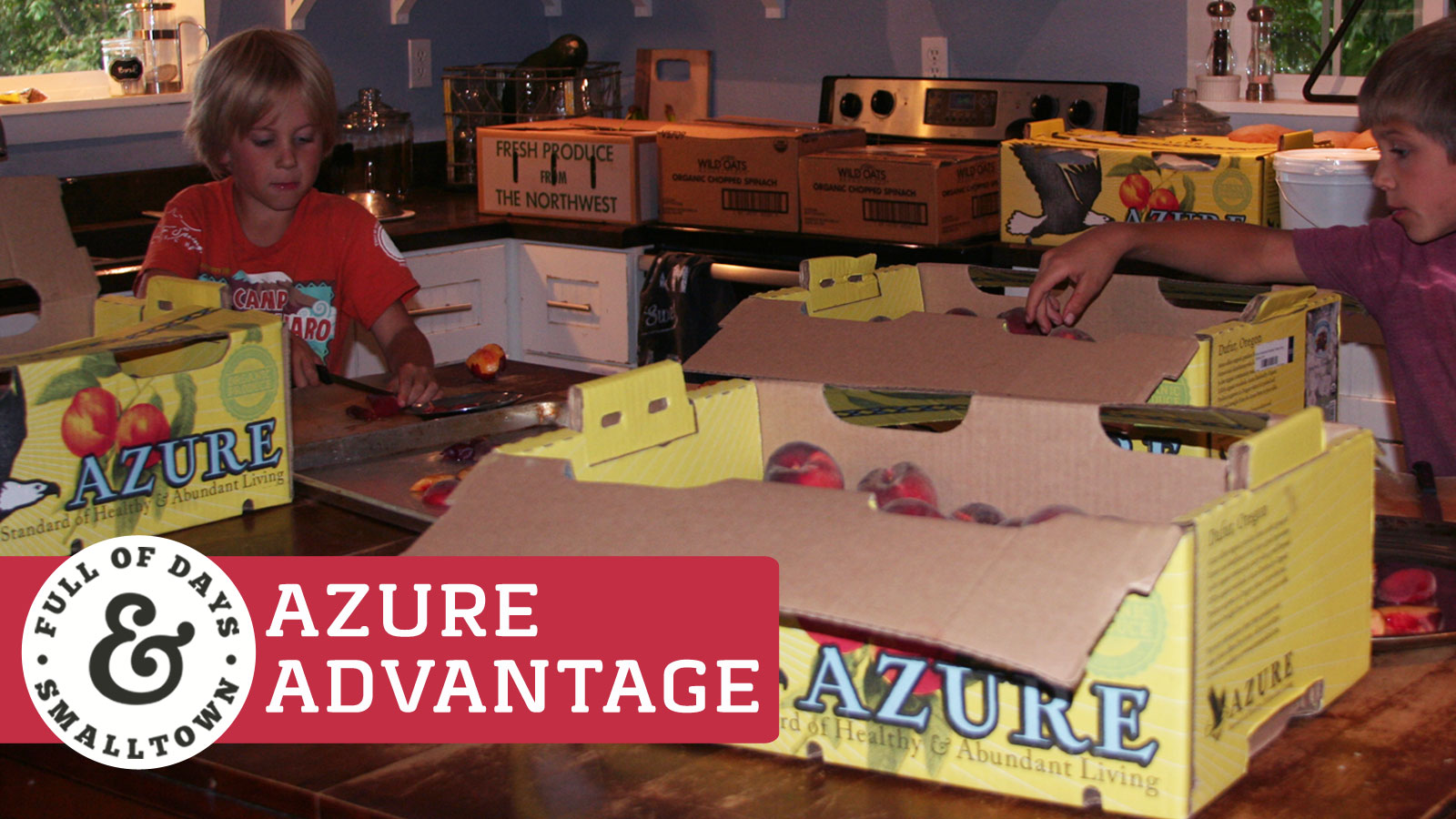 Azure Advantage
An Affordable Option to Eating Well on a Budget
Ya'll know we've shared about our love for Azure Standard since the day we launched Full of Days. We've shared links to their products alongside Amazon links so you could compare prices and find the best deals. Why? Not for our own personal gain (there's been nothing in it for us), but because we've personally enjoyed the benefits of healthy, organic products at an affordable price for over five years, and strongly desire to share those benefits with others. If you're not sure what Azure Standard is, I lay out all the details in this post, but today I want to discuss Azure Advantage!
We have some exciting news to share with you! Azure has recently added a membership program called Azure Advantage to current Azure customers and first-time customers alike. With this membership you'll receive deeper discounts on everyday great buys as well as loads of freebies!
Better yet? They've offered a special deal to our loyal Full of Days readers to sweeten the deal! If you've never ordered from Azure Standard, and sign up for their Advantage membership using this special link, you'll receive a $20 discount off your first order. $20 of free groceries ya'll!
What is "Azure Advantage"?
In a nutshell, it's a yearly membership that costs $180 (billed annually) which provides deeper discounts on the same great products Azure has to offer. Advantage members also receive "discovery boxes" six times a year that are chock-full of freebies.
What discounts come with my Azure Advantage membership?
Additional discounts can be seen on Azure Market bulk items, produce, dairy, household items and nutritional supplements. Customers who spend an average of $200/month can expect to see savings of $360-$400 a year!
The approximate discounts are as follows:
Nutritional Supplements: up to 30% discount
Groceries & Azure Market Bulk: up to 25% discount
Produce and Dairy: up to 15% discount
Household items: up to 15% discount
I say "up to" on the savings because Azure strives to provide their regular customers competitive pricing, and they frequently offer discounts on products to their regular customers. Not every item will be discounted as mentioned above. I recently ordered a 25 pound bag of organic rolled oats and didn't notice much of a discount at all (maybe a few cents)…but that's because these oats are already listed at rock-bottom prices. However, there are significant discounts to be found within the nutritional supplements (the savings I receive on my Vital Proteins Collagen over the course of a year nearly pays for my membership!).
Discovery Boxes pay for the membership!
After signing up with the Advantage program, you'll receive "Organic Discovery Boxes" filled with all sorts of fun goodies (see delivery schedule below). This past summer we got a variety box filled with fresh organic fruits and vegetables. It was great getting groceries I would normally buy anyway for free, and also get to try produce I'd never think to try, who knew I loved fresh figs? These boxes are exactly that: "discoveries". I've been cooking through our legumes box and having fun trying out new recipes. So far I've canned up a boatload of black beans, soaked garbanzos to make hummus, and made an incredible bean with bacon soup out of the dried fava beans (also known as butter beans). We've even found some we'll be ordering again in the future! Total win!
The minimum value of these boxes is $30 worth of products, so you can see how they pay for themselves with the cost of the membership. And I can hardly wait for this months dried fruit variety box!
Here is a list of the scheduled upcoming Discovery Boxes:
November 2016 – Organic Dried Fruit Variety
January 2017 – Organic Spice Variety
March 2017 – Azure Vendor Samples
May 2017 – Organic Ancient Grain Variety
July 2017 – Organic Produce Variety
September 2017 – Organic Legume Variety
If you're a long-time Azure customer, this membership program will make you grin from ear to ear! You're already aware of the great savings, and now you'll save even more! Our family does the bulk of our grocery shopping through Azure, buying dairy, meat and some fresh produce locally. Because of this, we can expect to see a savings of about 6-8% off our already lowered grocery budget. For our family of 6, these savings should reach upwards of $600-800 or more per year, or essentially, one month of free Azure groceries!
Look for Yourself
If you're hesitant to sign up, I get it…$180 is a lot of money! Let me encourage you to take a peek at the Azure Standard website and see for yourself all the great products they offer. If you're ready to take the plunge, and want to see huge savings on your grocery budget (plus receive $20 off your first order!!) then click on the link at the bottom of this post and start saving money while buying your family healthy, affordable, organic groceries!
Wait, it gets even BETTER!
I know, I know…but it really does! How do even more free groceries sound to you? Yes, I said even MORE free groceries. We thought so! When you become an Advantage member you'll receive an email you can share with your friends and family. If they sign up for the Advantage program from the email you sent, you'll receive $40 in Azure credit. $40 for EACH person who signs up! 
We've said this before, but if you haven't heard it, please know we're very careful about what we share on Full of Days. We will never take advantage of our readers just to make a buck. Azure Standard is a company we fully support. We've bought from and promoted their company at zero benefit to us from the beginning because we want to share how we make eating well, affordable.
If you sign up through the link below, our family will receive a $40 credit toward groceries to feed our growing kiddos! Thank you for helping put food on our table! 
Ready to sign up?
Follow this link and fill in the required information at the bottom of the page. Azure will contact you personally to get you set up with a drop site near you (delivery location) and confirm your account information. Remember, you'll only receive the $20 off your first order if you sign up through our link.
Once your account is active, you can start shopping and watch the savings rack up!