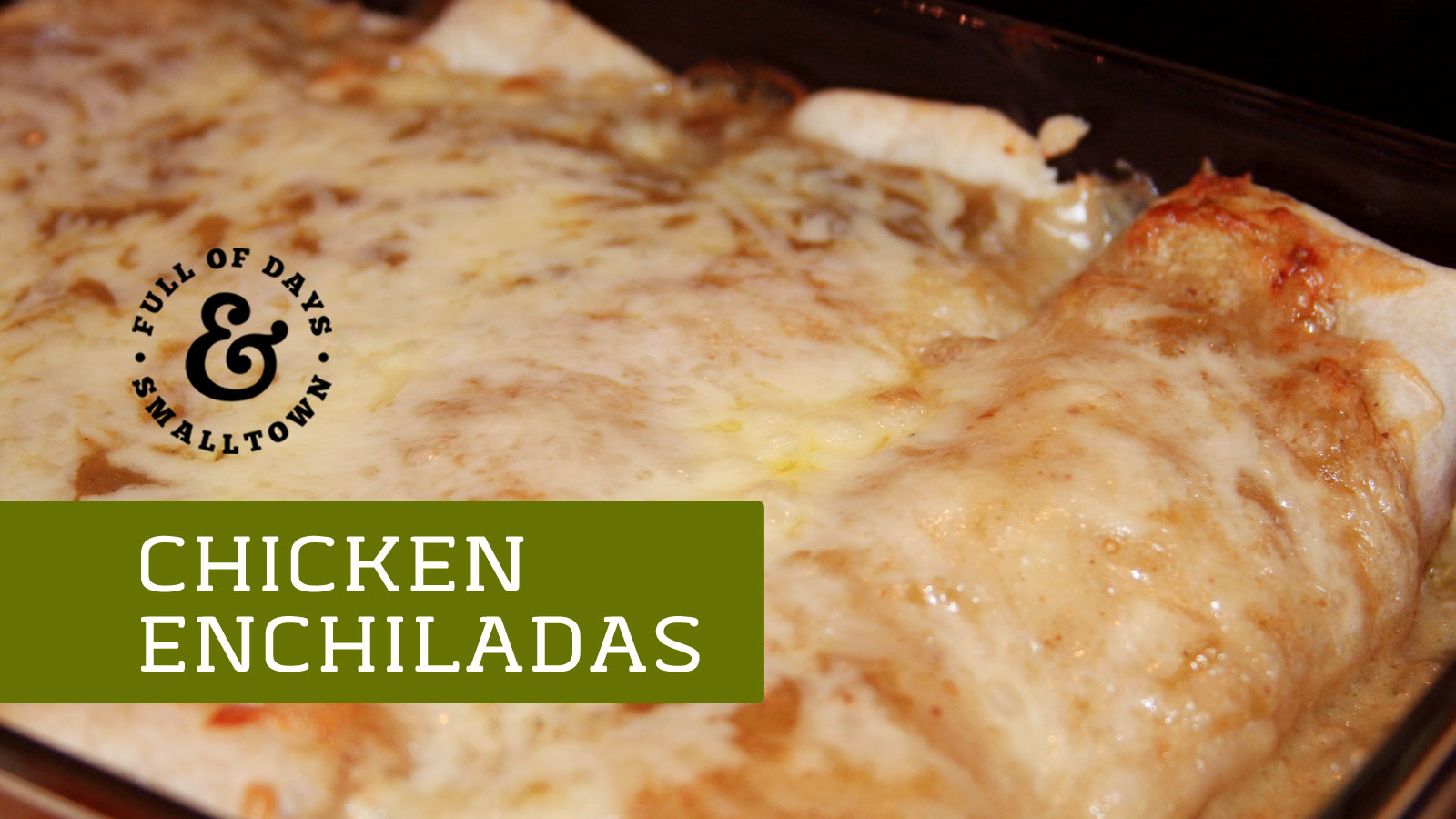 S
omething I've learned since transitioning to a "real food", traditional kitchen is that my old recipes don't have to be tossed out. Rather, with a few minor adjustments, they can be adapted to suit our new lifestyle (and quite often, end up tasting better than ever).
Growing up, creamy chicken enchiladas were a childhood favorite. And soon after getting married, I was calling home to get the recipe from my mom. Melty cream cheese, soft tortillas, caramelized onions and fire-roasted peppers! Not the typical enchilada recipe you're used to, this creamy version will have you coming back again and again. OLAY!
Ingredients
2 Tbs avocado oil
2 Tbs butter
1 large onion
2 cups chicken (shredded)
8 oz organic cream cheese
1/2 cup diced green chiles
8 flour tortillas*
1 cup heavy cream (or half and half)
2 cups monterey jack cheese (grated)
Salt and pepper to taste
To Make: This is the perfect meal to double or triple and freeze for quick and easy dinners on a night you don't want to cook. To make meal prep even easier, make these sourdough tortillas the day before, and cook and shred a whole chicken so it's ready to go. 
Step 1: If you haven't made your tortillas, or cooked your chicken, follow this recipe and get your chicken cooking in the oven or in a pan on the stove. Once chicken is cooked, allow it to cool slightly and shred. Set aside for later.
Step 2: Slice onion, add oil to pan over medium-high heat. Once oil is hot, add onion and saute until translucent and beginning to caramelize. Season with salt and pepper.
Step 3: Turn heat to medium-low. Add shredded chicken, cream cheese and diced green chilies, stir until cream cheese softens and all ingredients are incorporated. Season again with salt and pepper.
Step 4: Remove chicken mixture from heat.
Step 5: Measure out heavy cream and shred cheese, set aside. 
Step 6: Fill each tortilla with approximately 1/2 cup chicken filling, roll up and arrange in a 9×13 baking dish.
Step 7: Pour heavy cream and enchilada sauce over the top of enchiladas. Sprinkle cheese over the top and bake at 375℉ until heated through and cheese bubbles and begins to brown (approximately 20-30 minutes).
Optional add-ins: If you prefer your enchiladas on the spicy side, dice up a jalapeno and add it with the chicken mixture. Black olives also make a fantastic addition. If you don't care for green enchilada sauce, swap it out for red sauce, or omit the enchilada sauce all together, they're still delicious!
To Freeze: Line 9×13 pan with a layer of tinfoil and a layer of parchment paper. Fill tortillas with chicken mixture and arrange in pan. Do not add cream, enchilada sauce or cheese. Wrap tightly with another layer of parchment paper and tinfoil and freeze. Once completely frozen, lift out of 9×13 pan and be sure enchiladas are wrapped and sealed tightly.
To bake from frozen: Remove enchiladas from tinfoil and parchment paper and place back in a 9×13 pan to defrost completely. Once defrosted, follow step 7 above.
We hope you enjoy these as much as we do!