HOMEMADE SOURDOUGH TORTILLAS - Full of Days

HOMEMADE SOURDOUGH TORTILLAS - Season 1, Episode 1! Join me and my sous chef as we show you, STEP BY STEP, how to make our homemade sourdough tortillas!Grab the RECIPE here >> HTTPS://everydayfull.com/sourdough-tortillas/These tortillas are perfect for tacos, burritos, wraps, quesadillas, pinwheels and so much more. They're a staple in our home and, once you try them, they will be in yours, too.

Posted by Full Of Days on Friday, December 15, 2017
Homemade Sourdough Tortillas
These incredibly soft and chewy homemade sourdough tortillas are perfect for burritos, tacos, wraps and more. They're a staple in our home and, once you try them, we think you'll agree.
Sourdough, sourdough, you're becoming my favorite kitchen pet for your oh-so-many uses! So far you've given us scrumptious bread, delicious muffins (with boatloads of flavoring options), versatile flat bread, and chewy pizza crust.
Just when I thought I couldn't love you more, you prove me wrong by transforming yourself into tortillas. Yummy sourdough tortillas my whole family will devour!
It's no secret we're lovers of sourdough! It's a great option for those with sensitivities to regular flour or gluten and it can make so much more than just bread! Stick with us as we continue to roll out our favorite, tried and true, sourdough recipes…chocolate cake anyone?
And if you haven't procured yourself a starter yet, go get your hands on some! Read this post for sourcing options!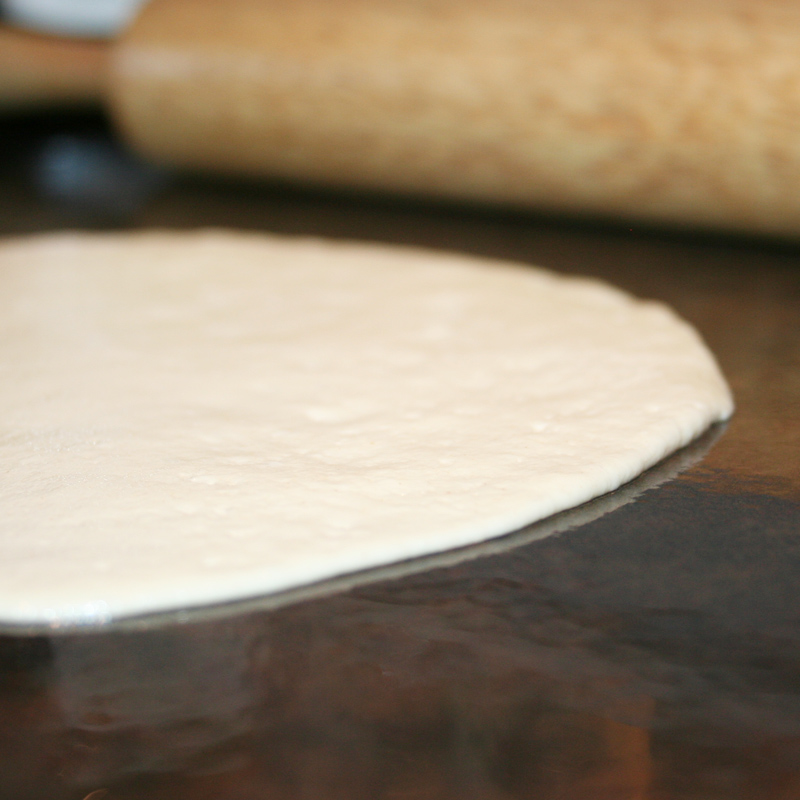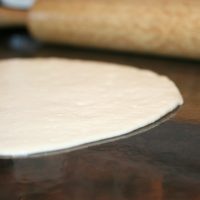 Sourdough Tortillas
Soft and chewy homemade sourdough tortillas are perfect for burritos, tostadas, wraps and more. They're a gut friendly option and simple to make.
Print
Pin
Comment
Servings:
16
- 7-9 inch tortillas
Instructions
In the bowl of your 

stand mixer

, combine flour and salt.

Add coconut oil in small pieces and, using your hands, pinch any large bits of oil so no pieces larger than a pea remain.

Turn stand mixer on low and slowly add in 1/4 cup hot water to combine.

Add sourdough starter and continue to mix until a soft dough forms. Add more cold water, 1 tablespoon at a time, if needed. Give it time before adding more water, the dough can go from dry and crumbly to the perfect consistency in just a few minutes. Too much water will result in a sticky mess.

Allow dough to sit, covered, for 7 hours (or overnight).

Divide dough into 16 equal portions and roll into small balls, let rest 5-10 minutes. Preheat cast iron pan over medium heat.

Lightly oil your work surface and, using a rolling pin, roll one dough-ball at a time into a circle. You're looking to get your dough as thin as possible without tearing. About 8-9 inches in diameter.

Gently place tortilla into a pan and cook about 30 seconds, flip and cook 30 seconds more, flip one more time and cook 30 seconds more. Tortilla should bubble after first and second flip.

Stack tortillas on a plate and eat immediately, or allow to cool completely and store in a zip-top bag at room temperature and consume within 2-3 days.
Notes
This recipe calls for a 7-12 hour "souring" time, if you would like to omit this step, use sprouted flour and reduce the rest time to 20 minutes, then proceed to step 6. (Alternatively, you can use regular flour and omit the souring time, but you won't have the benefits of soaked or sprouted flour.)
Nutrition
Serving:
1
tortilla
|
Calories:
124
kcal
|
Carbohydrates:
17.9
g
|
Protein:
2.4
g
|
Fat:
4.8
g
|
Saturated Fat:
4
g
|
Sodium:
117
mg
|
Fiber:
0.6
g
|
Sugar:
0.1
g
Love Sourdough?
Be sure to check out our eBook: Everyday Sourdough, it's filled with delicious sourdough recipes for the everyday baker. It's the perfect book for those just starting with sourdough, or those looking to add to their recipe arsenal. You'll find tips and tricks to working with sourdough, including feeding and storing advice and troubleshooting. A glossary of sourdough terms ('cause sometimes it feels like speaking a new language!), and even gluten-free options!
Additional Recipes to Try: