Homemade Sourdough Flatbread
Need some bread in a hurry? This sourdough flatbread is a family favorite for wraps, as a snack, or torn and dipped into hummus.
On a whim I tried making homemade sourdough wraps (flatbread). I thought surely if I threw together a little starter, flour, water and salt I could come up with healthy sandwich wraps…
After the fifth or sixth attempt, I'm happy to report this recipe is finally a home run! Ya'll have no idea how much my family loves recipe testing! Bless their little hearts, they have no clue they're part of mama's test kitchen!
The art of bread making can become a consuming hobby, and no matter how often and how many kinds of bread one has made, there always seems to be something new to learn." – Julia Child
Make a batch or two of these sourdough wraps at the beginning of the week to have on hand for quick and easy lunches or dinners.
For our homemade chicken gyro recipe (including a cucumber & tomato salad and a tzatziki recipe) , click on the image at the top of the page!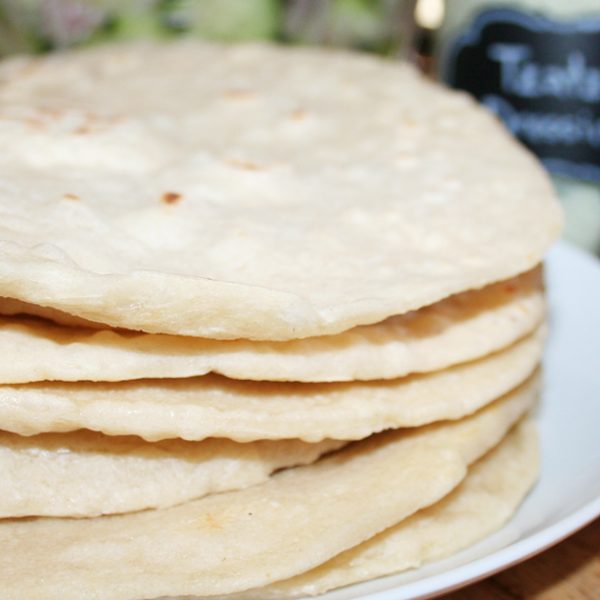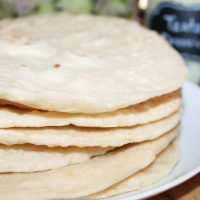 Sourdough Flatbread
Sourdough flatbread is a great alternative to sandwich bread. This simple recipe can be used for wraps, tacos, burritos or torn and used to dip with.
Print
Pin
Comment
Instructions
Mix together sourdough starter, flour, water, coconut oil and salt in a 

stand mixer

 using a dough hook. Allow to mix for 5 minutes, cover and let sit for 8 hours, or overnight.

Punch dough down and divide into 8 pieces, rolling each section into a small ball, place back into bowl and let sit 5-10 minutes.

Take one ball at a time and flatten with the palm of your hand on your counter top. Using a rolling pin, roll dough into a 6-9 inch circle about 1/4 inch thick.

Carefully lift dough and place into a hot cast iron skillet and cook for 30 seconds, flip over, cook for 30 seconds, flip again and cook for a final 30 seconds. Remove from pan and allow to cool slightly. Eat immediately or allow to cool completely and store in an airtight container and use within a few days.
Notes
This recipe does require an 8 hour soak time, however, if you'd like to skip the soak time, use sprouted flour.
Otherwise, our trick is to mix together the ingredients the night before, the next morning your dough will be ready for step 2.
This recipe makes 8 wraps and can easily be doubled.
These wraps are delicious filled with this Summer Salad. If you have any wraps left over after dinner, heat it up, melt a little butter on top and sprinkle with cinnamon and sugar! Homemade "healthy" elephant ears! OH JOY!
Nutrition
Serving:
1
flatbread
|
Calories:
229
kcal
|
Carbohydrates:
35.8
g
|
Protein:
4.8
g
|
Fat:
7.3
g
|
Saturated Fat:
6
g
|
Sodium:
292
mg
|
Fiber:
1.3
g
|
Sugar:
0.1
g
Do you LOVE sourdough?
Check out our Sourdough eBook: Everyday Sourdough. It's filled with easy to follow sourdough recipes for the everyday baker. If you're new to sourdough, we've got tips and tricks to help guide you, including a troubleshooting section and glossary of sourdough terms ('cause let's face it, sometimes sourdough baking takes some translation!). Click image for more info.
Other recipes you might like: