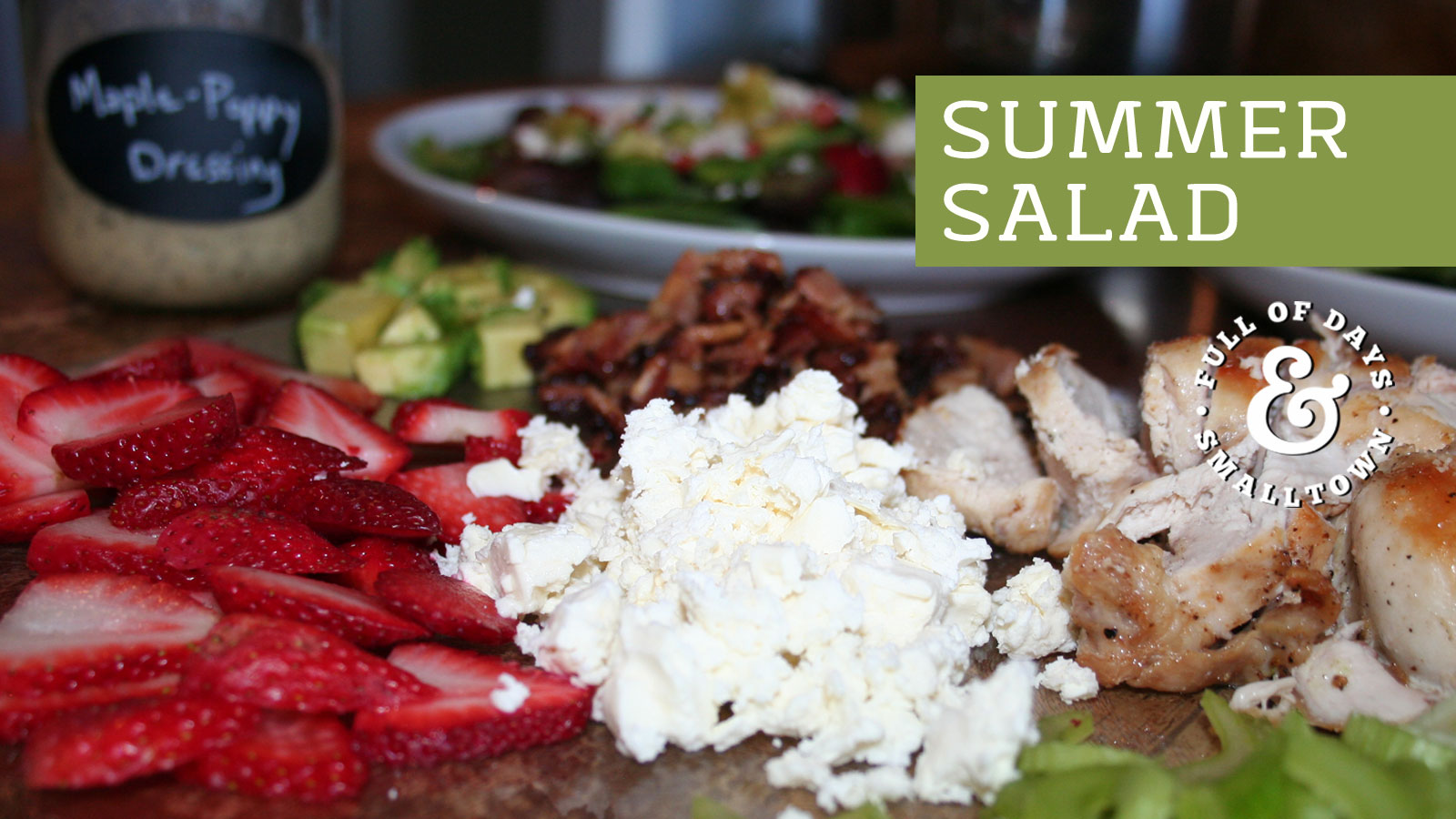 W
ith hints of summer-like weather, we've been soaking up the sun and taking advantage of every last drop of daylight. That means quick and easy meals are high on my list of priorities. But just because it's quick, doesn't mean it has to be bland or boring…
This recipe is perfect to use up leftover chicken, and I love to fry and crumble up a pack of bacon at the beginning of the week to add flare to different recipes. Make a huge salad for dinner and throw the leftovers into this homemade sourdough flatbread and you've got lunch the next day!
Strawberry, Bacon, Chicken Salad
Ingredients
Mixed salad greens
Sliced chicken breasts
Crumbled bacon
Crumbled feta cheese
Sliced strawberries
Diced avocado
Diced celery
Maple Poppy Dressing (recipe below)
Please be sure to buy the highest quality ingredients possible. If you're not sure about the safety/quality of your food, check the Dirty Dozen/Clean 15 List for produce and the Rate your Plate section from the Environmental Working Group (EWG.org).
Step 1: Season chicken generously with salt and pepper, drizzle avocado oil in a pan and cook over medium heat until cooked through. Slice chicken, cool and set aside. Alternatively, do steps 1-3 a day or two ahead of time to save time during dinner prep.
Step 2: While chicken is cooking, make maple-poppy dressing (recipe below) and place in refrigerator.
Step 3: Cook and crumble bacon, set aside.
Step 4: Crumble feta, slice strawberries, dice avocado and celery.
Step 5: Assemble salads, dress with maple-poppy dressing and serve.
These flavors combined together will make you think you've ordered a dinner salad from a five star restaurant, it even had The Hubs oo-ing and ah-ing!!
Maple Poppy-seed Dressing
Ingredients
1/4 cup maple syrup
3 Tbs apple cider vinegar
2 Tbs olive oil
1/4 red or white onion
2 tsp Dijon mustard
1 tsp poppy-seeds
Salt & pepper to taste
To Make: Blend all ingredients except poppy-seeds together in a blender until emulsified, add poppy-seeds and blend quickly to combine. Chill and enjoy!