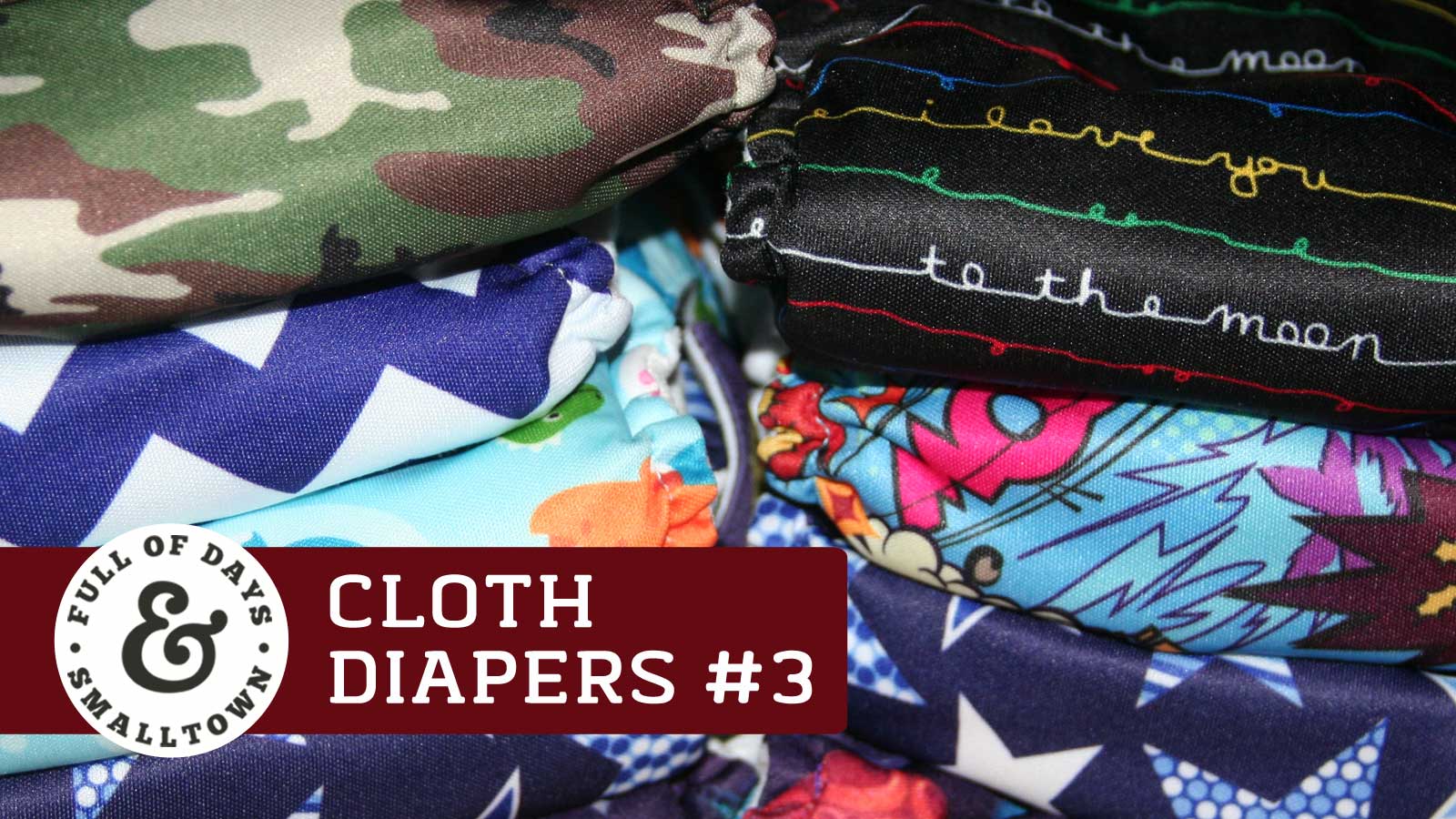 W
e talked about the whys of cloth diapering in Cloth Diapering Part 1 which included reasons such as chemical exposure, environmental burden, and financial comparisons. We then talked about the different types of cloth diapers and which might fit best with your lifestyle in Cloth Diapers Part 2. In our third installment, we'll be discussing how to clean and care for cloth diapers, as well as some cloth diapering tools that will help make diapering your baby a breeze (or at the very least, not a burden).
Cloth Diapering Tools
The following is a list of tools and supplies we find extremely helpful for keeping up with cloth diapering. They're by no means mandatory, but they certainly make the job much easier.
As stated before, none of these items are mandatory for cloth diapering. But after two years, they're the tools we wouldn't be caught without.
Cloth Diaper Care – How to Wash Your Cloth Diapers
When your new cloth diapers arrive, wash them once with your cloth diaper detergent, followed by three rinse cycles. This will help with absorbency and wash off any chemical residue that may be on your diapers from the manufacturers or packaging materials.
Line dry or dry on low in the dryer with wool dryer balls (do not use dryer sheets as they can effect absorbency).
Stuff, line and keep your cloth diapers handy. If they're clean, folded and ready to go, you're less likely to grab a disposable!
When it's time to change your baby, change as you would a regular disposable.
As soon as possible, take your soiled diaper to the bathroom, dispose of the wipes, remove the liner and place in the sink, and spray off and flush the "mess".
With diaper and liner in the sink, using cold water, rinse and wring out diapers until the water runs clear. If the diaper cover or liner are soiled, I like to do a quick little scrub, rubbing the diaper on itself to remove as much as possible. Wring out as much water as possible, but don't wring so hard you damage the waterproof backing of the diaper cover.
Spray soiled surfaces of the diaper cover and both sides of the liner (insert) with BacOut.
Place diaper in the wet bag until ready for wash.
It's highly recommended to wash every two to three days!
On wash day, empty diapers and wet bag into washer. Place appropriate amount of detergent into basin with the diapers (not the detergent compartment). For Molly's Suds, this is two scoops of cloth diaper detergent.
Next place one scoop of Molly's Oxygen Whitening cleaner into the basin with the diapers.
Wash on the hottest setting for your machine. For mine this is "Whitest Whites".
Once diapers have gone through one full wash, I like to take a few diapers out and give them a "sniff check". If they still smell a little stinky, I'll wash them through a full cycle again on the hottest setting WITHOUT DETERGENT.
If they don't stink after the "sniff test", I'll run them through a rinse cycle 1-3 times to remove all excess detergent. Some people like to add vinegar during the final rinse cycle, but I haven't found this necessary if I follow this routine.
Transfer diapers to the dryer or hang them in the sun to dry.
Have kids stuff, line and put the diapers away so they're ready to go for their next use.
Do I Need to Strip My Diapers?
Is stripping your cloth diapers necessary? Maybe, but maybe not! This is where your water will really come into play. If you have hard water, or water that has a lot of minerals, you're cloth diapers will not always be your friend. If you can install a water softener you'll likely be a much happier camper, but if that's not an option, my suggestion is to buy a pack of disposables, such as Seventh Generation, and use those as you strip your cloth diapers every 3-6 months.
In "Cloth Diapering Part 4" we will discuss proper method for stripping your cloth diapers. But do be advised that stripping your diapers is a very harsh process and should only be used as a last resort, not a regular method of cleaning.