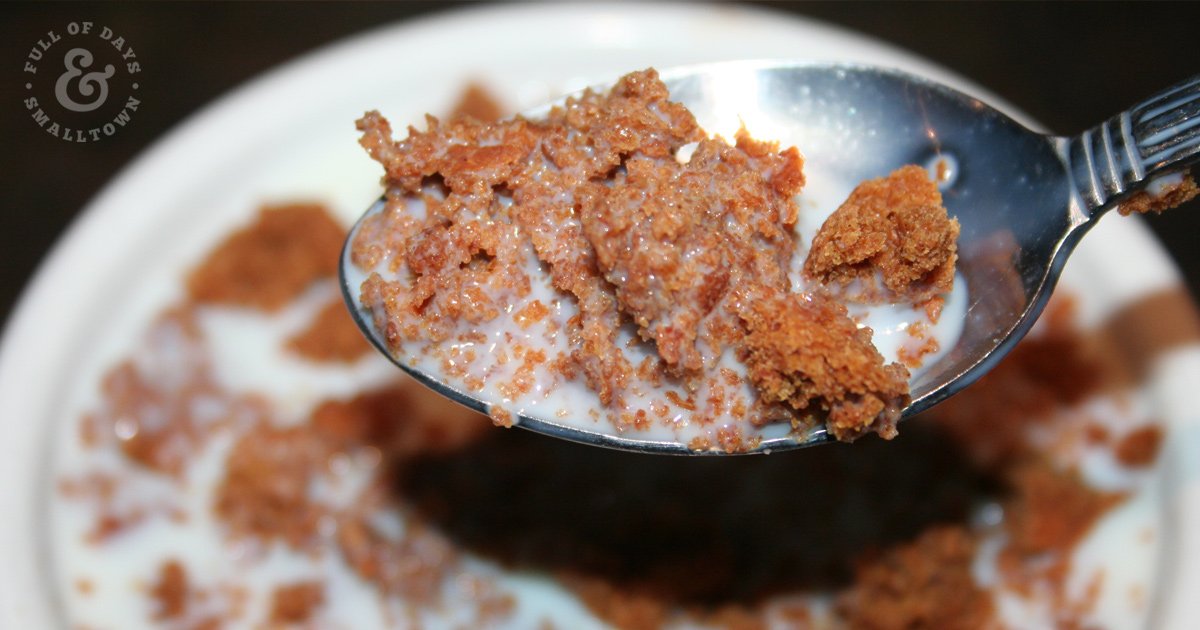 Healthy Homemade Cereal
This delicious and healthy homemade cereal tastes like a cross between Grape Nuts and Cracklin' Oat Bran.
Some information you just don't want to hear…or at the very least, you wish you could "un-hear it". What I'm about to share may fall into that category, but it's important.
Ever the "belle of the ball", cereal has long been revered for its taste, nutritional content and ease. But facts are facts, and boxed breakfast cereals are one of the unhealthiest foods on the grocery store shelf. "Fortified" with synthetic vitamins, colored with artificial food dyes and processed from unhealthy grains…in a word, they're TOXIC (and I don't usually like using that word…but it fits the bill here).
Even worse (and this was a total gut punch), organic cereals are often the worst offenders of all! SAY WHAT???
How can something organic actually be worse than non-organic? Organic cereals are made from whole grains which contain more protein. During the extrusion process (where grains are liquefied using high heat and pressure, creating a slurry, then formed into whatever flake, puff, or shape desired) the violent heat and pressure denatures the grains, causing the protein in the grain to become toxic and highly allergenic. (Hello leaky gut!)
We've been taught to look for cereals made with whole grains and an ample amount of protein to provide the healthiest start to our day. Unfortunately, cereals made with whole grains and high in protein are actually the worst offenders as the more protein, the more harmful the cereal. (sad face)
…no more boxed cereal? What's a busy person on the go gonna eat?"
…the answer isn't Pop-Tarts! (I'm well aware of the "organic pop-tarts" available – they were a constant craving during my last pregnancy – but I assure you, they're a far cry from a "healthy breakfast!")
Fortunately, there are many healthier options. Perhaps not quite as easy as ripping open a box of cereal, dumping some milk on top (hopefully raw milk) and chowing down. But with a little planning ahead, breakfast can be just as simple and much more nutritious! 
Homemade breakfast cereal is as easy as baking a cake…because that's basically what you do! Grind some flour, soak overnight, and whip up your batter. Pour it into a pan and bake it in the oven, let it cool-crumble-then bake some more! Voila! Homemade breakfast cereal!
This recipe is slightly sweet, very crunchy and is like Grape-nuts meets Cracklin' Oat Bran (remember that stuff? SO GOOD!). Pair it with some raw milk and berries and you're good to go! With quality protein, healthy whole grains, antioxidants from the berries and vitamins, minerals and fats from the milk, this breakfast should stick with you till lunch.
The following recipe has been adapted from The Healthy Home Economist. Sarah has a video tutorial that's worth watching to understand exactly what the process looks like (I'm such a visual learner!). I have altered the recipe slightly to suit our tastes.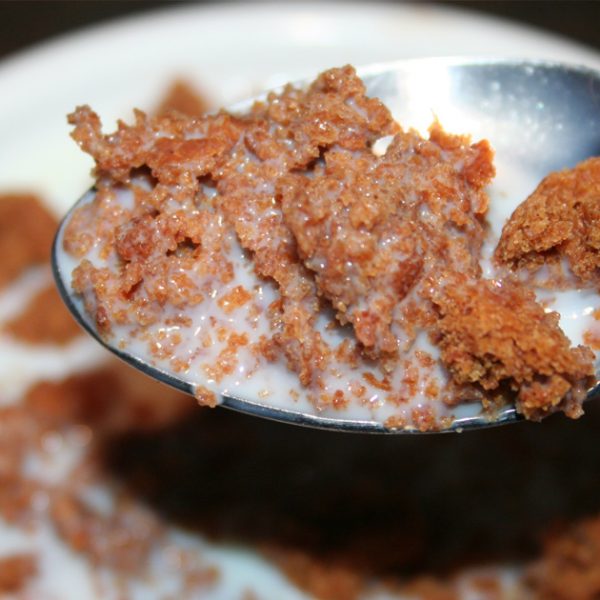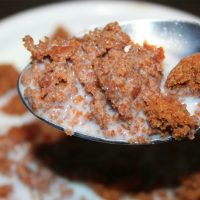 Healthy Homemade Cereal
This delicious and healthy homemade cereal tastes like a cross between Grape Nuts and Cracklin' Oat Bran.
Print
Pin
Comment
Servings:
2
large boxes of cereal
Instructions
If you have a high powered blender, or grain mill, grind up six cups of flour. I recommend freshly ground flour for this recipe to ensure all nutrients are still alive and available. If grinding your flour is not an option, then put 6 cups of flour into a large bowl.

Mix in yogurt and soak for 24 hours. You can use yogurt, kefir, buttermilk, or clabbered milk (for dairy free options use 3 cups water plus 2 tablespoons lemon juice or apple cider vinegar).

Once your flour has soaked, add remaining ingredients and mix until well combined.

Preheat your oven to 350℉.

Pour batter into a large 

sheet pan

, or two 9×13 inch pans

 (line pans with parchment paper if not stainless steel).

Bake at 350℉ for about 30 minutes until toothpick inserted comes out clean (or 20 minutes if using a convection oven). It's important not to over-bake!

Let cool completely in the pan. Once cooled, crumble into bite sized pieces (approximately the size of a 4×4 Lego piece!).

Bake again at 200℉ for 6-12 hours (you could also use a dehydrator for this step). Stir the cereal occasionally, bringing the pieces on the bottom of the pan to the top so they dehydrate evenly.

Once cereal is dry and crunchy, store in airtight containers in the refrigerator.
Notes
Please note this recipe has a 24 hour soak time, be sure to account for this time when planning to make this cereal (I have let the soak time stretch to 36 hours with no problems and you can get away with a short 8 hour soak time, but the true nutritional benefits are best after 24 hours!). 
The soak time is to break down the anti-nutrients in the flour (phytates present in the grain that our body can't digest, therefore stealing nutrient stores from our body in an effort to digest the flour).