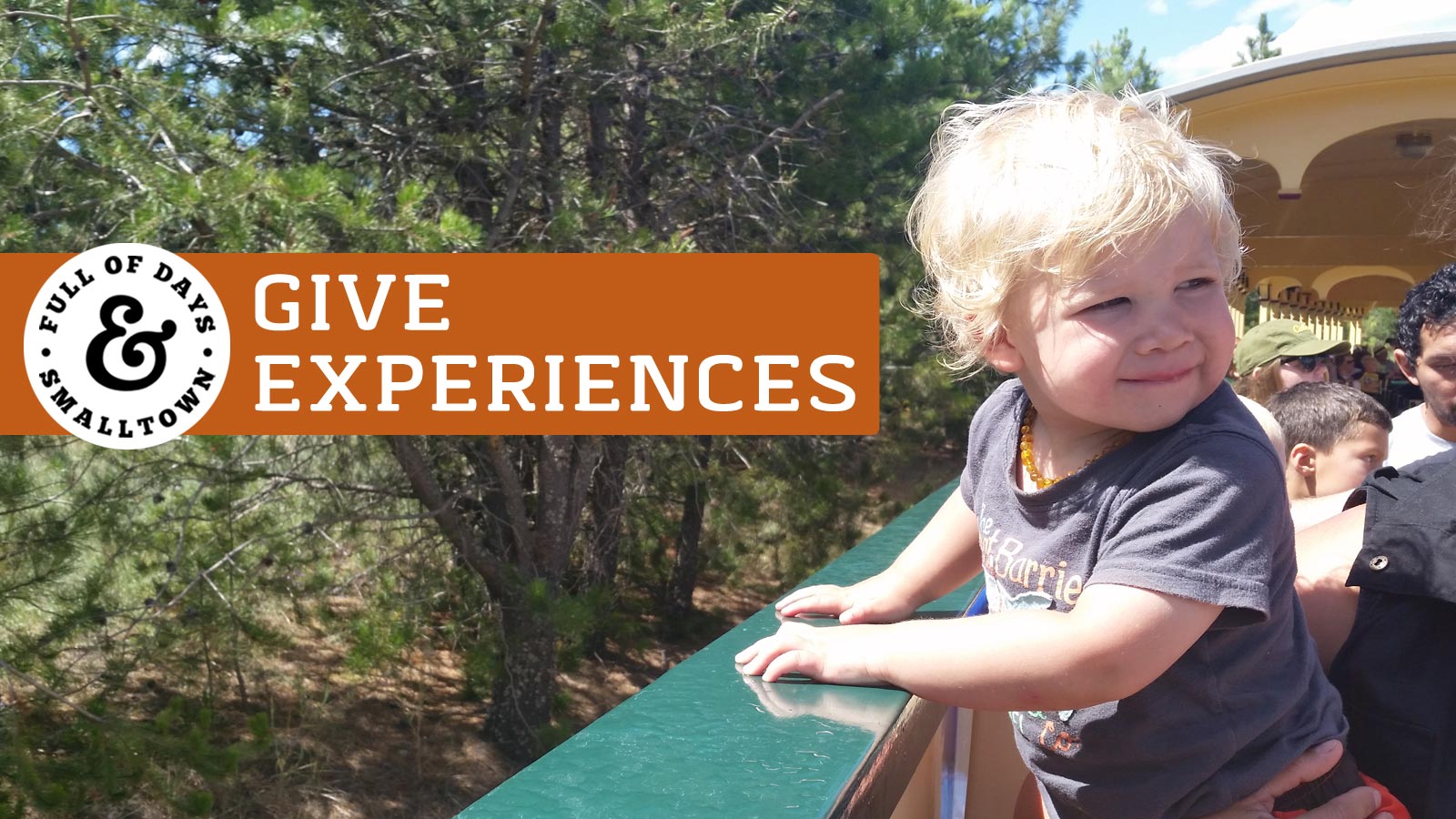 A
ccording to the 32nd annual survey on holiday spending from the American Research Group, Inc. the average shopper in the United States will "…spend an average of $929 for gifts this holiday season, up from $882 last year". (Source) As a family, we have been trying a different approach for a few years now. More than not spending a thousand dollars on gifts, we have been finding ways to give experiences and memories…which have resulted in more lasting and personable gifts in the long run.
Something About Christmas Seemed "Off"
We have four kids. Four kids who LOVE toys. Four kids who flip through those "Catalogs of Covetousness" every time they come in the mail (you know the ones I'm talking about…the ones I try to trash before my kids can see them!). It's because of these catalogs that we added the phrase "Keep your 'wanters' under control" to our family rule board (aka, "Stuff Steffens Do"). It would take my kids exactly 2.6 seconds to start pointing out all the toys they needed, and a mere 5.8 seconds before they were no longer content with the dozens of toys they already owned.
Our four kids are incredibly grateful, so please don't misunderstand what I'm saying…but they're still kids. Our four kids are giving and generous and have amazing imaginations with a remarkable ability to head up into the woods and play for hours with sticks, trees and Mother Nature, but they're still kids and those shiny new toys are just so…shiny and new!
Ever the practical one, I would often use Christmas as an opportunity to get our kiddos something they needed (like a new pair of Muck boots), maybe some new clothes or new art supplies. But a few years ago, we started noticing something about Christmas morning that we didn't like. Once the presents were opened and under the tree was bare, there was a sense of sadness the rest of the day. Almost an attitude that said, "is that it?" We quickly recognized the behavior, but didn't really know how to steer our little's toward an attitude of gratefulness. Instead, we witnessed their "wanters" getting the better of them.
What We Realized
We realized that Christmas, which widely focuses on giving and receiving, was leaving our kids comparing their "haul" to that of their friends. So, in an effort to guide them in the right direction, we started experimenting. We tried giving to those in need in lieu of exchanging gifts as a family. We tried spending our own holiday budget on supplies to make DIY gifts for others. We even bought a goat and some ducks for a community in a third-world country. These were all wonderful, and things we still do today, but we still liked the idea of getting our kids something. 
A Change in Perspective
As my husband and I reflected back on our fondest memories as a family…those memories our kids still talk about often, we realized the fondest memories all revolved around shared experiences, rather than material items. Experiences like camping trips, trips to see Grandma and Pop-pops, or to the Oregon coast, family camping trips and day trips to an amusement park. It was these shared experiences, where we were all together, that seemed to have the biggest impact on their lives.
This realization shifted how we viewed gift giving. Instead of getting our kids a new toy, where the newness wears off within mere weeks, we thought about larger gifts we could give them. At first glance these gifts seemed more expensive, but when considering the average amount of money spent listed above, many of these gifts were a bargain!
We even got extended family members and close friends in on it. Because some of the gifts held a larger price tag, Grandma's and Grandpa's were happy to pitch in with money they'd normally spend on gifts. There's something awesome about knowing you're giving a gift that will provide lasting memories. These "gifts" would be treasured and remembered for a lifetime.
How Our Kids Responded
We sat our kiddos down and talked about our past adventures. We shared how much we love our family getaways and asked them if they'd rather go on a fun trip and spend special time together as a family, or get a toy. The answer was a resounding "yes" for experiences.
Gifting experiences has provided so many wonderful memories. So much so that we're trying to get more and more creative each year. Because we're not running around town shopping for days on end, or making lists of items to get each kiddo, we're free'd up to whip up some fun DIY gifts for those we might not normally give a gift to. All the while, keeping the focus on others, not on our own "wanters".
Options for Gifting Experiences
OK, so you may be wondering what does gifting an "experience" look like…here are a few that come to mind, but the options are endless!
A zoo membership – When we lived in San Diego, the kiddos Grammie gifted the whole family a season pass to the zoo. Because we could go anytime we wanted, we'd often pack up the kiddos, mid-week, and head down to watch the monkeys for an hour. Since we could come back whenever we wanted, we didn't feel obligated to stay for an ungodly amount of time to get our moneys worth. Because we had small toddlers at the time, this made our trips more pleasant as we could work within our nap schedule…(Another year we gifted our kiddos – and ourselves – a season pass to Sea World for the same benefits…we got to know Shamu real well!)
Science Center/Museum memberships – There's an epic museum that we frequent in Oregon called the Gilbert House, it's not too spendy for an entire family, but if you buy a membership you get access to 347 other museums and science centers worldwide through the Association of Science Technology Centers (ASTC)! If you're a family that travels, or are lucky enough to live in an area with multiple museums at your fingertips, one of these memberships might be perfect. 
Adventure Programs – Since moving to "Far North" Idaho, we no longer have the luxuries of museums and zoos close by, but we do have other amazing opportunities. For example, there's a scholarship program that pays for kids to join a ski program at the local Mountain Resort. This program includes a season pass, equipment and 9 lessons with an instructor. The program encourages the kids to earn the money for the program (here's how our kids have "Learned Their Own Way" in the past), and the "gift" from us was spending gas money to cart them up to the mountain throughout the season, cocoa while on the mountain as well as spending quality time together with each kid while riding the chair lift and stumbling skiing down the mountain (my kids are WAY better skiers than me). Not to mention, this gift lasted the entire ski season, which up here is about 6-7 months on a good year. Programs like these seem to be available left and right, you just might have to do a little hunting to find them.
Family Getaway – One year, some of our adventure buddies (who are also close family friends) gave us a gift certificate for a two night stay at a hotel that has an indoor water park, laser tag, a high ropes course and a bowling alley. We held onto it until mid-February (which is when the winter starts getting REALLY long up here). To add to the gift, my husband and I paid for our treasured babysitter to come along so she could help out with the baby. This allowed my husband and I to focus our energy on the older kiddos. We made a pit-stop at Costco on the way and filled our cart with yummy fruit and snacks of the kiddos choice, and we enjoyed a couple meals out as well. We still talk about how amazing this gift was!
Amusement Park – This year our kiddos are getting an extra day pass to a nearby Amusement/Water park. During the school year, our kids can earn a free day-pass to the park by logging 10 hours of reading in one month. So with the additional day pass we'll pack up our tent and camp for a few nights at the Park Campground to enjoy multiple days of fun! These gifts won't be used until Summer, but it's a gift they'll anticipate and look forward to for months, remembering last years trip and sharing their favorite memories of trips past.
Camping gear – We often use the holiday sales to stock up on much needed camping equipment for our summer outings. (Off season is a great time to purchase these things.) One year I was gifted a camp stove and cast iron cookware (which both double nicely to use at home for cooking and canning!). We have purchased fun items like this hammock, or gifts a little larger like this giant tent for our growing family. Little gifts will often include headlamps for each individual, or a new water bottle to use for our day hikes. There are so many options!
These are all fantastic opportunities to give experiences, but there are other options on a smaller scale such as:
A board game – We love games in our house. How about getting a game the whole family can enjoy! Some of our favorites include Sorry, Battleship, Ticket to Ride, Headbandz and Pictionary Junior. Even a simple deck of cards can create memories!
Geo-caching – How about getting a GPS and a compass for each kid and spend a day geo-caching. It's like the worlds largest treasure hunt!
Mommy/Daddy dates – Gift each kiddo a date card good for one "Mommy Date" or one "Daddy Date". Or how about a coupon book that has one date card per month! We love spending one on one time with each of our kiddos throughout the year, and putting "dates" on the calendar is always something they're excited about. Let them choose the date, maybe it's a special trip to go get cocoa, or lunch. Or maybe it's a movie date. Sometimes my husband grabs a kiddo and takes them on their own little adventure to a nearby lake or camping trip. It doesn't have to be extravagant, all our kiddos really want is our time and attention.
These gifts have lasting memories…and all with price tags WAY under the averages quoted earlier. The point is, experiences don't have to be extravagant. Your budget doesn't have to be huge. But the focus is on creating memories that last, and shared experiences that are enjoyed together.
What About You?
Does your family do anything creative in lieu of Christmas gifts? Or do you have any family experiences to share? Let us know in the comments below!