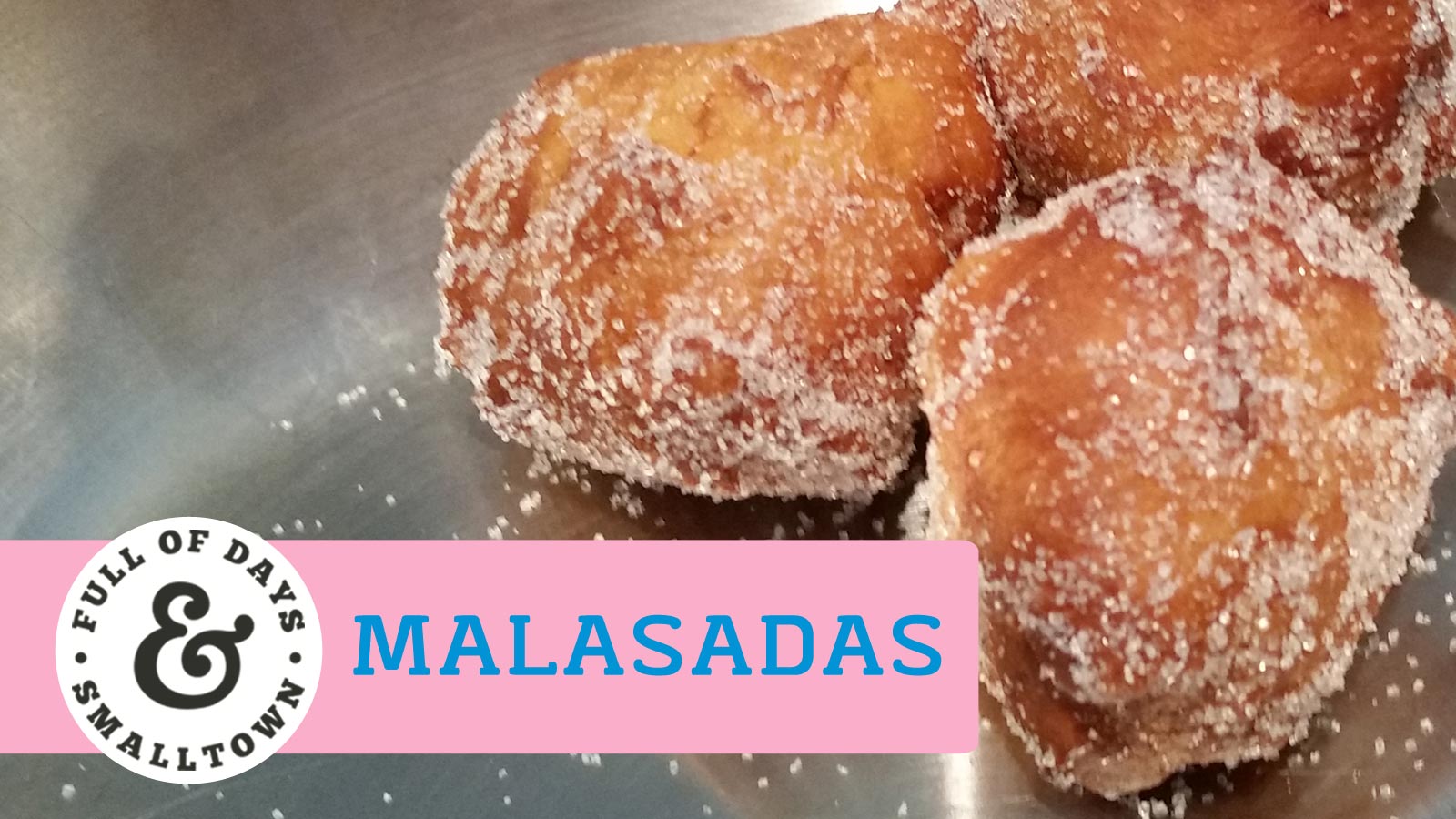 A
hhhh…Leonard's. Yep, that Leonard's. Long before Krispy Crème exploded and expanded to a mall near you, we were picking up piping hot Malasadas by the dozen from Leonard's. Maybe that's why I never cared for Krispys…once you've had the best…
Never had a Malasada?
"A malasada is a portugese doughnut without a hole. We fry generously-sized balls of dough until it's golden brown on the outside and light & fluffy on the inside". – leonardshawaii.com
…and absolutely decadent. They are so good that burning your lips biting into a fresh one is a rite of passage…yah you could wait until they cool down but…nah! Bite 'em now! Ono! (officially we recommend that you wait until they cool down)
For all the Kaimaainas (Hawaiian local) that have moved to the mainland (me!);  did you know Leonard's has an online shop? Unfortunately, they don't ship malasadas, but you can pick up some "sure to cause smiles from people who know" t-shirts.
WARNING: There are graphic images of boxed and ready malasadas on the Leonard's website – may cause normal and mature adults to lick the computer monitor…what? Don't judge!
It would be cruel and unusual punishment to end this post here…soooo…if you can't make it over to Kapahulu Ave, below is a recipe from the Punahou Cook Book so you can make them at home.
Have to be honest, making a batch is a labor of love…but never had someone put one back. When we make them every year on Thanksgiving morning it's funny to sit back and watch grown adults forget all manners and fight over sugar coated puff balls. Wait…maybe that's just my Punahou-grad sister and I, regressing to teenage sibling rivalry, and duking it out!
Recipe Notes: Kelsey replaces the called for vegetable oil with lard or coconut oil for frying. Be sure to use refined coconut oil and keep it under 375°F or it forms free radicals (I don't know either…ask Kelsey).
You can find the original recipe on dozens of websites – search "Punahou Malasadas".
Ingredients
1 Tbs. Yeast

1 tsp. Organic Sugar

1/4 cup warm filtered water

6 cups Organic Flour

1/2 cup Organic Sugar

1/2 teaspoon Real Salt

1/4 cup melted butter

1 cup water

1 cup Organic Evaporated Milk*

6 eggs (farm fresh when possible)

1 quart lard or coconut oil (to cook)

extra sugar (for coating)

paper bag (for coating)
To make: Malasadas are best eaten still warm and the frying process can be lengthy. Make it a family affair and have everyone in the kitchen with you, fighting for each doughnut!
Step 1: Dissolve yeast and sugar in warm water and set aside.
Step 2: Beat the eggs in a small bowl and set aside.
Step 3: Measure flour into mixing bowl and add salt, stir with a whisk to combine.
Step 4: Make a well in the flour, pour in yeast mixture, beaten eggs and the remaining ingredients (except the oil and extra sugar for coating). Beat in circular motion with a wooden spoon until the dough is soft (using a stand mixer is not recommended for this recipe as it may result in tough, overworked dough).
Step 5: Cover bowl with plastic wrap and let rise in a warm place until doubled  in size (I like to boil a small pot of water and warm my oven to about 90 degrees, turn the oven off and allow dough to rise in the oven with the pot of water).
Step 6: Gently turn dough over but do not punch down (lightly oiling your hands will help keep the dough from sticking). Cover and let rise again.
Step 7: Heat oil to 375℉ degrees. Use a candy thermometer and keep a close eye on the temp, you don't want to heat coconut oil past 375℉ (again, those free radical thingy's).
Step 8: Drop dough by the tablespoon-full into oil and cook until lightly browned**. After a minute or two, the dough will turn over, if this doesn't happen, flip it with a slotted spoon and cook an additional minute (or so).
Step 9: Carefully remove malasada from oil and drain on a plate lined with paper towels for about 5 seconds.
Step 10: Drop each malasada into a brown bag filled with sugar and shake to coat (this step is best done with a helper, kids make great bag shakers!).
Eat immediately! These are best when hot (although I've never turned my nose at leftover malasadas the next morning).
* If you can't find organic evaporated milk (I could only find organic evaporated goat's milk from Azure) you can easily make your own. Check out this post for a DIY Evaporated Milk recipe.
**If your malasadas are coming out with doughy centers, turn the heat down on the oil which will allow them to cook longer without burning.