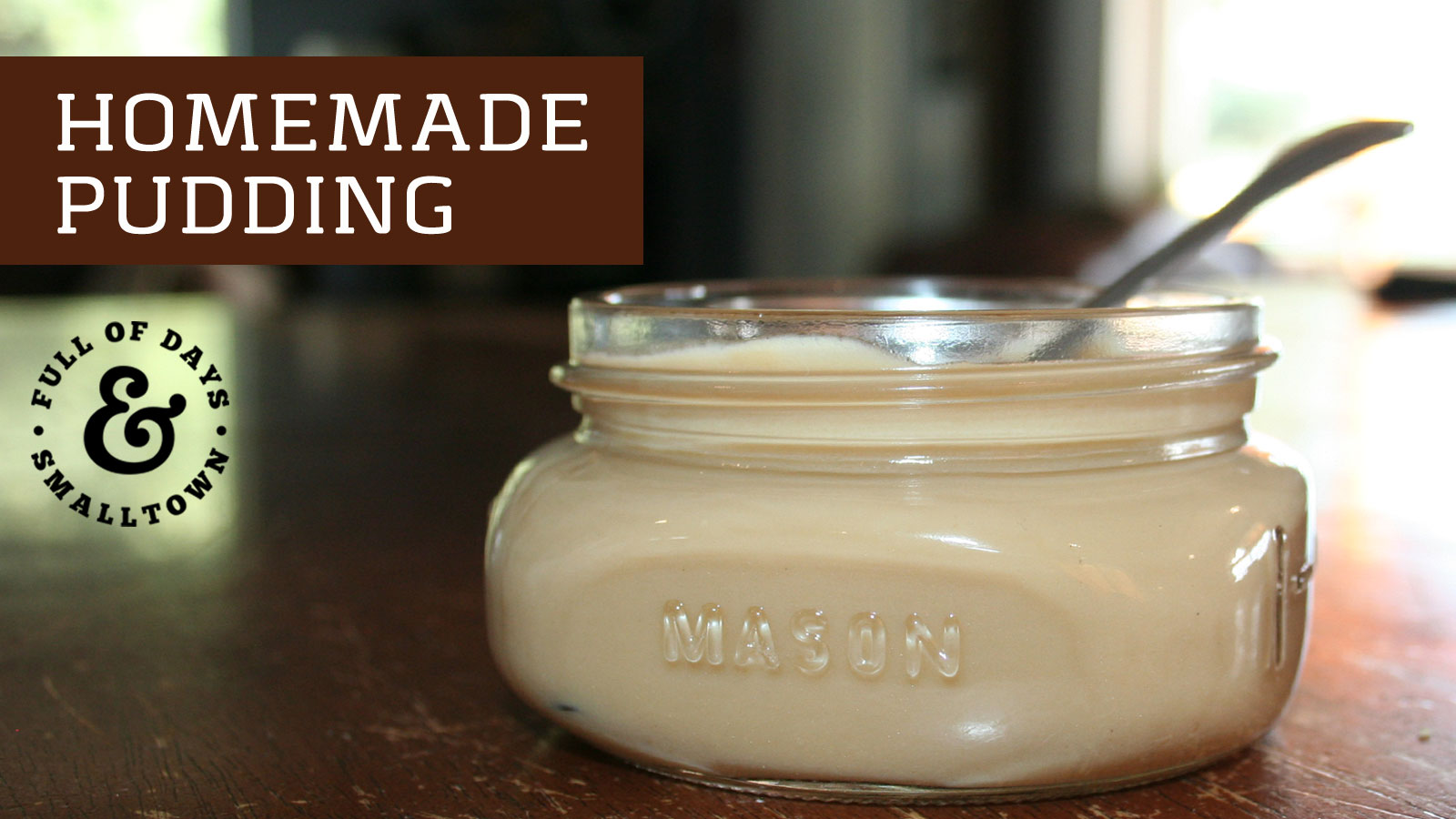 I
mean no disrespect to Grandma when I say this, she's always been an amazing cook, and she makes a mayonnaise cake that'll make you wanna smack your mama! But Grandma never made vanilla pudding as good as this! (Good thing she doesn't have internet, eh?)
In her defense, the coconut sugar is what steals the spotlight in this recipe…and coconut sugar just wasn't an ingredient Grandma used…so it's really not her fault!
Rarely can you claim a dessert that's so rich, creamy and decadent "good for you", but this is one you can serve up and smile about, knowing it's filled with quality fat, vitamins and even some protein!
It's a breeze to whip up and my favorite is to enjoy it warm, straight out of the pot with a dollop of freshly whipped raw cream!
If ya'll know grandma, please don't show this to her!"
Ingredients
3 cups raw whole milk
3 egg yolks (from pastured hens)
1/3 cup cornstarch (or arrowroot)
1/2 cup coconut sugar
3 Tbs butter
2 tsp vanilla extract
1/2 tsp salt
Recipe note: Because we're using coconut sugar, this pudding will have a dark tan hue, almost reminiscent of butterscotch in both color and taste. It's subtle enough it doesn't overwhelm the vanilla flavor, but we think it adds a depth that makes this pudding a home-run (and better than Grandma's)! 
To Make: Get those arms ready, you'll need to continually whisk this recipe to be sure you end up with a smooth, thick pudding (just switch arms often enough and call it "arm day").
Step 1: Separate egg yolks into a bowl and set aside, allowing them to come to room temperature.
Step 2: Add milk, cornstarch, sugar and salt to a large sauce pan (4 quart) and turn burner onto medium heat. Stir with a whisk to incorporate any lumps (lumps=bad).
Step 3: Continuously whisk while heating until it begins to thicken and steam (but not quite bubble), about 5 minutes or so.
Step 4: Once your mixture begins to thicken, take 1/2 cup and slowly add to your egg yolks while continually whisking. This will temper your yolks and keep them from becoming scrambled eggs in your pudding (because that'd be gross). Room temperature egg yolks temper best, but if your yolks are still cold, you should be fine.
Step 5: Add the tempered egg yolks to the saucepan (keep stirring) and turn up the heat to medium-high. Continue whisking quickly (remember, this is your arm workout!).
Step 6: Once your pudding begins to bubble (still stirring), and I mean big popping bubbles of pudding, set the timer for 2 minutes…and keep stirring (feel the burn!).
Step 7: After two minutes of stirring, remove from heat, add butter and vanilla and, yes, keep stirring!
Step 8: Once butter has melted, pour pudding into serving bowls and let cool for about five minutes (if you can resist!), enjoy as is or top with whipped cream. If you don't enjoy warm pudding you can let cool completely in the refrigerator (although we think it's best served warm). If you cover the surface of the pudding with parchment paper or saran wrap you'll avoid a "skin" from forming, but this isn't necessary – my kids kinda like the pudding skin!
Chocolate pudding variation: If you prefer chocolate pudding, follow the instructions above and add 1/2 cup chocolate chips when you add the butter and vanilla (don't omit the vanilla, it adds to the chocolate flavor nicely!).