Homemade Oreos are our new favorite obsession. Whole grains, decadent chocolate and silky coconut cream. These are the best chocolate sandwich cookies ever.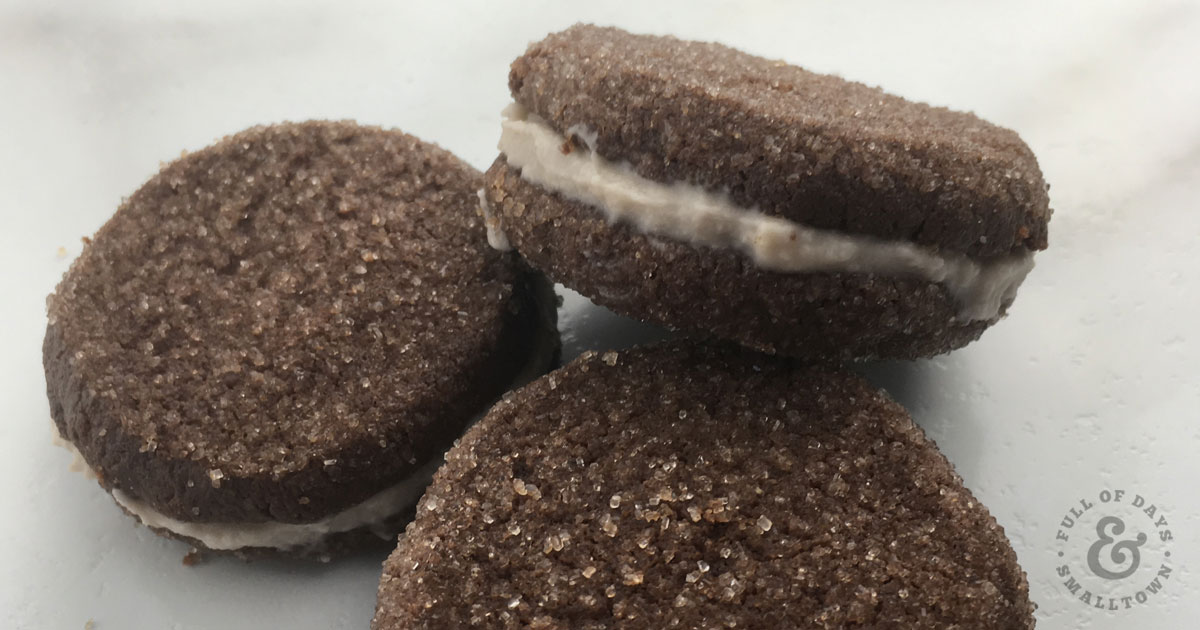 This post was originally written in May 2018 and has recently been updated for photos and content.
In our continual search for "Good, Better, Best" we recently started milling our own whole grains using an electric stone grain mill and decided using freshly milled grain would be perfect for these healthy homemade oreos.
You might be thinking, "Wow! That's super crunchy!", but to be honest, it was one of the easiest swaps we've ever made thanks to the Mockmill 100.
Are Oreos Healthy?
Maybe you've never asked yourself this question! I avoided it for years because, to be honest, Oreos are one of my FAVORITE store-bought cookies!
But are they healthy? NO! But this homemade Oreos recipe fits perfectly into the 20% of our 80/20 lifestyle.
I mean, try not to eat the entire batch in one sitting, and don't eat them every day for a year (even though you'll likely want to!). Otherwise, a sandwich cookie (or three) now and then can be a perfect addition to a healthy diet.
https://www.facebook.com/FullofDays/videos/1327179494050868/
Unhealthy Ingredients in Store-Bought Oreos
What makes a store-bought Oreo so darn bad for you? A quick glance at the ingredients list will tell you more than you might like to know! And comparing this list with the ingredients used in these homemade Oreos will let you know why this recipe is just so much better!
Sugar – Sugar is used in baked goods as a preservative, it helps to stabilize and form the structure in processed foods. Consuming too much sugar significantly increases health-related problems such as diabetes, obesity and weight gain. It's not listed specifically on the label what kind of sugar is used…but it's likely also a GMO (Genetically Modified Organism).
Unbleached Enriched Flour – made up of wheat flour, niacin, reduced iron, thiamine mononitrate (vit B1), Riboflavin (vit B2), and Folic acid. We recently wrote a post called, "Is Flour Bad for You?" where we discussed the differences in flour. The flour used in Oreos is most definitely NOT healthy. It's been stripped down and refined until it's devoid of vitamins and minerals, then "enriched" with synthetic replacements of only some of the nutrients stripped out. To keep it shelf-stable, there have also been preservatives added.
High Oleic Canola and/or Palm and/or Canola Oil – "High Oleic Canola and Palm oil are high in monounsaturated fats, low in saturated fats and have no trans fat. These oils are used in baked goods and provide a longer shelf life; they are used for cereal coatings, crackers, dried fruits, and used in frying. Canola oil is used for baking and frying, is low in saturated fats and contains omega-3s. Canola oil can be found in processed foods and is commonly used in cosmetics, candles, and newspaper ink… There have been some questions about the seeds themselves becoming genetically modified to be herbicide-resistant…" (Source)
Cocoa – Processed with alkali, which darkens the cocoa and reduces the bitterness. The process of treating cocoa with alkali reduces the level of flavonoids. This process darkens the cocoa and changes its flavor by reducing bitterness. Cocoa processed with alkali can be found in baked goods and chocolate drinks. Once the cocoa is treated the level of flavonoids in the cocoa is substantially reduced. Flavonoids are what give plant-products their color and are powerful antioxidants with anti-inflammatory and immune system benefits.
High Fructose Corn Syrup (HFCS) – Used in products for added sweetness. "HFCS is created by converting dextrose sugar from corn syrup into fructose sugar. This process enables HFCS to taste sweeter than corn syrup. It is widely used in processed foods because it is cheaper than sugar. HFCS is harder on the body to digest than sugar and can take up to four days before it is completely digested. A number of studies have linked the consumption of HFCS to significant health concerns including the risk of weight gain and obesity. A study conducted at Princeton University showed that rats that were given HFCS gained 300% quicker than rats fed an equal or larger serving of sugar derived from fruit. Consumption of HFCS is also linked to developing diabetes, hypertension, and elevated cholesterol levels and fatty liver disease." (Source)
Leavening – Baking soda and/or calcium phosphate.
Cornstarch – Likely from GMO corn.
Salt – Likely iodized salt which has been stripped of all naturally occurring trace minerals, then "enriched" with iodine. More on what makes salt healthy.
Soy Lecithin – Used for emulsifying fats and gives Oreo filling that creamy texture. Soy lecithin is one of those "hidden" ingredients in many foods which more and more people are allergic to.
Vanillin – Vanillin and artificial flavors have replaced real vanilla extract here. Although we love vanillin for making homemade bug spray, it's not so great for baking!
Chocolate – We FINALLY got to chocolate! Shouldn't chocolate be one of the main ingredients in a chocolate sandwich cookie? I would think so!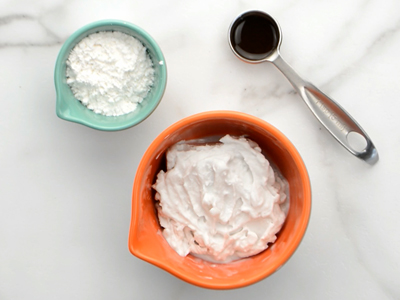 What is the Oreo filling made out of?
This homemade Oreo recipe has a filling that's made of just three ingredients:
Coconut Cream
Powdered Sugar
Vanilla Extract
Store-bought Oreo filling, on the other hand, is NOT so simple! For proprietary reasons, we don't know the exact recipe, but based on the ingredients it's likely a combination of sugar, high fructose corn syrup, soy lecithin, artificial flavor, and palm and/or canola oil.
How to Make Homemade Oreos
To make homemade Oreos you'll want to have a little bit of time on your hands to be sure they turn out just right. The "chill time" for the dough is probably the most important step.
First things first, we like to use fresh milled Spelt flour for our cookie recipes. It gives a nice light texture, and using fresh-milled flour means the nutrients are all available. Better yet, if you can sprout your grain before grinding it, it'll be even more digestible.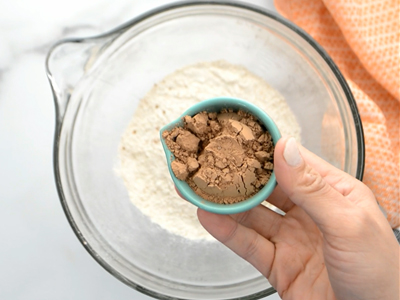 Mix together all your dry ingredients and whisk to combine. Then, in the bowl of your stand mixer, cream together the butter and sugar until light in color and silky smooth.
Add vanilla to your butter/sugar mixture, then slowly add your dry ingredients until a ball of dough is formed and all flour is incorporated.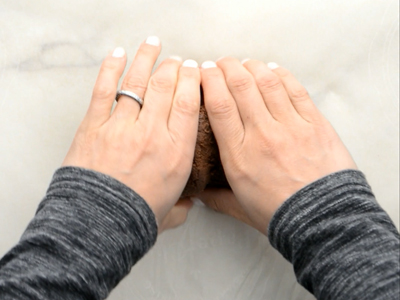 Form your dough into a long "log" that's about 1 1/4″ in diameter. Use a piece of parchment paper to keep the dough from sticking to your hands. Wrap it up tight and stick it in the refrigerator for an hour (or overnight, if needed).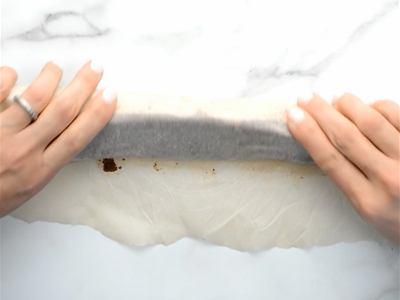 After an hour, you can remove your chilled dough from the refrigerator and preheat the oven to 325 degrees (163 celsius). You can also prepare two baking sheets by covering them with a sheet of parchment paper or silicone baking mats.
Using a sharp knife, cut the log into little "coins" about 1/4- 1/6″ thick. These cookies shouldn't rise or spread, so the width that you cut them will be the width of the finished cookie.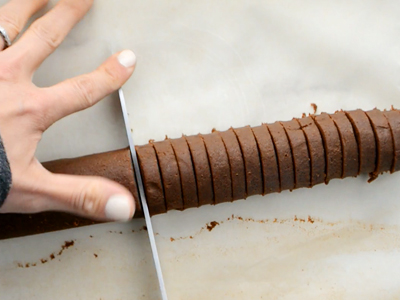 This next step is important because it will help keep your cookies from rising or spreading when baking and they'll retain that classic Oreo cookie shape.
Take each "coin" and dip one side into a bowl of evaporated cane juice (or granulated sugar) and place, sugar side up, on the parchment-lined baking sheet. Continue until all cookies have been dipped in sugar.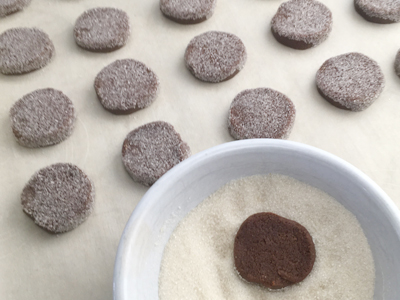 Bake for 15-18 minutes until cookies are firm to the touch (they shouldn't dip in when pressed lightly with your finger).
Remove the cookies from the oven and allow them to rest on the tray for 10 minutes before moving them to a cooling rack to cool completely. This should eliminate any cookies falling apart when trying to transfer them.
While cookies are baking, you can make the cream filling.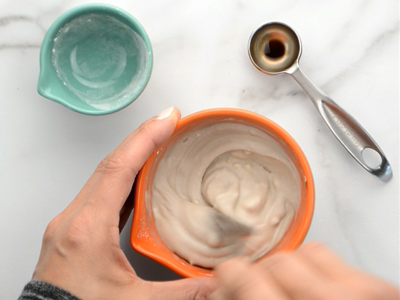 Using a fork or a small hand-held mixer, whip together the coconut cream, powdered sugar, and vanilla extract until creamy and smooth. You can place this in the refrigerator to firm up if it gets too runny.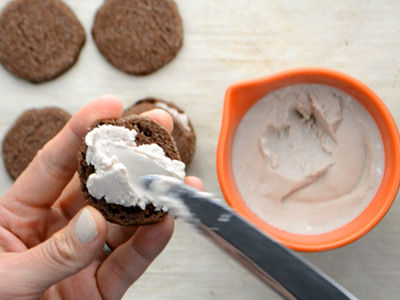 Spread about 1 teaspoon of the cream filling on one chocolate sandwich cookie. Try not to spread the filling all the way to the edges as you want to leave some space for the filling to spread out.
Next, gently place another chocolate sandwich cookie on top of the cream filling, squeezing gently until the filling reaches the edge.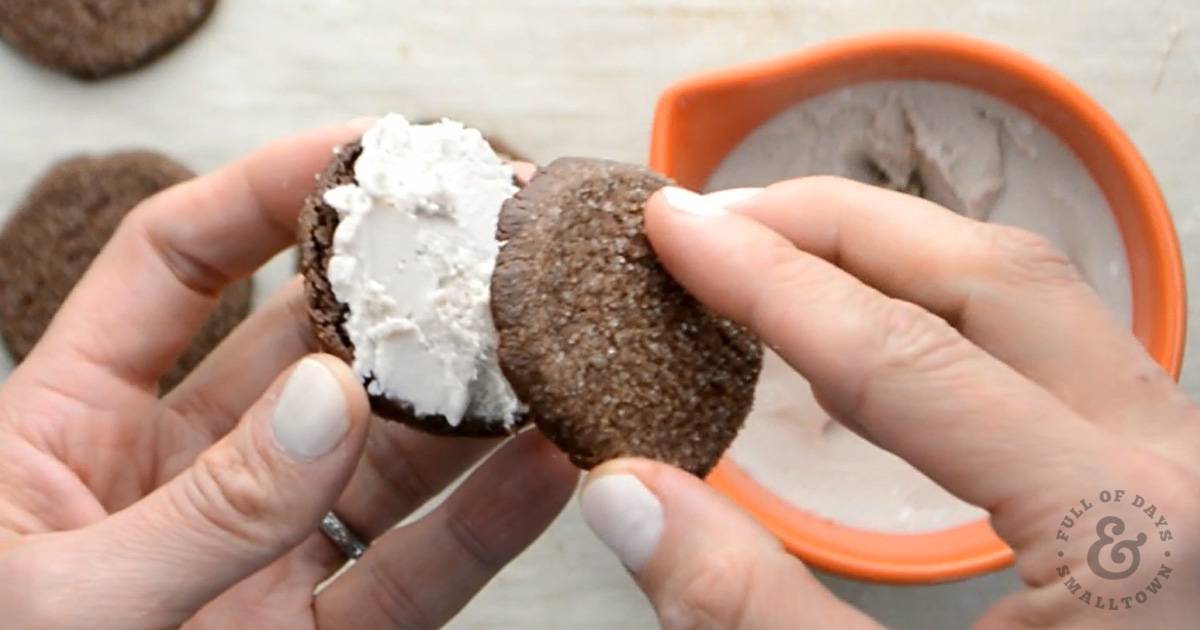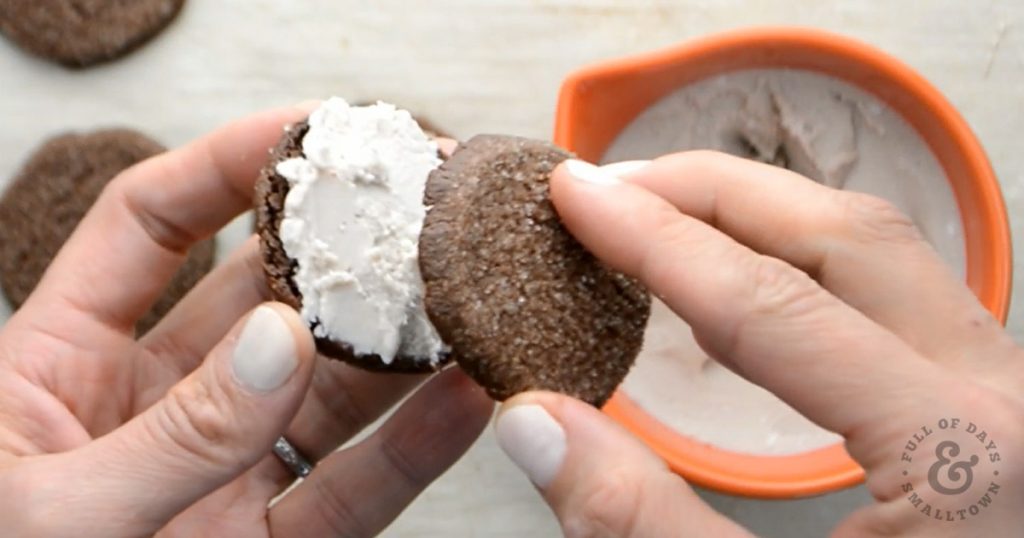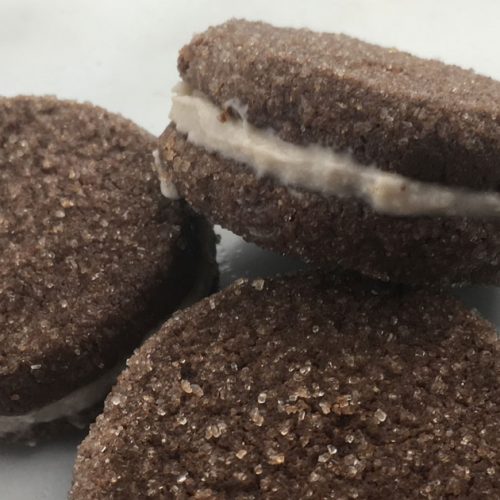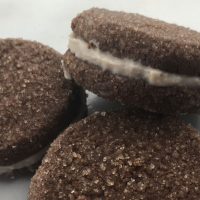 Homemade Oreos
Homemade Oreos are our new favorite obsession. Whole grains, decadent chocolate and silky coconut cream. These are the best chocolate sandwich cookies ever.
Print
Pin
Comment
Ingredients
For the filling:
½

cup

full-fat coconut cream

2

Tablespoons

powdered sugar

or make your own - see notes*

1

teaspoon

vanilla extract
Instructions
Whisk together dry ingredients (flour, cocoa powder and salt).

In the bowl of your stand mixer, cream together sugar and butter, then add vanilla.

Slowly add in dry ingredients and mix until just combined. Do not over-mix.

Add in melted chocolate, if using, and mix until incorporated. Dough should be sticky.

Dump dough out onto a piece of parchment paper.

Using your hands, form dough into a log, approximately 12 inches long and 1 ¼ inch in diameter. Roll dough up in parchment paper and refrigerate until firm (2-3 hours, or overnight).

Mix frosting together by whisking coconut cream, powdered sugar and vanilla together. Cover and refrigerate until ready to frost.

Heat oven to 325 degrees F.

Remove cookie dough from refrigerator and line a full-sized sheet pan (or two regular cookie sheets) with parchment paper.

Using a sharp knife, slice the log into thin cookies, approximately ¼ inch thick.

Dip each cookie into sugar, then place sugar-side-up on the parchment lined pan.

Bake for 15-18 minutes, until cookies are firm to the touch.

Remove from oven and allow cookies to rest for 10 minutes before transferring to a wire rack.

Once cookies have cooled completely, frost half the cookies on the non-sugared side, then make a sandwich with a non-frosted cookie.

Serve immediately, or refrigerate until ready to serve.

Pour an ice cold glass of milk, dunk and enjoy! (Or, you know...however you like to eat your cookies!)
Notes
You can make your own powdered sugar in a high-speed blender or coffee grinder by adding regular, evaporated cane sugar and blend on high until powdery soft!
If the dough seems too sticky, allow it to sit for 10 minutes and check again. Fresh ground flour can take longer to absorb liquid. If dough continues to be too sticky to handle, add additional flour, 1 Tablespoon at a time until the dough forms a sticky ball.
After removing the chilled dough from the refrigerator, re-shape your dough to make it more rounded.
Be sure to let your cookies rest on the sheet pan for 10 minutes or else they may crumble when you try to move them.
Don't be shy with the coconut cream filling! You want a nice thick layer to make it the right ratio for your cookies.
Nutrition
Serving:
1
sandwich cookie
|
Calories:
80
kcal
|
Carbohydrates:
8
g
|
Protein:
1
g
|
Fat:
5
g
|
Saturated Fat:
4
g
|
Cholesterol:
8
mg
|
Sodium:
28
mg
|
Potassium:
31
mg
|
Fiber:
1
g
|
Sugar:
4
g
|
Vitamin A:
95
IU
|
Vitamin C:
1
mg
|
Calcium:
3
mg
|
Iron:
1
mg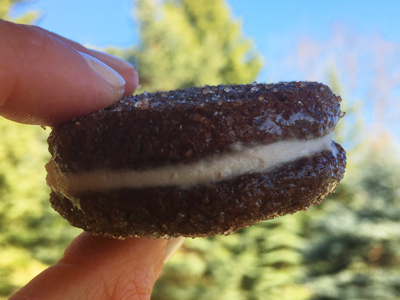 If you're ever in a pinch and need Oreos but don't have time to make them, give Newman's Own Chocolate Sandwich Cookies a try! They're one tier better on our "Good, Better, Best" quest.
More Desserts Like Healthy Homemade Oreos
Our referral links are above. If you click through and take action, we may be compensated. Our full disclosure is here. Full of Days may have received compensation for this post (whether monetarily, or through products), however, all opinions are our own.