Dippy Do's: Healthy Chocolate Peanut-Butter Truffles

DIPPY DO'S - Gluten-free peanut butter filled chocolate truffles (with dairy-free, sugar-free & plant-based options). As a kid, on Christmas Eve Santa never got a plate of cookies...he got Dippy Do's. And because we're lovers of tradition, we can't go a holiday season without making them. I decided improving the recipe and making them a bit more *healthy* was a good solution. Get the full recipe here: https://everydayfull.com/sugar-free-dippy-dos/For more protein, add a few tablespoons of collagen to the filling. For dairy-free and "plant-based", swap out the butter for coconut oil and use Enjoy Life chocolate. For sugar-free, swap out the sugar for liquid stevia and use Lily's chocolate.

Posted by Full Of Days on Saturday, October 28, 2017
Dippy Do's: Chocolate Peanut-Butter Truffles
Including gluten-free, dairy-free, sugar-free and plant-based options.
Most of my fondest memories as a kid revolve around holidays. This recipe is among the best as it's a treat we'd make every Christmas to leave for Santa. Unfortunately, now that I'm aware of hidden ingredients in foods, or dangers of highly processed breakfast cereal, my beloved Dippy Do's were now Dippy Don'ts. 
Call me crazy, but I don't want to make treats filled with harmful breakfast cereals and ungodly amounts of powdered sugar…I just don't!
Thankfully my friend Emily over at Recipes to Nourish had a similar recipe to my favorite Dippy Do's. Her Chocolate Peanut Butter Truffles not only had real food ingredients, but they also had the added benefits of grass-fed butter and collagen protein! So now, not only can I have my Dippy Do's, but they're actually beneficial as they're filled with healthy fats and protein. #WINNING
I adapted Emily's recipe slightly (since I'm not currently eating sugar in any form), to suit my needs and appease that desire for a sweet treat after dinner. Ya'll have heard of appetizers, right? We like to call these treats "Afters", because they're a perfect treat for "after" a meal! BE SURE TO WATCH THE VIDEO AT THE END OF THIS POST!!!
New to sourdough, or looking for more great recipes? Grab our sourdough eBook filled with tested, whole-family approved recipes.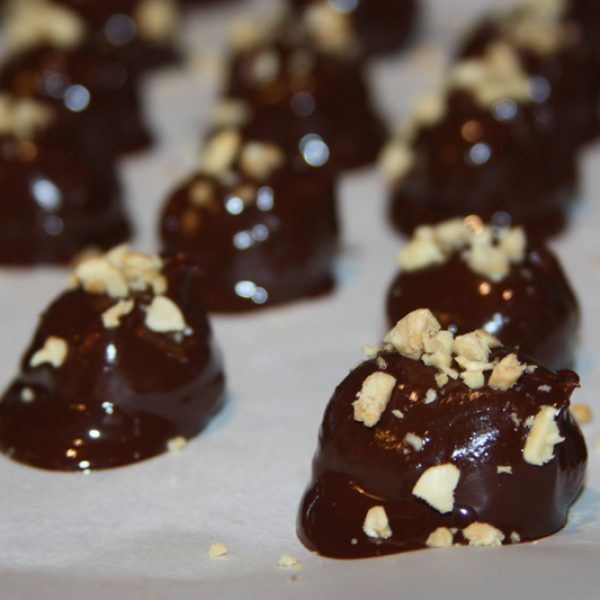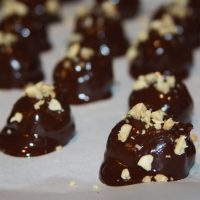 Dippy Do's: Chocolate Peanut-Butter Truffles
Print
Pin
Comment
Servings:
3
dozen truffles
Instructions
In a the bowl of your stand mixer 

(or Vitamix)

 add peanut butter, 1/4 cup room temperature butter, white rice flour 

(or other flour)

, vanilla extract, 1/2 tsp sea salt, sugar (or stevia powder) and optional collagen.

Pulse on low for a few times, then blend until all ingredients are incorporated. Taste for desired sweetness.

Cover and place in the freezer for 15-30 minutes to firm up.

Line a large baking sheet with parchment paper.

Once peanut butter mixture is chilled, scoop by heaping teaspoonfuls and roll into a ball using the palms of your hand. Work quickly as your hands will warm the peanut butter mixture making them more difficult to roll. Continue until all your mixture is formed into truffles.

Place truffles back into freezer (in the winter, the back porch doubles nicely for us!) for 30 minutes to firm up again.

While truffles are chilling, set up a double boiler and melt chocolate, 2 Tbs butter and a few dashes of sea salt. Remove pot from heat once chocolate has melted and is nice and smooth.

One by one, drop truffles into chocolate and, using a fork, coat completely. Carefully lift truffle and place back onto parchment paper, using a second fork to avoid drips.

Sprinkle crushed peanuts on top while chocolate is still soft.

Place truffles back into the freezer for 15 minutes to allow chocolate to set completely. Store in an airtight container in the refrigerator or freezer.
Notes
Always start with smallest amount as stevia is MUCH sweeter than regular sugar and too much can ruin a recipe.
Nutrition facts are based on the above recipe using Stevia and Lily's brand chocolate chips.
Nutrition
Serving:
1
truffle
|
Calories:
93
kcal
|
Carbohydrates:
5.3
g
|
Protein:
3.9
g
|
Fat:
7.5
g
|
Saturated Fat:
3.1
g
|
Cholesterol:
5
mg
|
Sodium:
92
mg
|
Fiber:
1.3
g
|
Sugar:
0.7
g