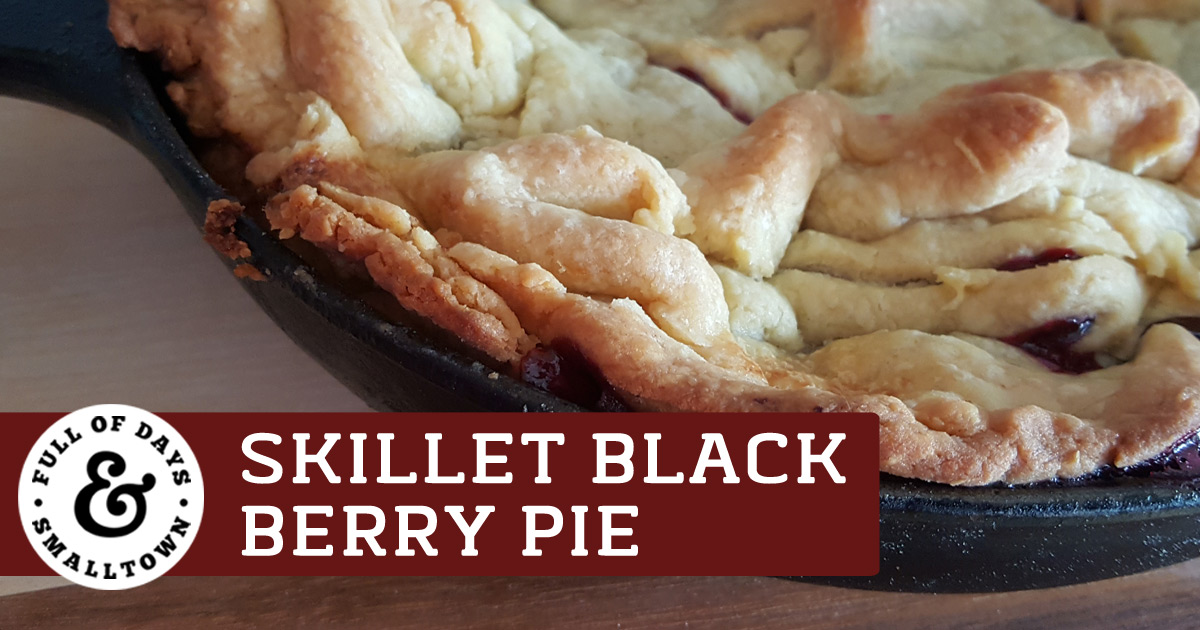 Skillet Blackberry Pie
Because Everyone Knows that Dessert is ALWAYS Better Served Up In a Cast Iron Skillet!
This past week as I was Spring Cleaning, following along with the 30 Day Clean it Up Challenge, I took inventory of my garage freezer and realized I had a lot of berries from last summer. A dear friend grows and picks her own berry patch each year and then sells them and gives a portion of the funds to missionary work. Excellent berries for a great cause! After purchasing a variety of berries, she actually gave us an extra bag of blackberries, that "didn't meet quality control". So, my "Out of sight, keep in mind" list tells me I have 3 gallons of blueberries and 3 gallons of blackberries. What can one do to use up all those berries? Smoothies, jams OR blackberry pie in a cast iron skillet. YUP, that's it!
So on a chilly but sunny Saturday, the 6-year-old and I made blackberry pie.
I adapted the recipe from Tomato Hero's blackberry cobbler recipe.
Lucky for me, I had extra berries and was able to make a double batch of the "filling mixture" to save for another pie another day! 
Skillet Blackberry Pie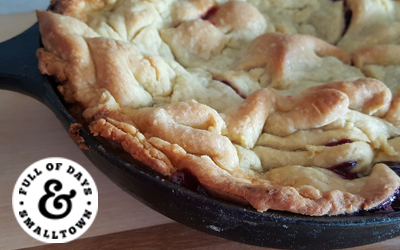 Ingredients
8 cups fresh or frozen blackberries (If you don't have access to berry patches in the summer, Costco has great deals on frozen berries.)
1/2 cup butter, melted (we love Kerrygold)
1 1/3 cups organic raw sugar
1/2 cup organic unbleached flour
1/4 cup butter, cubed (to dot the top of the pie)
Details
Prep Time: 35 minutes
Cook Time: 45-60 minutes
Total Time: 1 hour, 20-45 minutes
Yield: 1 pie
Serving Size: 1/8 skillet
Directions
Make pie crust following this recipe (it really is the best crust recipe!).
Choose your skillet, cast iron. I used a 9-inch medium skillet, or you can also use a pie plate. I put about a tablespoon of coconut oil into my skillet before I put the bottom crust in the skillet, use a fork to poke a few vent holes and then bake for 7 minutes at 400℉. Once crust is done baking reduce oven temp to 350℉.
In a large bowl, mix sugar, flour and melted butter together, then add in the berries and mix well.
Carefully fill cast iron skillet with the berries (remember, your pan will be hot!). Cover with top pie crust and seal edges. Cut your design into the top of your pie (we always do hearts, this time we added our initials!).
 Place cut butter cubes on the top of the pie, then bake for 45-50 minutes. If pie crust gets too brown, you can cover with foil for the last 10 minutes.
Possibly the hardest step is WAITING for the pie to cool. Serve it up with a scoop of vanilla ice cream and enjoy! YUM!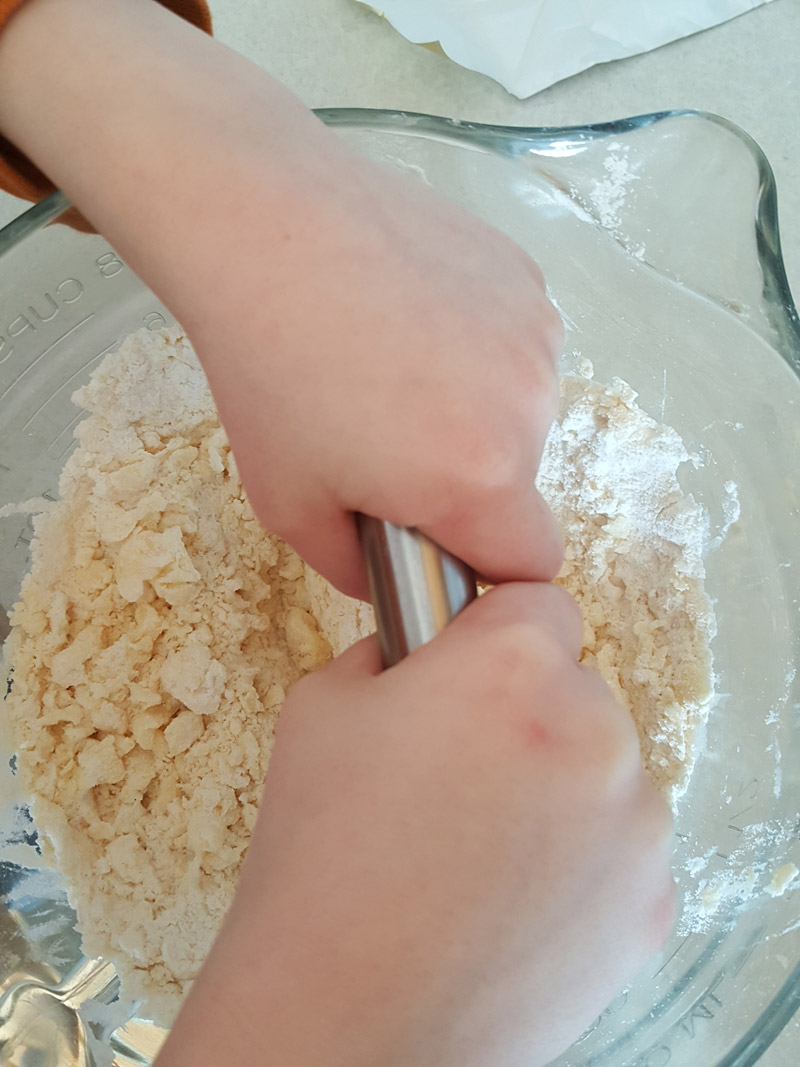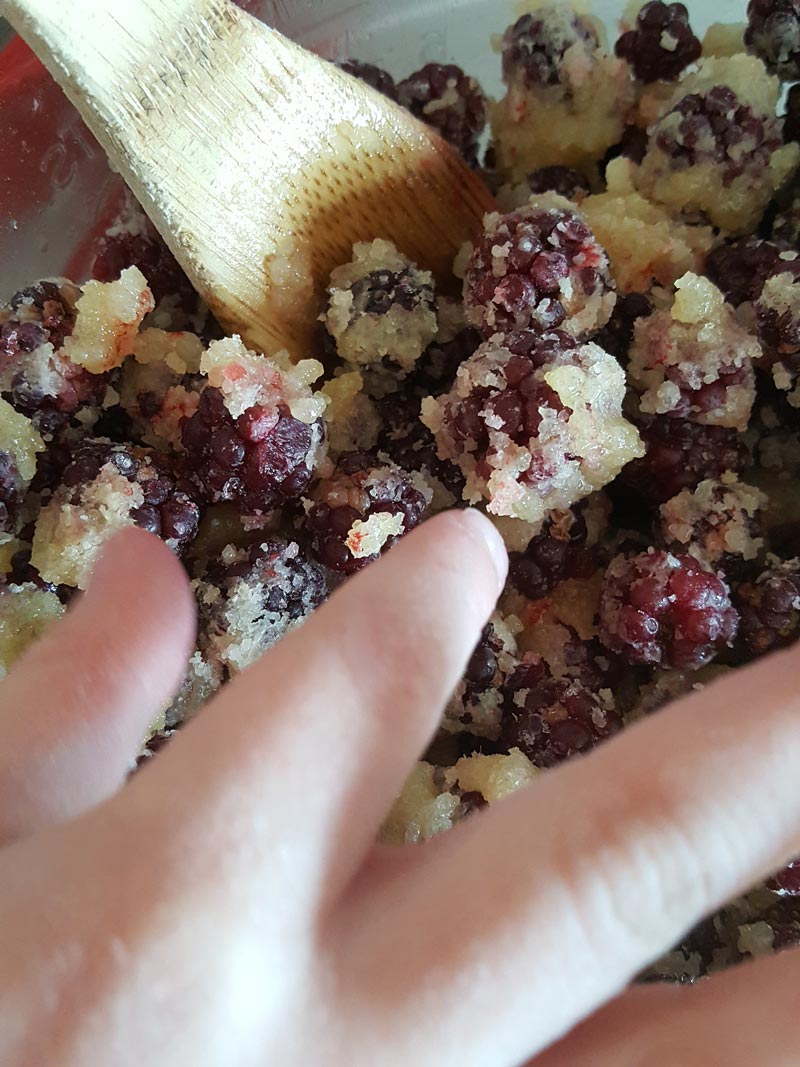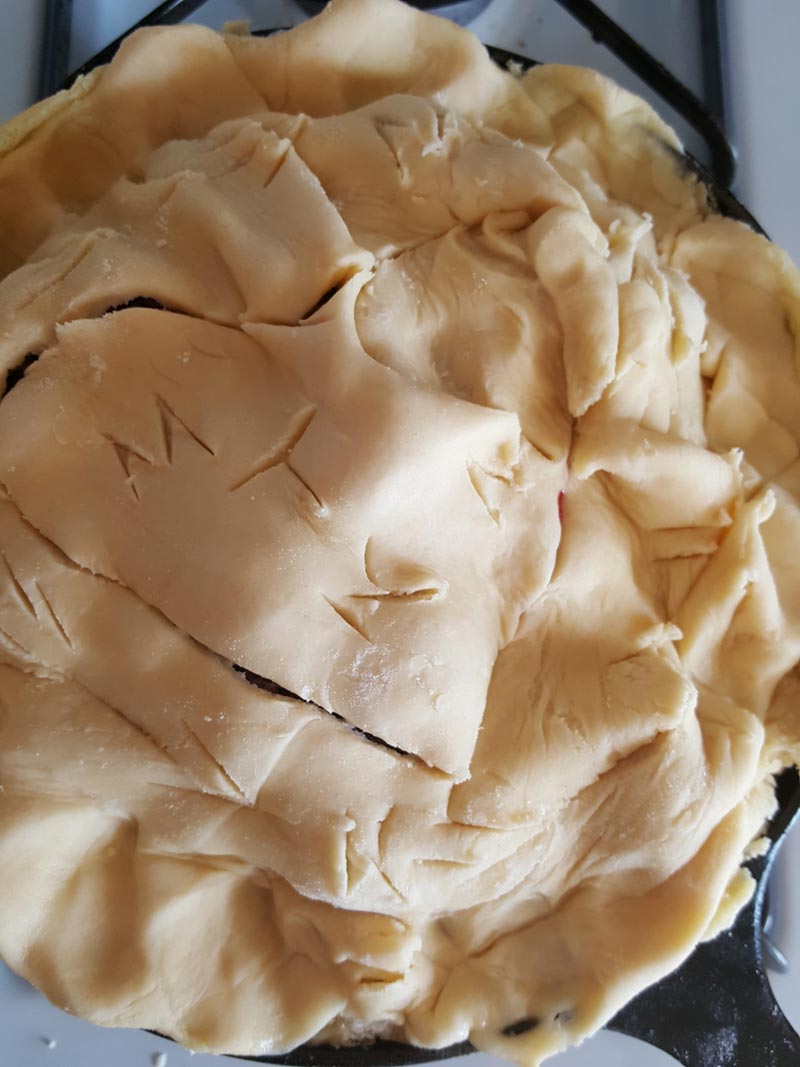 Making memories and creating heirlooms of laughter…
A tasty way to use up those frozen blackberries and a fun way to spend an hour with the 6 year old on a Saturday. We're making memories, squishing pie dough between our fingers and giggling as we snitch bites of frozen blackberries. Remembering the friendship of a little lady who generously shares her berry batch. Memories, heirlooms of laughter, time spent and yummy pie. Oops, better go update my list…. 2 bags of frozen blackberries….
Some of our other favorite dessert recipes include this Cast Iron Skillet Chocolate Chip Cookie recipe, this Strawberry Shortcake recipe and this quick and easy Chocolate Raspberry Cream in a Mug.
Be sure to pin this recipe to save it for later and share your favorite desserts with us in the comments below!