Carrot Cake Ice Cream

CARROT CAKE ICE CREAM!!!If grown ups got Easter baskets, this is what I'd want in mine!!!Snag the recipe here >> https://everydayfull.com/carrot-cake-ice-cream/Thanks Eat Beautiful for this amazing recipe!

Posted by Full Of Days on Tuesday, March 27, 2018
Homemade Carrot Cake Ice Cream
This sweet and creamy homemade carrot cake ice cream is healthy enough to eat for breakfast!
Carrot cake…it's kinda been a theme over here lately. I mean, did you see the Gluten-Free, Paleo Carrot Cake Muffins we made last week? DROOL! Good enough for dessert, but healthy enough for breakfast.
We have another "good enough for dessert, but healthy enough for breakfast" recipe to share today. And guess what? It's also carrot cake! This time in the form of ice cream! Because, come on! ICE CREAM!
I suppose "frozen yogurt" would be a more appropriate name, but even that isn't right. And cultured sour cream ice cream just sounds weird, so we're sticking with ice cream. Since it really is rich and creamy, just like the real deal. This just boasts that extra health kick of being made with cultured sour cream! BONUS!
Since I've been blogging, I've had the privilege of meeting some pretty awesome and creative people in the blogesphere. Sometimes I find recipes that I adapt and put my own creative spin on, but other times there are recipes that are near impossible to improve upon. This is just such a recipe.
I originally saw this over on Recipes to Nourish where my friend Emily was sharing the recipe from our mutual friend Megan Stevens. So I reached out to both of them to ask if I could also share it. That's when Megan told me the recipe is included in her book, aptly named Eat Beautiful: Gran-free, Sugar-free and Loving It.
Y'all, this book is filled with over 100 nourishing, nutrient-dense, gut healing recipes that Megan served at her restaurant (so you KNOW they're winners!). If you're following a grain-free, sugar-free, GAPS, AIP or Paleo lifestyle, you'll want to grab the book. Especially if the idea of eating waffles topped with ice cream for breakfast sounds as amazing to you as it does to me!
Ice Cream Base
The thing that's always bothered me about making homemade ice cream is that, unless you use nearly 100% heavy cream for your base, you're likely to get an icy consistency (unless, of course you're willing to add ingredients known to damage the gut…no thanks!). 
But this recipe calls for a base of cultured sour cream. WHAAAT?
Yep, that was my first reaction…then I tried it!
Regular sour cream could work in a pinch, but the cultured cream adds that extra boost of nutrition! The result is a smooth, thick and oh-so-creamy ice cream that's out of this world good!
The best part is this recipe can be adapted to suit whatever flavor you're craving. Just omit the carrot juice and the cinnamon and fill in the gaps with your fave flavor combination!
And when you find a keeper, be sure to come back here and tell me what you made so I can try it, too!
For now, y'all can find me over here in the corner, eating ice cream for breakfast, feeling zero guilt about it! (The only reason I'm in the corner is so my kids don't find me…I'm not good at sharing!)
For more incredible, gut-healing recipes, be sure to visit Megan over on her website Eat Beautiful. And don't leave until you've checked out her breakfast cookie recipes. They go perfect with ice cream!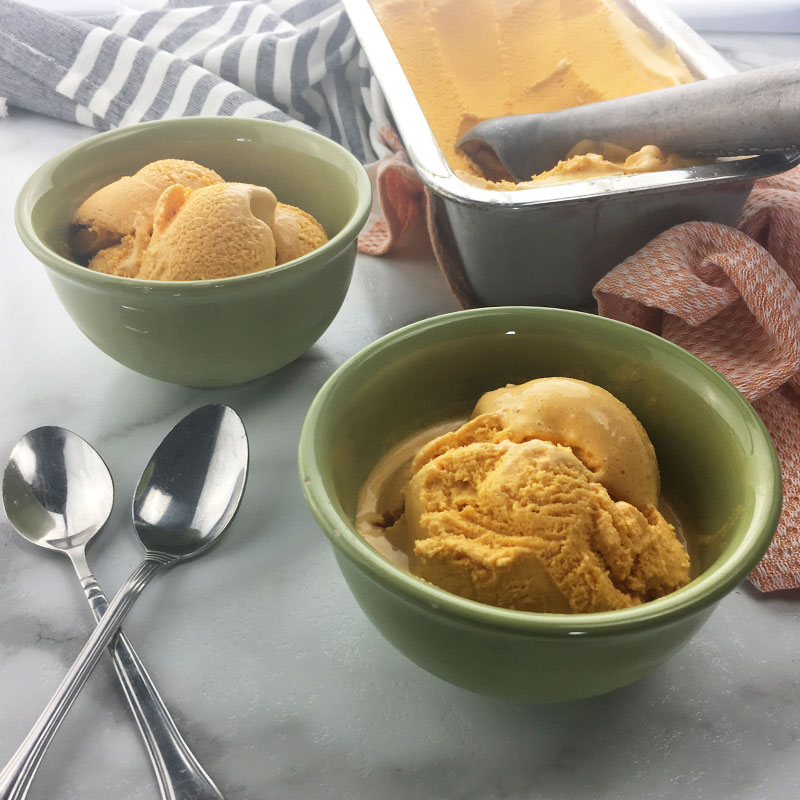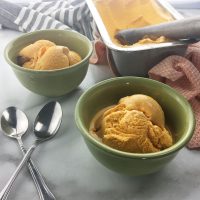 Homemade Carrot Cake Ice Cream
Print
Pin
Comment
Servings:
2
quarts ice cream
Instructions
Juice 5-6 large carrots (enough for 1 cup carrot juice). 

Place sour cream, carrot juice, sweetener, vanilla and cinnamon into a blender and blend until all ingredients are combined. (Be sure sweetener is fully dissolved.)

Pour mixture into an

ice cream maker

and freeze according to manufacturer's instructions.

For a firmer consistency, transfer ice cream into a freezer safe pan, cover, and freeze until firm. 
Nutrition
Serving:
1
cup
|
Calories:
226
kcal
|
Carbohydrates:
30.1
g
|
Protein:
2
g
|
Fat:
12.1
g
|
Saturated Fat:
7.5
g
|
Cholesterol:
25
mg
|
Sodium:
41
mg
|
Fiber:
0.5
g
|
Sugar:
26.9
g