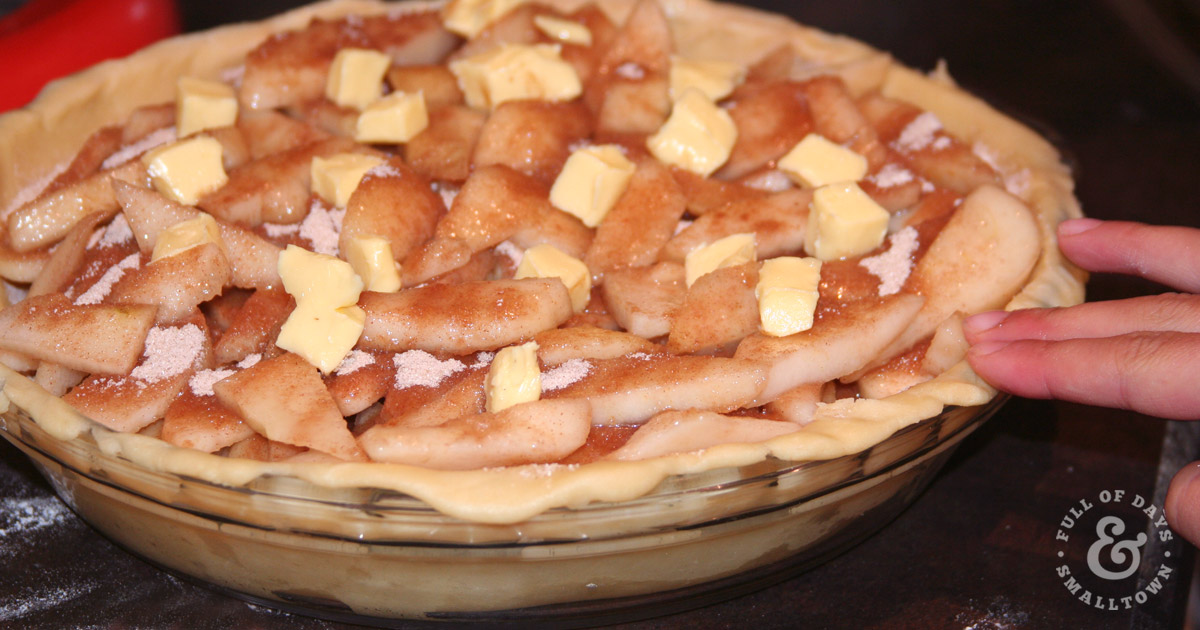 Pear Pie
It's the new apple pie, and sure to become your favorite dessert!
There's a crispness to the evening air, sure signs that Fall is encroaching. Not yet…but soon. We're doing our best to squeeze in as many "Full Days" as our waning Summer climate will allow!
Though I'm not ready for all things Fall, our pear tree is dropping its glorious fruit and we're whipping up one of our favorite desserts: Pear Pie!
Pear pie was a mistake. The Hubs wanted his favorite, apple pie, so as any good wife would, I tied on my apron and got to work! Once I'd made the crust and gathered my supplies I realized I was fresh out of apples. We had pears though! Always up for a challenge I took the gamble and subbed in the pears.
Much to our surprise, the pear pie was so much better than apple pie! The Hubs had a new favorite! And sure enough, if you google "Pear Pie" you'll come up with boatloads of recipes…who knew?
Cut my pie into four pieces, I don't think I could eat eight." – Yogi Berra
Both the pie crust, and apple pear pie recipes have been passed down by my mommy. Making pie crust is the only reason I pull out my dinosaur of a cuisinart anymore. Making pie crust is a breeze in this thing! Because this beast sits down in the basement the majority of the year, when I do huff it upstairs, I make 4 or 5 pie crusts at a time, then wrap and freeze them to use throughout the year. (You'll definitely want an extra one on hand for homemade chicken pot pie…recipe coming soon!)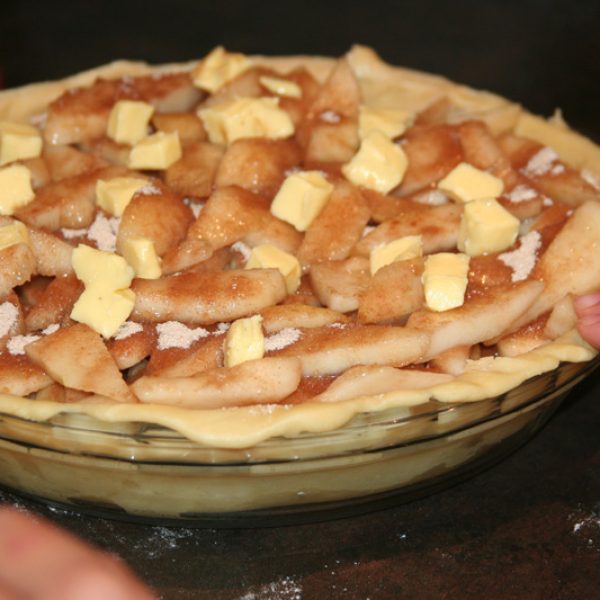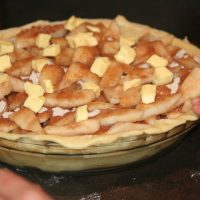 Homemade Pear Pie
This homemade pear pie rivals the classic apple pie with it's flaky pastry crust and sweet, sticky filling. It's become our new family favorite!
Print
Pin
Comment
Instructions
To make the crust:
Make sure you start with super cold butter! Cut butter into small cubes.

Add flour, salt and cubed butter to bowl of food processor. Pulse 10-15 times until the butter and flour are incorporated and no large pieces remain.

Turn the food processor on and slowly drizzle ice water through top opening. Once the dough begins to pull away from the sides and form a ball, turn the machine off.

Take dough out of food processor and press firmly into a ball. Divide into two equal portions and wrap in saran wrap.

Press the dough flat to form a "disc" shape. Refrigerate for 30 minutes.
For the pie:
Preheat oven to 450℉ and place a baking sheet in the oven on the bottom rack.

Peel, core and slice pears, place into a bowl and set aside.

Add sugar, flour, salt and cinnamon into a bowl and stir with a whisk to combine.

Lightly flour work surface and roll out half the pastry dough, gently place into 9 inch pie pan.

Layer pear slices in a single layer, followed by a layer of sugar/flour mixture. Repeat until all pears and sugar/flour have been used.

Dot with butter and sprinkle with lemon juice.

Add more flour to work surface, if needed, and roll out second half of the pastry dough. Gently place on top, tuck the excess under the bottom crust, press to seal and crimp with fingers.

Carefully cut out a personalized vent to allow steam to escape and brush with optional egg wash.

Place in oven on preheated pan. Bake at 450℉ for 10 minutes, reduce oven temp to 350℉ and bake an additional 35-40 minutes until crust is golden brown.

 
Notes
Use a pastry cloth to roll out dough, pick up entire cloth with dough and lay the pie pan on top, gently pressing crust into the pan, then flipping back over – see photo.
 I like using a glass pie pan so I can check to see that the bottom crust is fully cooked!
To store extra pie crust, wrap in saran wrap then place into a zip top freezer bag. Allow dough to defrost completely in the refrigerator before use.