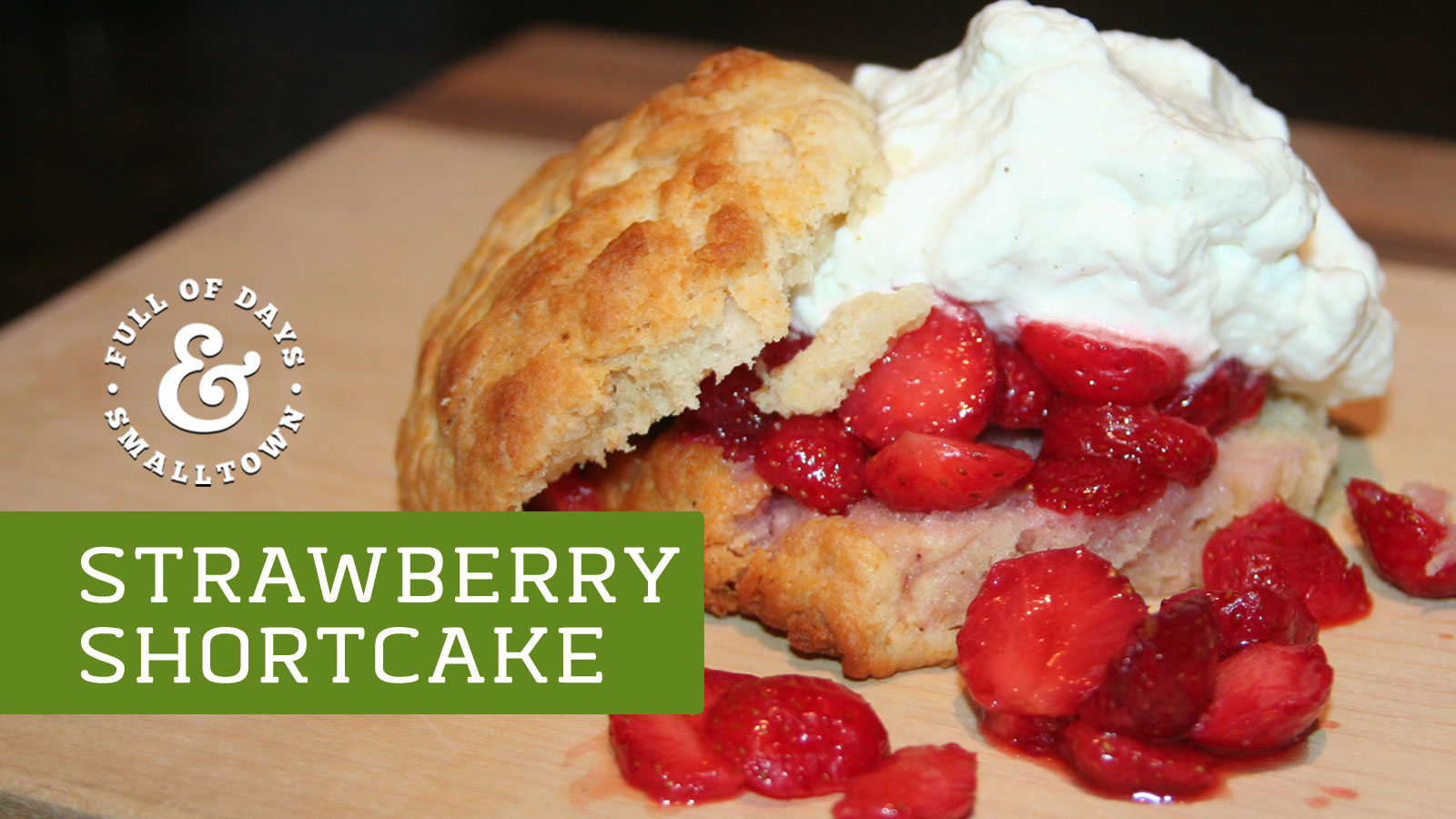 R
emember my love of the giant yellow box filled with quick biscuit mix? And remember how I shared our healthier DIY bisquick recipe? And remember how I promised to keep sharing all the deliciously wonderful recipes that can be whipped up with ease like these apple waffles??
It's your lucky day because today I'm sharing a recipe with buttery, flaky, slightly sweetened shortcake, fresh berries and fluffy whipped cream. Invite some friends over, make this summer salad for dinner and end the evening with some delicious strawberry shortcake…smiles will surely abound!
Ingredients
For the Shortcake:
5 cups DIY Bisquick
1 cup milk (raw is best)
6 Tbs sugar
6 Tbs melted butter

For the Berry Sauce:
4 cups strawberries*
1/4 cup sugar
2 tsp citrus zest (orange, lemon or lime)

For the Whipped Cream:
1 cup heavy cream
1/2 cup powdered sugar
* Can substitute any berry in place of the strawberries. If using whole berries such as blackberries, raspberries or blueberries you'll want to gently mash the berries to help release their juices.
To Make: This recipe easily serves 8-12 guests and makes 16 small short cakes. If you don't have powdered sugar on hand, remember you can just whiz some regular sugar in the blender and make your own! We haven't bought powdered sugar since learning this trick a few years ago!
Step 1: Preheat oven to 425℉.
Step 2: Slice strawberries, sprinkle with 1/4 cup sugar, add citrus zest and stir to combine.
Step 3: In a small pot on the stove, melt butter.
Step 4: In a large bowl combine bisquick, sugar, milk and melted butter. Stir until a soft dough is formed.
Step 5: Divide dough into 16 equal portions and place on a parchment lined cookie sheet.
Step 6: Bake shortcake at 425℉ for 12-15 minutes, (do not over-bake or your shortcakes will be dry and crumbly).
Step 7: Add 1 cup heavy whipping cream (raw cream if possible) to the bowl of a stand mixer. Using the whisk attachment, beat cream on medium high speed until fluffy. add powdered sugar and vanilla and whip until desired consistency is reached. Be careful not to over-whip or you may end up with butter!
Step 8: Once shortcake is baked, allow to cool slightly. Assemble into a bowl by dividing shortcake in half, layering on your berries and sauce and topping with a dollop of whipped cream.
Happy summer evenings!