Healthy Cookie Dough

HEALTHY COOKIE DOUGH! A dessert that's gluten-free, dairy-free and refined sugar-free that actually tastes good, too? Is this actually possible?I was a skeptic, until I became a believer! Try it for yourself and be amazed! >> https://everydayfull.com/healthy-chocolate-chip-cookie-dough/

Posted by Full Of Days on Wednesday, October 18, 2017
Healthy Cookie Dough
A healthy cookie dough that you can enjoy anytime, guilt-free!
I have certain friends that are just plain awesome…they're the friends that "get me". In all my weirdness, to know when they recommend a strange recipe for healthy cookie dough, that I won't go running in the opposite direction. It's because of friends like these, that I'm bringing you this healthy chocolate chip cookie dough recipe today.
Thank you awesome friends!
So what makes this particular healthy cookie dough recipe strange? It's made out of chickpeas!
Don't run away!
I know what you're thinking…because it's probably exactly what I first thought when I heard "chickpeas" and "dessert" in the same sentence. But I vowed to give it a try, and so should you!
This particular friend "who gets me" is a former foodie blogger gone DIY Timber-Frame Home Builder over at Pure Living for Life. She knows my love of strange, yet delicious and simultaneously healthy foods, so she was certain I'd love this "dessert hummus" recipe…and she was spot on!
Not only do I love it, but the kids love it and even The Hubs came back for more! Especially when dipping with our homemade graham crackers!
And we're no strangers to cookie dough…whenever our oldest bakes our favorite cast iron chocolate chip cookie, we always sample the dough beforehand. But when I can give my kiddos cookie dough for snack and actually feel good about it? That's a double win!
What makes this a "healthy cookie dough"?
This recipe is packed with protein from the chickpeas, healthy fat from the nut butter, and is made without refined sugar. And using stevia sweetened Lily's brand chocolate chips means even less sugar!
The variations on this recipe are incredible…you can use any kind of milk you want (our favorite is raw milk), any kind of nut butter (peanut butter, almond butter, cashew butter…COCONUT BUTTER!)
To take the dip over the top, whip up these homemade graham crackers to use for dipping! Your guests won't even realize it's a dessert that's actually good for them (it'll be our little, sneaky secret!).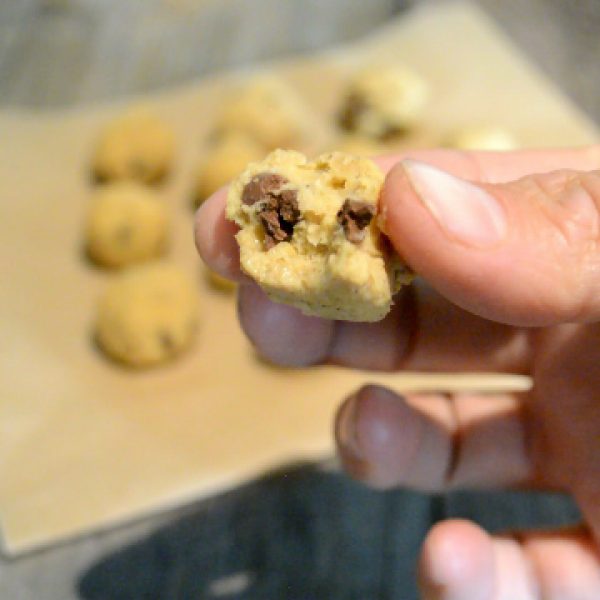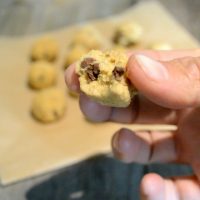 Healthy Cookie Dough (dip & bites)
Healthy cookie dough you can eat as a dip, or rolled into bites. No worries about raw eggs, or a sugar high. Indulge, guilt free!
Print
Pin
Comment
Instructions
For the Dip
Strain chickpeas and put into blender.

Add maple syrup and milk of choice to blender and blend for a few seconds.

Add nut butter, vanilla, baking soda and salt. Blend again until creamy and smooth.

Pour into a bowl and stir in chocolate chips.
For the bites
Chill cookie dough dip in the refrigerator for a few hours (or overnight) until firm.

Roll into bite-sized balls and place onto parchment paper.

Freeze for 30-60 minutes.

Enjoy!
Notes
Cookie dough dip is delicious served with sliced fruit, pretzel sticks and graham crackers.
Store extra cookie dough dip in a sealed container in the refrigerator. Bring back to room temperature before serving.
Cookie dough bites are best stored in the freezer and should be served straight from the freezer. They soften up too much at room temperature.
Nutrition
Serving:
1
Tablespoon
|
Calories:
57
kcal
|
Carbohydrates:
9
g
|
Protein:
1.5
g
|
Fat:
2.1
g
|
Saturated Fat:
0.8
g
|
Sodium:
68
mg
|
Fiber:
1.2
g
|
Sugar:
3.2
g
Looking for more dessert recipes?
We get that we all need to indulge sometimes. It's great to have healthy recipes like this on hand to keep the sugar monster away…if you're looking for more healthy treats, try these recipes:
Other "not as healthy" dessert recipes!
We're big proponents of a balanced lifestyle, which means occasionally splurging on delicious, sugar-filled treats! Here are some of our favorite recipes for that 20% in our 80/20 rule!