Chocolate Covered Coconut Candies
A healthy spin on an old favorite…because we should all be able to enjoy candy!
Homemade candies are hard to resist. And why should we? Having a special treat every now and then is certainly something we enjoy, and when those treats are filled with nourishing healthy fats? It's a double win!
Something I love to do this time of year is make up large batches of different candies and cookies to give away as gifts when invited to holiday parties (every host deserves something sweet!). Enter Chocolate Covered Coconutties!
Follow along with us on Facebook!
One year we whipped up a giant batch of these "coconutties" (as my kids call them) and packaged them up in cute mason jars, designed some adorable labels and tied a ribbon with a tag around the top.
I think we got more compliments on that gift than any other DIY I've done to date!
The best part about these? They have a sugar-free option discovered by mistake when my daughter was making a batch and mis-read the recipe only using 1/4 tsp maple syrup for the whole batch. To our delight, they were perfectly sweet with the chocolate coating. (Additional tip, use Lily's brand chocolate chips that are sweetened with stevia!)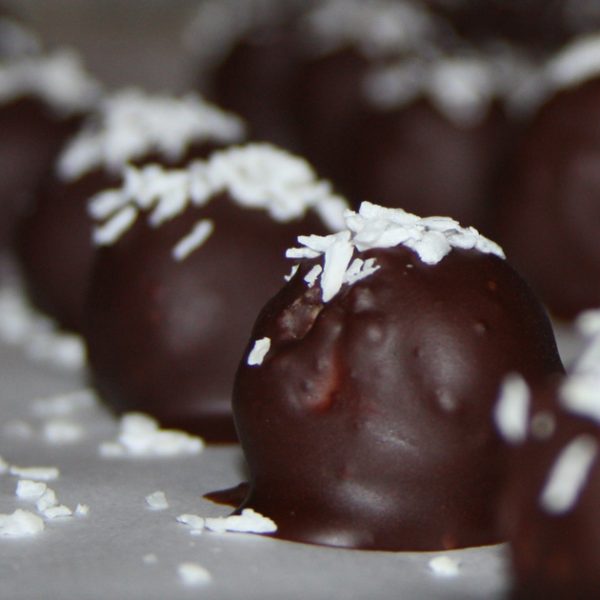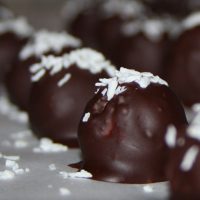 Homemade Chocolate Covered Coconut Candies
Decadent coconut filled treats covered in chocolate...a healthy version of a classic favorite...the Mounds bar. Sub milk chocolate and add an almond on top, and you've got a healthy Almond Joy.
Print
Pin
Comment
Instructions
Add 1 1/4 cups shredded coconut and coconut oil into Vitamix (or food processor).

Start on speed 1 and quickly work up to 8-10, allowing shredded coconut and oil to combine. Scrape down sides as needed and continue blending until mixture reaches a butter consistency.

Add maple syrup, 2 Tbs. coconut milk, vanilla extract and salt and blend on high until all ingredients have combined. Add more coconut milk if mixture seems too dry. Remember, we're going for butter consistency.

Add remaining shredded coconut and blend on high just until coconut is mixed throughout. You want this coconut to retain its texture, and not get turned into butter. This will help form the "batter" consistency of your mixture.

Press dough firmly into a 9×13″ pan lined with parchment paper. (Alternatively, form mixture into 1″ balls and place on a cookie sheet lined with parchment paper.)

Refrigerate one hour (or freeze for 15-20 minutes). If you pressed dough into a pan, carefully lift coconut mixture out of the pan and place on a cutting board. Gently slice into 1×2″ rectangles (or preferred size and shape) and place on a cookie sheet lined with parchment paper. Place back in the freezer or refrigerator, if needed, to harden back up.

Melt the chocolate in a double boiler (a large bowl with chocolate placed over a pot of boiling water) and quickly drop coconutties, one by one, into the chocolate to get coated. Place back on parchment paper.

Sprinkle the tops with coconut while still soft.

Refrigerate for 5-10 minutes to allow the chocolate to harden.
Notes
You have two options for making these "Coconutties", the first is to roll mixture into a ball, allow to cool and then dip in chocolate. The second is to press the mixture into a lined 9×13 pan, allow to cool, then cut into small rectangular shapes. This is my preferred method as it gives the Coconutties more of a candy bar feel, however it's not as easy for kiddos who may want to help out. Either way, this recipe doesn't disappoint!
* By mistake, my daughter made a batch of these and misread the recipe adding only 1/4 tsp maple syrup, instead of 1/4 cup. We didn't realize the mistake until after they were done…to our surprise the sweetness wasn't missed one bit and they were completely delicious! So for all you looking for sugar-free treats this time of year, this is a true winner.
Nutrition
Serving:
1
candy
|
Calories:
65
kcal
|
Carbohydrates:
6
g
|
Protein:
0.7
g
|
Fat:
4.3
g
|
Saturated Fat:
3.4
g
|
Cholesterol:
2
mg
|
Sodium:
18
mg
|
Fiber:
0.7
g
|
Sugar:
4.9
g
We lovingly donned these treats "Afters", as they're a perfect treat to enjoy after a meal. Enjoy immediately, package up and gift, or store in the refrigerator for 1-2 weeks (if they last that long!). 
Check out our other "Afters" favorite, sugar-free Dippy Do's (chocolate and peanut butter never tasted so good).