A S'more just isn't a S'more without a graham cracker. Skip the storebought boxed version and give these healthy homemade graham crackers a try. Trust us, you won't regret it! They're nutty, sweet and perfectly crunchy with the delicious combination of spelt flour and raw honey. Perfect for pie crusts and other graham cracker recipes.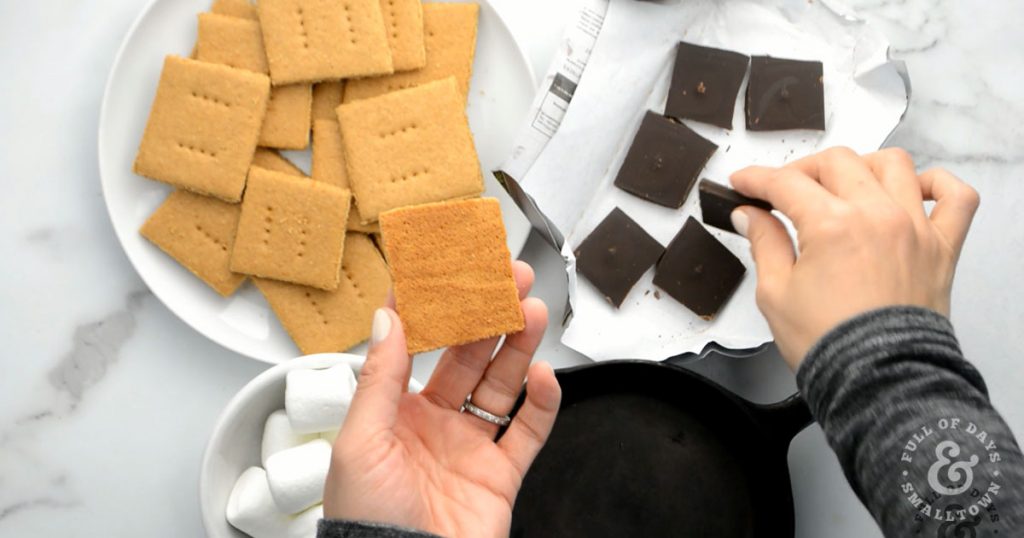 This post was originally written in August, 2018 but has been updated for content, video and photos.
August 10th is National S'mores Day! We think now is the perfect time of year to start practicing your homemade Graham cracker making skills!
We happen to practice our S'mores making all year so we're ready for "the big day".
Our favorite way to practice? With Homemade Spelt & Honey Graham Crackers! I mean, why wait until August when you can have S'mores any time of year? (Making S'mores in a cast iron pan in the oven happens year 'round at our house – watch the video to see how!!)
Two graham crackers, and chocolate, too. With marshmallow turned to warm, white goo.
A treat indeed, a dripping mess. A touch of melty joy – oh yes!
It's bedtime soon, but I'm not done. I simply cannot stop at one.
Because, you see, it takes three s'mores, to make a night of happy s'nores." – Unknown
Once you taste these homemade treats, it'll be hard to grab a box from the store again. It's no secret that our family LOVES camping. We also love easy camping food! These Sunshine Eggs and Sweet Potato Skillet Hash are among our favorites! But we're also fond of this Sourdough Orange Campfire Cake.
This past week we also happened to have our first taste of summer-time weather, which means we're itching for camping season to begin!
Why we love homemade Graham crackers
With camping comes tents, campfires, snipe hunts and S'MORES! But we also try our best to avoid sugar-overloads (and subsequent behavioral crashes from our offspring). This is why we like to bring as many homemade goodies on our camping adventures to curb the onslaught…but, we also realize camping just isn't camping without S'mores! Am I right?
Melty, ooey-gooey marshmallows, hot off the flames, melting the chocolate square ever so slightly, smashed between two homemade Graham crackers…what genius invented this recipe? 
What makes this recipe healthy?
Because store-bought Graham crackers are full of harmful ingredients like synthetic vitamins (in the enriched flour), sugar, and soybean oil, they do anything but make our tummies happy. So today we're sharing our very favorite recipe for homemade Graham crackers, made with fresh ground Spelt flour and raw honey.
Once you taste these beauties you'll never go camping without making a fresh batch again!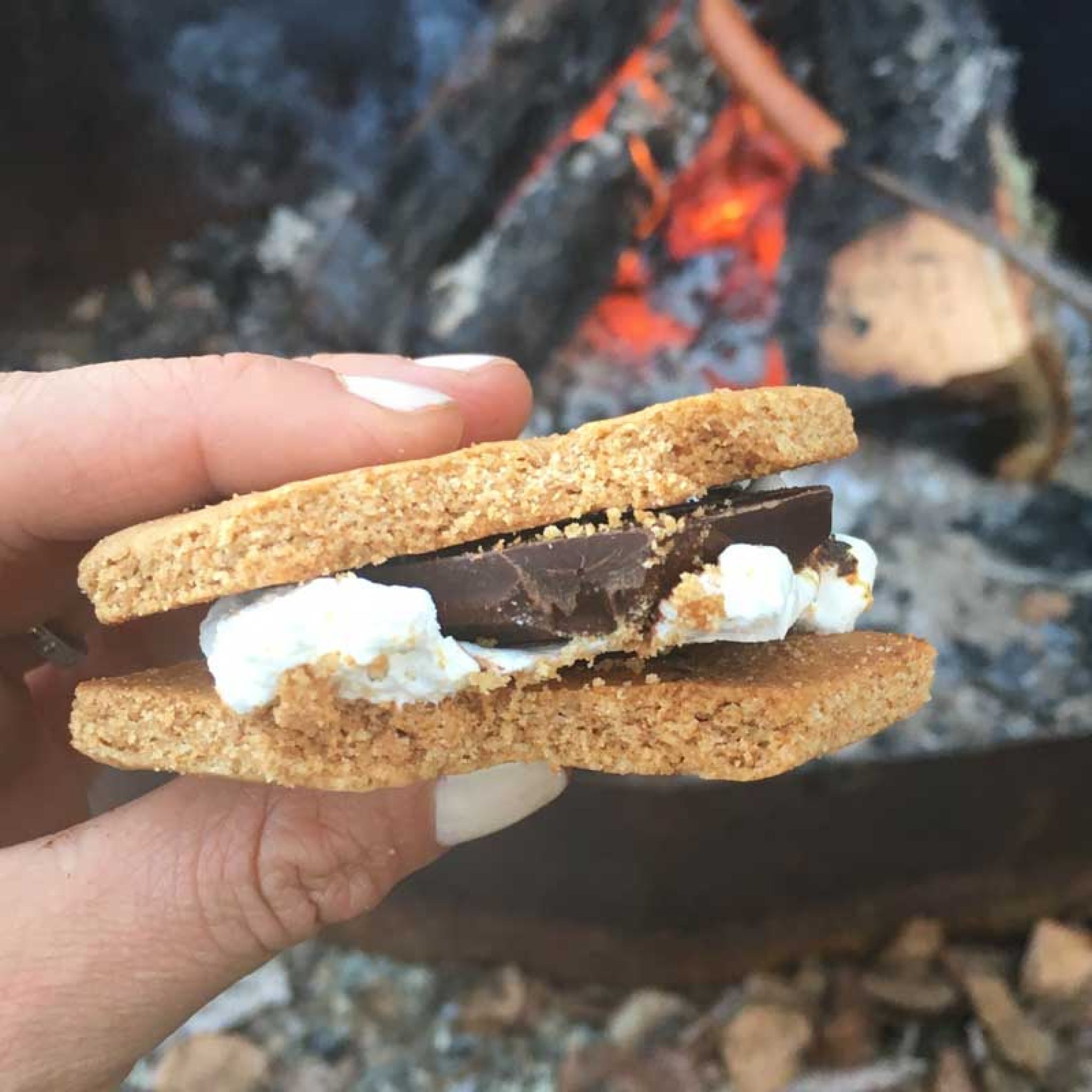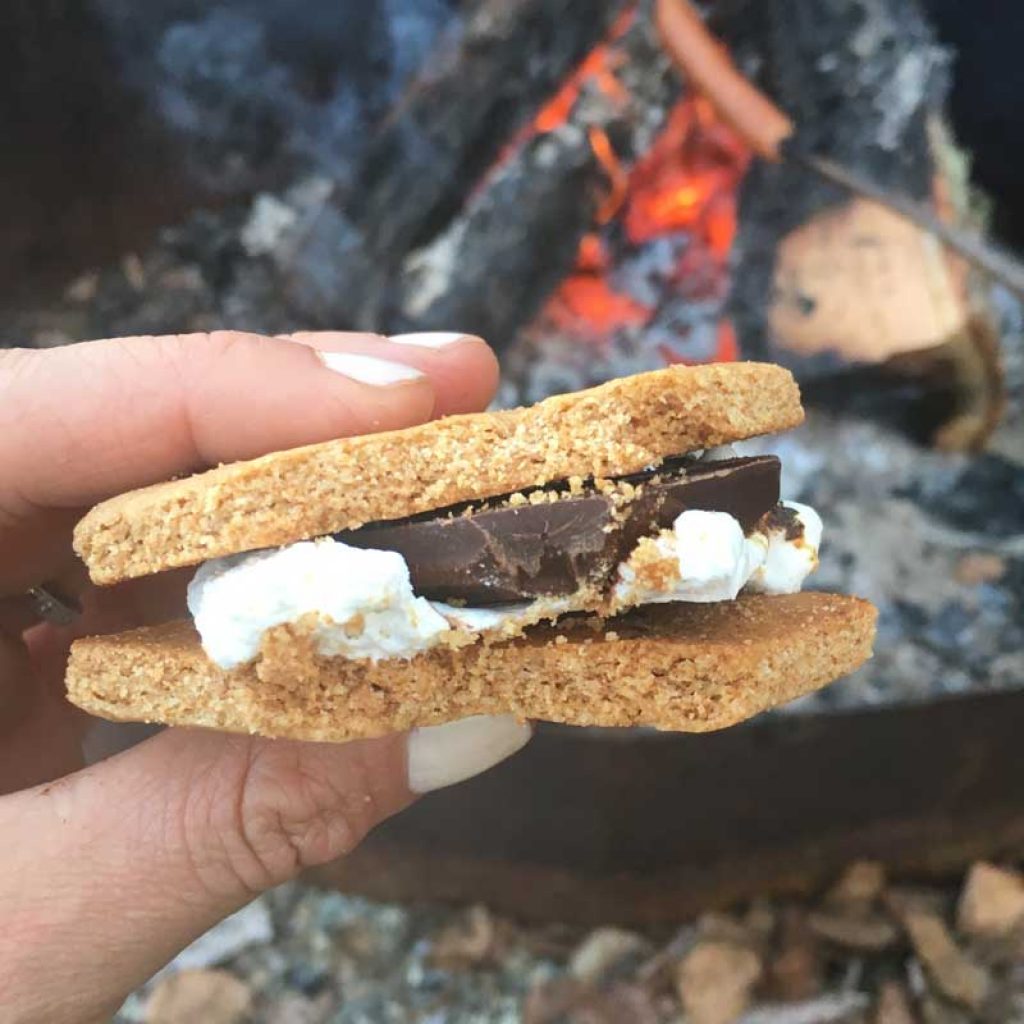 Why are they called "Graham" Crackers?
Two reasons…
Because, traditionally, Graham crackers are made with Graham flour, which is similar to whole wheat flour but ground more coarsely.
Graham flour is actually named after Sylvester Graham, a preacher who believed a diet rich in whole grains is best for us. This is also why "Graham" is always capitalized!
How do you make homemade Graham Crackers?
Graham crackers couldn't be easier to make. Just dump, mix, roll, score and bake!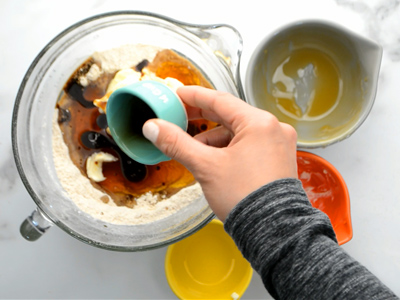 Mixing the dough
What I love about this recipe is it can be done in one bowl. Just dump all the ingredients together, stir to create a slightly sticky dough, then spread between two sheets of parchment paper.
Alternatively, if you want your crackers to be extra light and crispy, cream together the butter and honey before adding the rest of the wet ingredients. Then combine the dry ingredients and slowly add them to the wet ingredients in stages, fully incorporating each portion before the next is added.
We also love using freshly ground Spelt flour (even better is freshly ground SPROUTED Spelt, which is easier on digestion). To do this, we use our Mockmill 100, which we whole-heartedly adore.

Rolling the dough
Because this dough is slightly sticky, it can be hard to handle. To make it easier, we use two pieces of parchment paper, firmly press the dough out into a flat disc between the pieces of paper, then use a rolling pin to completely roll the dough out to about 1/4-1/8″ thickness.

Scoring the dough
Before baking you'll score and "poke" your dough with the tines of a fork, to keep the dough from bubbling up. Using a pizza cutter or pastry roller works well.

Baking the Graham crackers
When baking your homemade Graham crackers, be watchful of those outside edges, as they tend to be thinner and cook faster.
We usually end up removing the outside edges to a cooling rack a minute or two before the rest of the crackers are done baking. Allow the cookies to slightly cool before breaking apart at the score lines.
How do I shape Graham Crackers?
Typically, Graham crackers are in a long rectangular shape, made up of four smaller rectangular crackers that are scored for easy breaking. This is a bit harder to do with homemade Graham crackers. We skip this step and just score them the size of the cracker we want.
As an alternative to scoring in rectangles, you could let your kiddos have some fun and use cookie cutters to make fun shapes with your Graham Crackers. To do this, cut the dough into shapes and carefully transfer to a parchment or Silpat-lined baking sheet, spaced an inch apart. Bake as normal.
How to store Graham crackers?
The trick to keeping your homemade Graham crackers nice and crunchy is to store them in an airtight container but DON'T seal the lid! I know, that sounds strange, but sealing the lid will actually soften your Graham crackers and you'll lose that classic crunch. If you like a softer Graham cracker "cookie", then by all means, seal away.
If your Graham crackers do get a little soft for your liking, you can line them up on a baking sheet and pop them in the oven at 250 degrees until they firm up (about 3-5 minutes). Just be careful they don't get too dark or burn!
How long do Graham Crackers last?
Homemade Graham crackers will last at room temperature for about a week (although ours are always devoured well before then!). If you want to store them for longer, you can store them in an airtight container or ziptop bag in the freezer for up to 3 months.
We don't recommend storing your Graham crackers in the refrigerator as they should be sealed when in there and they just tend to get a little too soft for our liking.
Can I freeze Graham crackers?
Yes! As we mentioned above, Graham crackers will last up to 3 months in the freezer. Store them in an airtight container.

Fresh-milled flour?
OK, so you might be wondering…do I HAVE to use fresh-milled flour in this recipe? Certainly not, but in case you're wondering why we like to, hop over here and read our answer to the question we get asked most, "Is Flour Bad for Me?"
We like to grind our flour fresh for a few reasons…
The taste is AMAZING! – I mean truly, unless you've tasted freshly milled flour, it's hard to understand. The flavor is almost sweet and nutty! (I used to think I disliked whole-grain flour, but I'm pretty sure this is because I was buying flour from the grocery store that had likely gone rancid!)
It's healthier – Once flour has been ground, it has a shelf-life of just three days. After that, you lose the nutrients and the oil in the grain goes rancid. (This can be extended by refrigerating flour up to one week, and freezing up to six months.) Alternatively, if you buy white flour (where the bran and germ have been removed), you'll have a longer shelf-life, but you'll be missing out on all the fiber, vitamins, and minerals within the bran and germ of freshly-milled whole grains.
It's more affordable – Grinding our own grain saves us money a few different ways. First, whole grains, when stored properly, will last for YEARS! So we can buy in bulk without the fear of using up the grain before it goes bad. And we all know when you buy in bulk, you save money! Second, pound for pound, whole grains are cheaper than flour. Even in smaller quantities, a pound of whole grain will cost less than flour. Third, a grain-mill allows us to quickly and easily grind fresh grain as we need it, without the need to store the excess. Also, because we buy whole grains we pay less per pound than expensive whole-grain milled flours. (A half-cup of grain will roughly equal 1 cup flour.)
Grain-Grinding Options
If you've never ground your own grain, there are a few options for home grain-milling. We use the Mockmill 100 and love the fine, pastry flour it gives us. In the past, we've used our Vitamix Dry Blade Canister, but never got flour fine enough for bread baking (I also didn't like how it heated up the flour). It works well for a recipe like this, though, so if you have one, by all means, use it!
We love the Mockmill because it's small enough to keep out on your countertop. This makes it easy to grind fresh grain every time you need it without having to lug out the mill for each use. For this recipe, I simply measure out 1 1/2 cups grain, flip on my Mockmill, let it do its thing (which takes about 30-60 seconds), and let the flour pour into my mixing bowl.  It's that simple!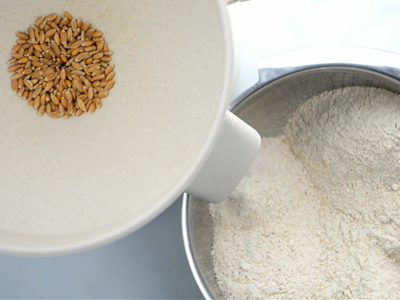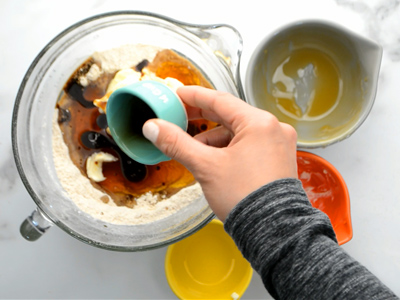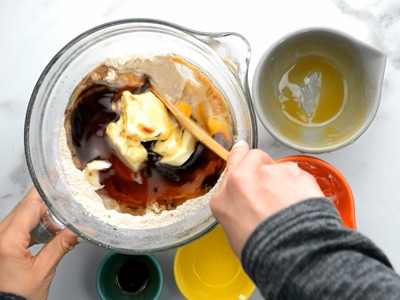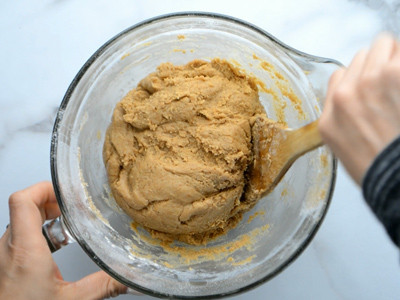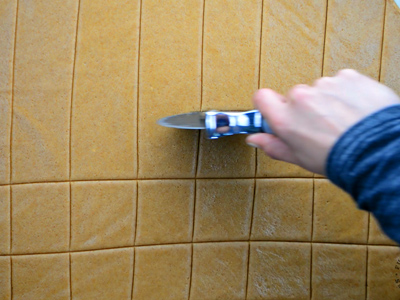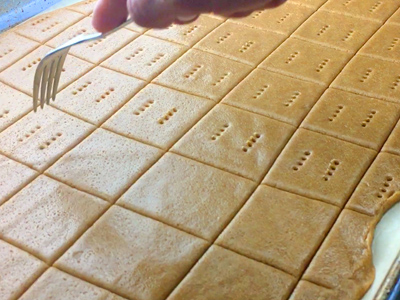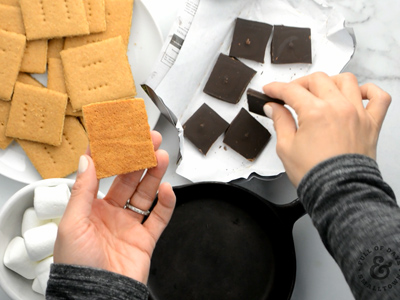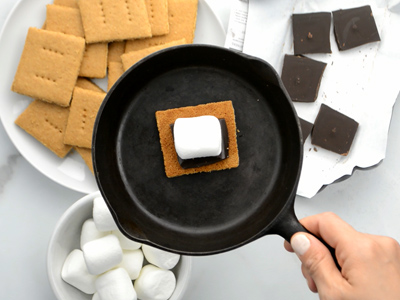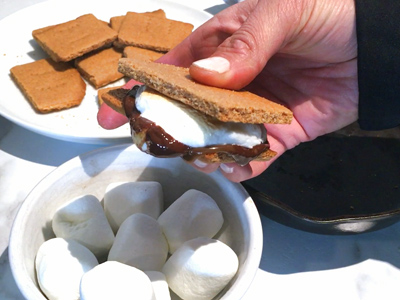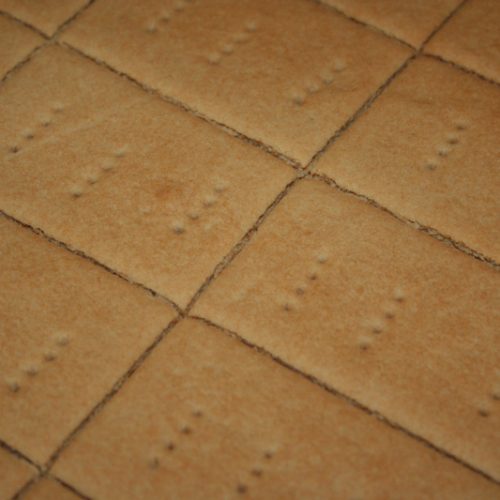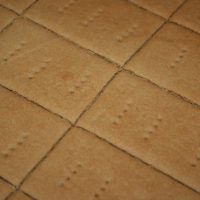 Homemade Graham Crackers
Skip the storebought boxed version and give these healthy homemade graham crackers a try. They're nutty, sweet and perfectly crunchy with the delicious combination of Spelt flour and raw honey. Perfect for pie crusts and other graham cracker recipes.
Print
Pin
Comment
Instructions
Preheat oven to 375℉.

Mill your grain (if using freshly ground flour).

Then sift together flour, salt and baking soda, set aside.

Cream together softened butter and raw honey in the bowl of your stand mixer until light in color and smooth and fluffy in consistency.

Add melted coconut oil and vanilla and combine.

Slowly mix in dry ingredients (1/4 at a time) until a ball of dough is formed.

Dough should be workable, not too sticky, nor too tough. If it's too sticky, add more flour, one tablespoon at a time. If too dry, add water, one tablespoon at a time until desired consistency is reached.

Remove dough from bowl and form into a ball. Place between two pieces of parchment paper.

Using a rolling pin, roll the dough out onto one full-sized sheet pan or two 9x13 pans.

Continue rolling until dough is about 1/4-1/8" thick.

Using a sharp knife (or pizza cutter), cut your crackers into desired shape and size (we do about 2×2 or 3x3 inch rectangle crackers) and prick each cracker 2 or 3 times with the tines of a fork.

Bake for 10-15 minutes at 375℉, or until the crackers are golden brown. You may need to remove the outer crackers before the inner crackers finish baking as the edges tend to be thinner and brown more quickly.

If crackers need to be cut again (they can sometimes spread slightly and stick back together during baking) then do so while they're still hot as they firm up once cooled.

Cool completely on a wire rack.
Notes
This recipe doesn't call for a soak time, it's our recommendation to use sprouted spelt flour for health benefits.
If your dough is too thick it will be more like shortbread, too thin and it will be like a crispy cracker. 
Cool crackers completely before eating. They continue to harden as they cool, becoming more like crackers and less like a cookie. 
Nutrition
Serving:
2
Crackers
|
Calories:
135
kcal
|
Carbohydrates:
17
g
|
Protein:
2
g
|
Fat:
7
g
|
Saturated Fat:
4
g
|
Cholesterol:
10
mg
|
Sodium:
122
mg
|
Potassium:
7
mg
|
Fiber:
2
g
|
Sugar:
8
g
|
Vitamin A:
118
IU
|
Vitamin C:
1
mg
|
Calcium:
2
mg
|
Iron:
1
mg
More Homemade Cookies & Desserts
Our referral links are above. If you click through and take action, we may be compensated. Our full disclosure is here. Full of Days may have received compensation for this post (whether monetarily, or through products), however, all opinions are our own.