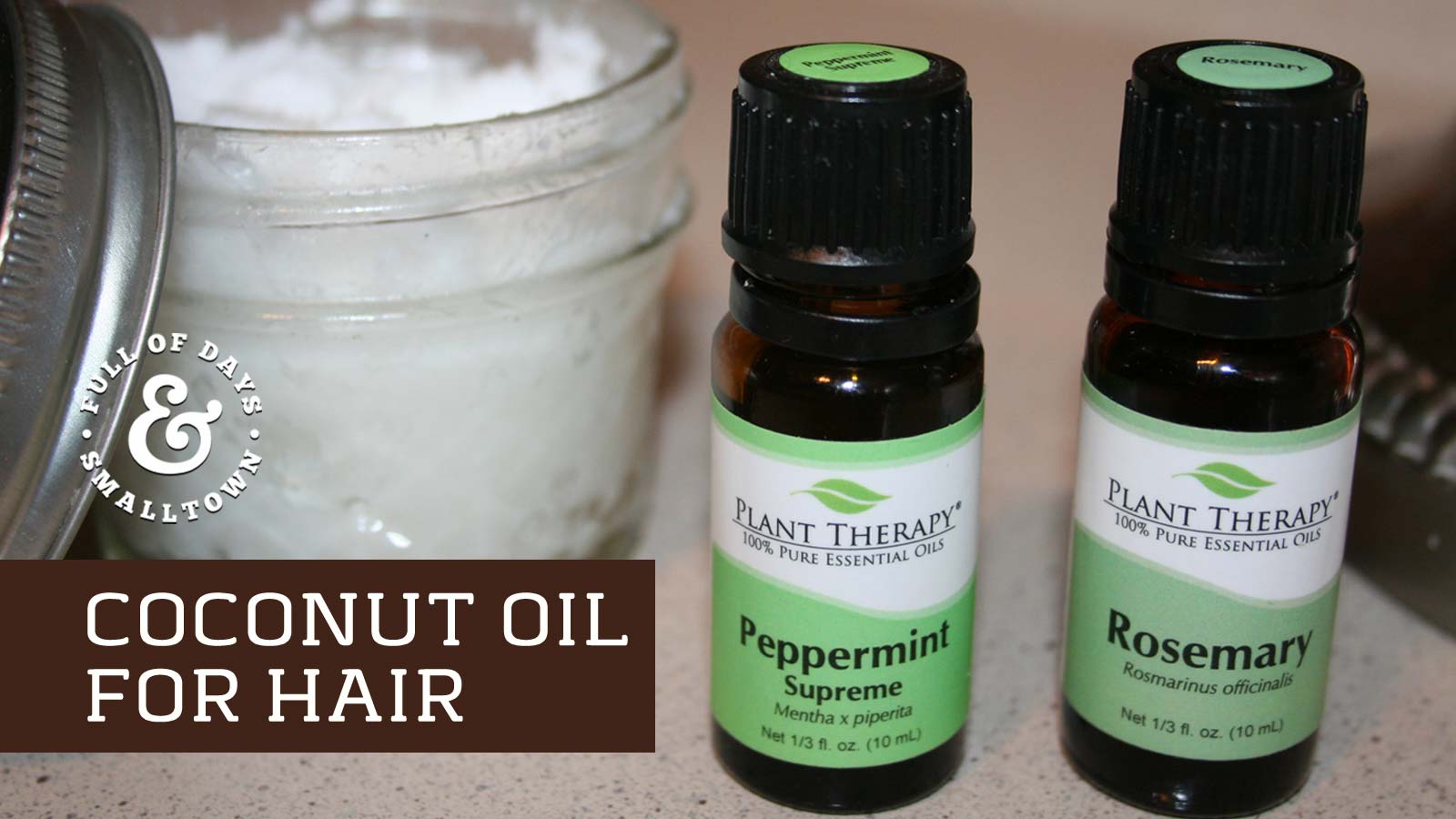 H
as your hair been feeling a bit straw-like? Ever start humming the tune "if I only had a brain" while attempting to style your mop? Before you begin feeling like Scarecrow, let's give those locks a glow and bring life back into your hair.
A couple times each year my hair seems to go through a frump where it's dull, frizzy and unmanageable. Whether it's the dry wood-heat or the hot summer sun, about twice yearly I'm due for a good, deep conditioning.
Wouldn't ya know it, coconut oil comes to the rescue yet again!
With anti-microbial properties, lauric acid and medium-chain fatty acids, coconut oil can help strengthen hair, condition the scalp, and even promote hair growth. Conditioning your hair with coconut oil can be a great detangler, help combat frizz, fight or prevent dandruff and even treat a lice infestation.
As though there weren't enough reasons to love coconut oil, we're about to add six more to the list!
When your hair loses its shine, you've found a few too many split ends, or the locks are dull and lifeless, a deep coconut oil conditioning treatment can restore shine, add volume and improve the health of your hair after one treatment.
After shampooing, take 1-3 teaspoons coconut oil (depending on hair length) in the palm of your hand. Rub hands together to melt oil and distribute through hair, paying special attention to the ends and roots of hair. (It may be easier to do this in sections if you have long hair.) Massage the scalp gently with fingertips for 1-2 minutes. Tie hair back, if necessary, and cover with a shower cap or towel and leave for 1-2 hours (or overnight for more intensive conditioning). Wash with shampoo and style as normal. You may need to shampoo an extra time or two to be sure all excess coconut oil is removed. If you have fine hair use less oil as it can weigh hair down.
*To boost moisture retention (for extra dry or damaged hair), add a couple drops of sandalwood or geranium essential oil.
Dandruff occurs for many reasons including dry skin, changes in climate, reactions to chemicals in hair-care products or from yeast-like fungal infections.
Good news! Coconut oil combats most of these causes. However, it's important to know what's in your shampoo and other personal care products and remove as many toxins as possible from our lives. If you haven't looked at the ingredients in your shampoo yet, let me encourage you to do so now (who knows, it may be the culprit of your dandruff).
To eliminate dandruff you'll want to condition your hair 3-4 times per week until dandruff is eliminated (results are typically seen after the first week, but may take longer for extreme conditions). After dandruff is eliminated, conditioning weekly or even monthly should help keep dandruff at bay.
Mix 2 teaspoons of coconut oil with five drops essential oil (lavender, wintergreen, thyme, and tea tree are all great options). After washing hair, massage coconut oil/essential oils into scalp for a minute or two. Cover hair with shower cap and let sit for 20-30 minutes. It's beneficial to sit in the sun or apply low heat from a hair-dryer if possible. Remove cap and wash with shampoo two or three times and style as normal. (Source)
Hair regrowth is best tackled with a combination of a diet rich in Omega 3 Fatty-Acids as well as frequent scalp massage to improve blood circulation. Combine 1 teaspoon coconut oil with 4-5 drops rosemary essential oil and massage into scalp for ten minutes using gentle pressure and circular motions with your fingertips (focusing on areas you'd like hair to regrow). Cover with a shower cap and let sit in your hair for an hour or two for added scalp conditioning, if desired. Shampoo two or three times followed by an apple cider vinegar conditioning rinse.
Apple Cider Vinegar Conditioner: In a glass, mix 1/4-1/2 cup apple cider vinegar, 4 drops rosemary and 4 drops peppermint essential oils and enough water to make 3/4 cup rinse. Pour over hair and allow to sit for 1-2 minutes before rinsing. Style as usual.
To tame frizz and abolish fly-aways take 1/4 tsp coconut oil and warm in the palms of your hands. Apply to wet hair, gently running hands through hair from root to tip, focusing on areas that tend to be extra frizzy or unmanageable. Style as usual.
For split ends take a tiny bit of coconut oil between your palms and gently apply to tips of hair, style as usual. This will help nourish the damaged ends, as well as disguise any splitting that's already occurred.
If you've ever had a lice epidemic in your home you're likely to shudder at the very mention of the word…and immediately start itching your head. Back-to-school usually equates to outbreaks of lice. But you can help combat (and even prevent) lice with coconut oil and essential oils.
Unfortunately, commercial heal-lice treatments can be extremely harsh on the scalp and often need several treatments. To make matters worse, new-found "super-lice" are proving resistant to these methods of treatment altogether. The silver lining is these super bugs have not shown resistance to essential oils.
To treat lice: Melt a cup of coconut oil and add 12 drops of tea tree or anise oil. Take a hot shower and have a loved one carefully comb through hair with a lice comb, removing any lice or eggs. Apply the coconut oil all over hair and scalp and cover with a shower cap. Leave on for ten minutes and wash with a gentle shampoo.  Repeat this process within 7-9 days (or sooner if lice are still present). (Source)
To prevent lice: (The best prevention is to regularly do self-checks on your, or your kiddos hair to catch lice before they multiply. Weekly check-ups during the first few weeks back-to-school or post Christmas vacation are mandatory in our home…and we homeschool! Like I said, once you've dealt with an outbreak you're always on the offense! Take 1 tsp – 1 Tbs coconut oil (depending on length of hair) and 3-4 drops tea tree or anise oil and massage into scalp. Leave on for an hour and shampoo out. Repeat weekly during "lice season" – September and January.
I would not be just a nuffin' my head all full of stuffin'…if I only had a brain." – Scarecrow (Wizard of Oz)