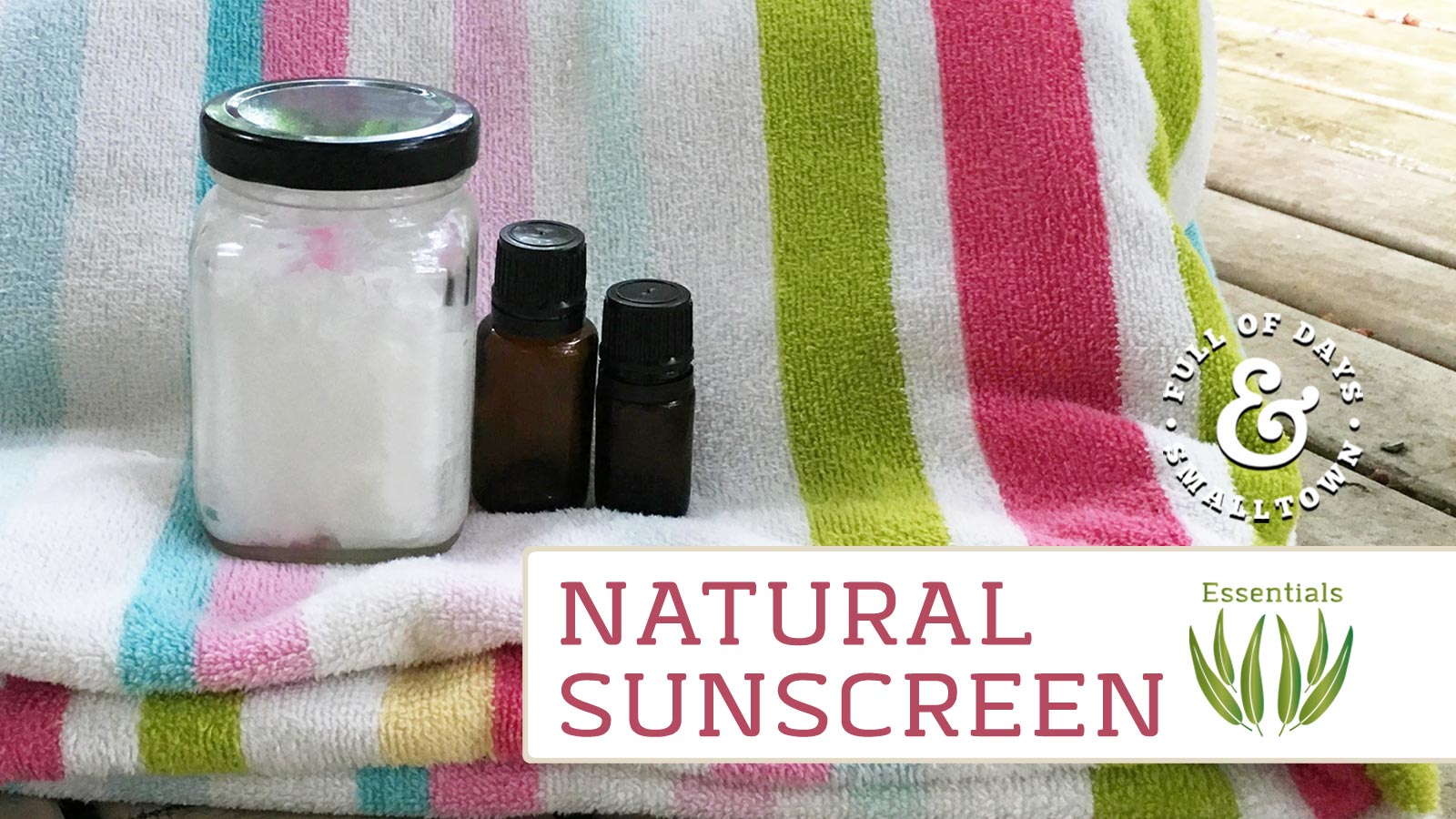 I
t's June. School's out. Sun's shining. It's HOT! Everyone heads down to the local pool, lake, or beach to spend afternoons enjoying the summer fun. A few years ago, I was the mom spraying or slathering her protesting, excited, girls with smelly sunblock (uh, can they even legally call it that?). You would often hear threats of, "Only girls who put on their sunscreen get to go swimming!" They just didn't see the point. Now that I know about the dangers of what's lurking in those store bought sunscreens, I'd have to say my girls were RIGHT to put up a fight.
Why I stopped using sunscreen:
Vitamin D – We WANT our bodies exposed to the sun (especially summer sun!) so that we have time to build up our stores of Vitamin D naturally so that we can avoid deficiencies which can lead to things like lowered immunity, heart disease, MS, many cancers, autoimmune disorders, osteoporosis and many more than I can list here. In fact, proper Vitamin D levels are actually known to help prevent many types of cancers, including skin cancer. Safe Sun exposure is a MUST in my wellness plan!
Vitamin A – 

Many studies have suggested that the Vitamin A that's added to most sunscreens has photo-carcinogenic properties, which means that it can cause cancerous tumors when applied to skin that's exposed to sunlight. Could this be part of what's causing the

rise in skin cancer

, despite the widespread use of various new types of sunblock, sunscreens creams of varying degrees of SPF? (Source)
Zinc Oxide & Titanium Oxide (Nano) – This form of zinc & titanium oxide, used in most sunscreens, is processed into micronized particles so small so that the sunscreen on the skin is virtually invisible. While that's cosmetically appealing, when they are breathed they cause lung damage (sprays), or if ingested, gastro-intestinal damage (lip balm type).
Oxybenzone – Mimics estrogen in the body and found to alter sperm production in animals. Studies have shown that this is associated with endometriosis in women, low birthweight in baby girls and has been found in breastmilk. Allergic skin reactions are common using this harmful chemical.
Octinoxate – Another hormone mimic, this alters behavior and thyroid function in animal studies.
Homosalate – This chemical disrupts the normal function of estrogen, androgen and progesterone in the body.
Along with staying in the shade, limiting direct sun exposure from 10am-2pm, wearing wide brimmed hats and loose flowy cotton clothing that covers and keeps you surprisingly cool-Here's a better sunscreen option using just a few natural ingredients and it's easy on the budget. It incorporates the essential oils of Lavender and Helichrysm, both well known for their skin benefits.
Lavandula Angustifolia – (Pure Lavender Essential Oil) is an incredibly supportive oil for the skin. Used for its calming properties and ability to help skin recover quickly, this oil is top of my list of must haves for every home.
Helichrysum Italicum – (Helichrysm Essential Oil) is made from the flowers of the plant. It can block UV-light damage and is used with amazing results on wrinkles, scars and stretch marks. It promotes overall skin healing, making it a great choice here. (Source)
DIY Natural Sunscreen:
To make: This recipe makes just over 1/2 cup of sunscreen, feel free to double or triple the batch! Combine the coconut oil and shea butter in a sauce pan on lowest heat setting of stove. Once melted, remove from heat and stir in wax and zinc oxide. Add essential oils and stir. Store your homemade sunscreen in a glass jar with lid that fits securely.  Add a label so you know exactly what you have to throw into the tote bag the next time your family heads outdoors!
New to Full of Days? Great to meet you! Take a quick peek at more topics!