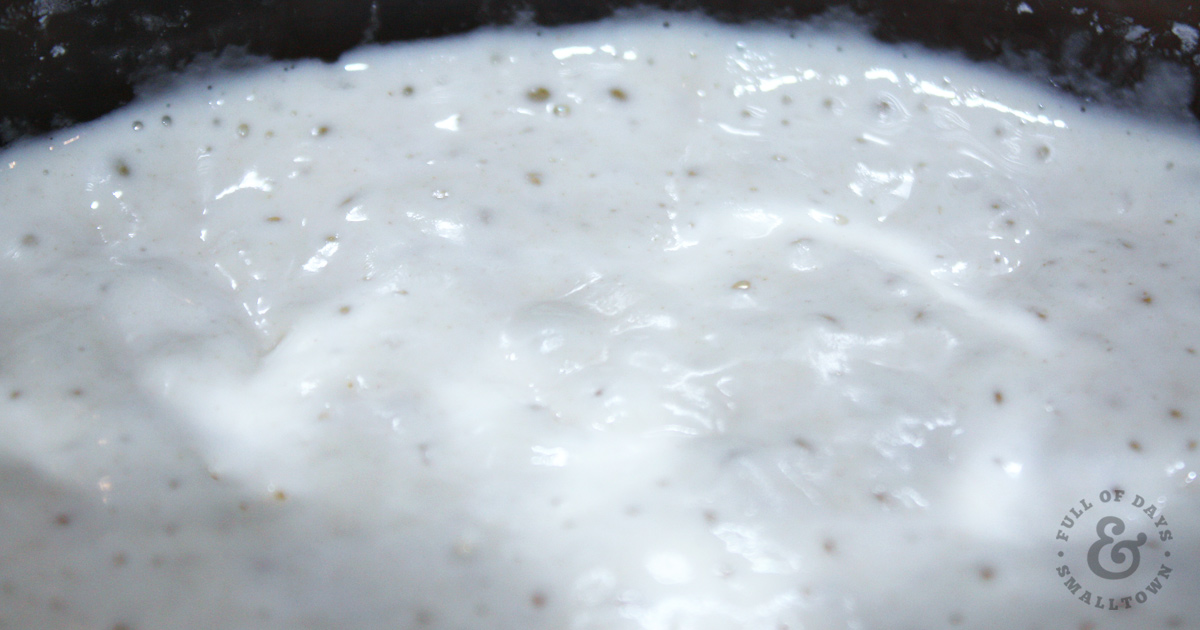 Gluten Free Sourdough Starter
A gluten-free lifestyle shouldn't keep you from getting to enjoy delicious, sourdough bread and other sourdough goodies. You just need a gluten-free sourdough starter.
Gluten free baking is a bear in itself, so sourdough baking was something I had never considered. Of course, that is, until Kelsey started posting all of these amazing sounding recipes. Sourdough bread, sourdough muffins and sourdough wraps were looking mighty appealing! I wondered if a gluten free sourdough starter was even possible.
I'll be honest, I was intrigued…but not yet motivated. The intrigue really was more like self pity that she gets to enjoy all these delicious recipes, and my gluten free home had to miss out! The motivation didn't come until she pointedly suggested I give it a try. Those of you who cannot encounter Kelsey face to face can count yourself blessed if you like to hold onto your excuses. She has this amazing gift to make the seemingly impossible totally doable, and not even a big deal.
Armed with Kelsey's confidence, I resolved to make an attempt. Since my son's allergy to wheat is so severe, I have to be really careful about sourcing ingredients for our home. It made sense for me to jump in with both feet, and first learn how to culture my own starter. I heard that you can use just water and flour, and the naturally occurring yeast in the flour will mix with the natural bacteria in the air, and magically, a sourdough starter is born.
Additional Resources
The skeptic in me thought this too good to be true. Fully expecting that to fail, I also mixed up Bette Hagman's sourdough starter recipe from her cookbook "The Gluten Free Gourmet Bakes Bread". Imagine my surprise (actually shock) when both starters were not only successful, but totally not a big deal! Just as my wise friend predicted. Since both worked like a charm, I decided to go with the simpler flour/water method, and use a combination of three different rice flours.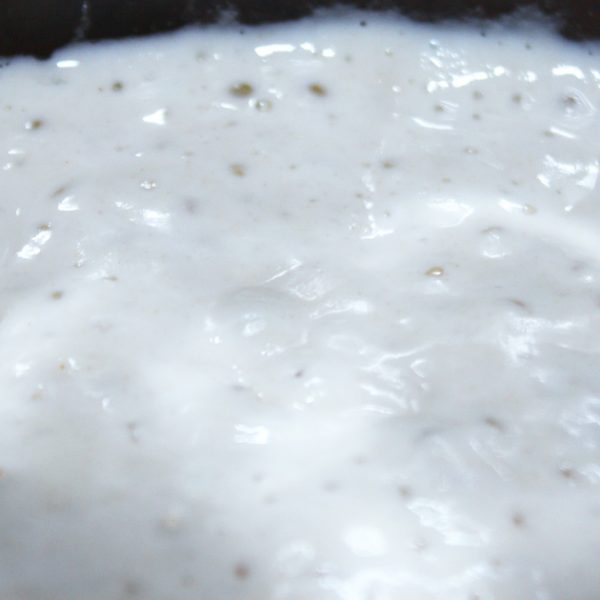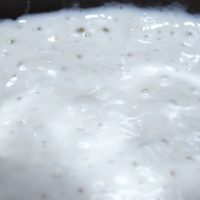 Gluten Free Sourdough Starter
A gluten-free alternative to your favorite sourdough recipes.
Print
Pin
Comment
Instructions
In a large jar, whisk together brown rice flour, white rice flour and sweet rice flour. This is the flour mix you'll be using to feed your starter.

In a large bowl, mix 1/2 cup water with 1/2 cup rice flour blend until smooth. Scrape the sides of the bowl clean, cover with a plate, leaving about a 1/2 inch crack for air circulation, and place in a draft free warm-ish place. The top of the fridge is a good spot. 

Every 12 hours, or so, feed your starter with another 1/2 cup of the flour mix and 1/2 cup water.*

Repeat Step 2 for 4-6 days.**
Notes
My starter usually starts to bubble after three days, and fully ferments by day four. This could take longer depending on your environment, so I suggest you stick with it for six days before trying again. I start to get nervous by day three, and I am so glad I have waited "just one more day"!
You can keep your starter alive by continuing to feed and replenish as you use it for baking, but after I figured out how simple it is, I just start from scratch again after using up all my starter.
* I have read feeding starter every 12 hours is critical and needs to be exact, but honestly, I varied everywhere from 9-14 hours, and even forgot a feeding one day! If your starter gets liquid on top, this is called "hooch" and it's an indication your starter isn't being fed often enough. Simply stir in, or pour off the hooch and feed your starter immediately. Stirring the hooch back into your starter will give more of a "sour" flavor which some find pleasant.
** Make sure to scrape the sides of your bowl clean, and keep that plate cracked for air circulation. I learned the importance of this the hard way. Allowing the starter to coat the sides of your bowl leaves it weak and prone to fuzzy mold growth. Totally gross, and a bummer to have to toss and start again!
Did you successfully make sourdough starter?
Yay! Congratulations! Now you're ready to try your hand at Gluten-Free Sourdough Bread. We have lots of tips and tricks on that post as well. Here's to delicious, gluten-free, sourdough bread!
Please feel free to ask questions or comment below, although not an expert by any means, I'm happy to help trouble-shoot and encourage you along the way! And please, if you have loved ones that would love to try their hand at gluten-free sourdough baking, then share this post on social media…it really helps us out!