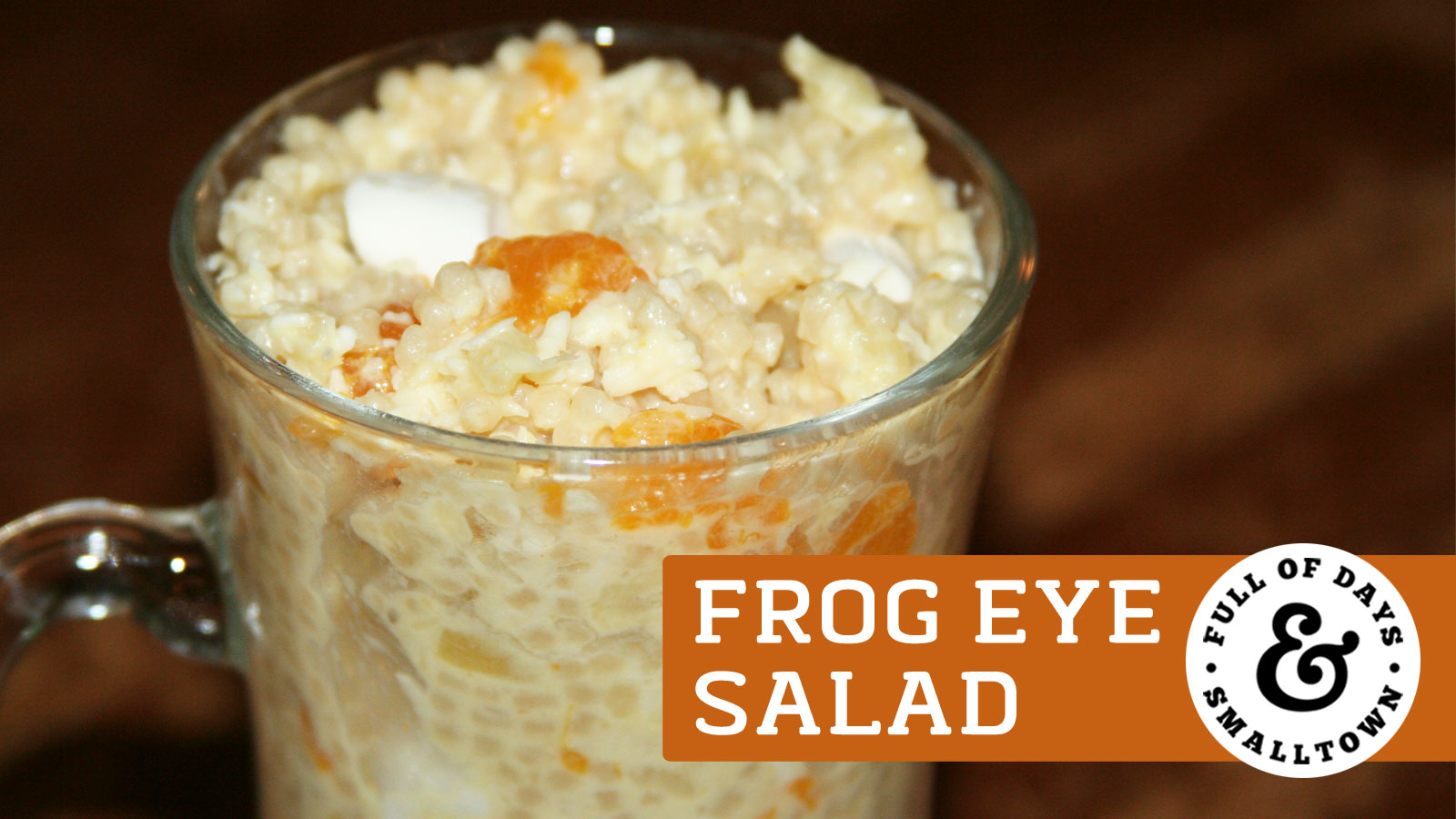 P
asta, lemon curd, cool whip and fruit…could there be a more heavenly combination? Not in my world! Frog Eye Salad (or Acini di Pepe Fruit Salad) is a Thanksgiving MUST for the Steffens. OK, it's really a must for me, and I only make it but once a year (or twice if I'm snapping pics for the blog…sigh…if I must!). 
Traditionally, this recipe calls for a hefty dose of refined sugar, more sugar from the fruit juice, more sugar from the cool whip, and even more sugar from the marshmallows…can you tell why it's made but once a year? Last year I just knew there had to be a better way. I swapped all ingredients out with an organic counterpart (when available) and took a good hard look at the sugar content. I've come to find that in many recipes I can immediately cut the sugar in half and they're still plenty sweet. This time I cut the sugar by 3/4 and subbed honey instead of refined sugar, then used this Homemade Cool Whip recipe, and subbed these non-GMO marshmallows…lo and behold, a successful "healthier" version of my beloved Frog Eye Salad was born.
Now ya'll don't need to yell at me, I'm fully aware this is anything but "healthy"…but it is better, and that's sayin' something! Remember how we roll with our Good, Better, Best…Frog Eye Salad once a year, made a tad bit healthier, is one splurge I'm willing to allow for.
If Frog Eye Salad graces your table at Thanksgiving (and it really should), then try whipping up this healthier version instead. Your taste-buds will be glad you did.
Ingredients
1/4 cup raw honey
2 Tbs organic flour
2 1/2 tsp sea salt (divided)
1 3/4 cups organic pineapple juice
2 eggs (beaten)
1 Tbs lemon juice
1 Tbs coconut oil
16 oz organic Acini di Pepe
3 cans mandarin oranges (11 oz)
3 cans pineapple chunks (20 oz)
1 recipe homemade cool whip
1 cup shredded coconut
1 cup mini marshmallows (optional)
To Make: This recipe is adapted from All Recipes Frog Eye Salad and makes ten servings. Be sure you have a batch of this Homemade Cool Whip ready to go in the refrigerator, too.
Step 1: First, you're going to make a pineapple-lemon curd. Open all cans of pineapple and strain juice into a bowl. Measure out 1 3/4 cups juice (if, by chance, you don't have enough juice, you can add a little water or some of your mandarin orange juice).
Step 2: In a small sauce pan, combine sugar, flour, 1/2 tsp salt, pineapple juice and eggs. Turn burner to medium and whisk until thick and bubbly (about 10-15 minutes). Remove from heat, add lemon juice and stir once more. Set aside to cool completely.
Step 3: In a large pot, bring 3 quarts water to a boil, add coconut oil, remaining salt and Acini Di Pepe. Cook pasta until al dente (about 7 minutes). Drain and rinse pasta under cold water, set aside.
Step 4: Once pasta and lemon curd have cooled, combine them in a large bowl then add mandarin oranges, pineapple and homemade cool whip (made ahead of time and refrigerated). Mix well and refrigerate 2-3 hours (overnight is best as pasta continues to soak up the extra juice). 
Step 5: Before serving add shredded coconut and optional marshmallows, stir to combine.
I make this recipe 1-2 days before Thanksgiving (then try my darndest NOT to sample each time I open the fridge). The flavors just get better after a day or two, plus, prepping ahead for Thanksgiving is always a win! Be sure to check out our Thanksgiving Preparation Countdown to get all our tips and tricks to executing the big day with ease.