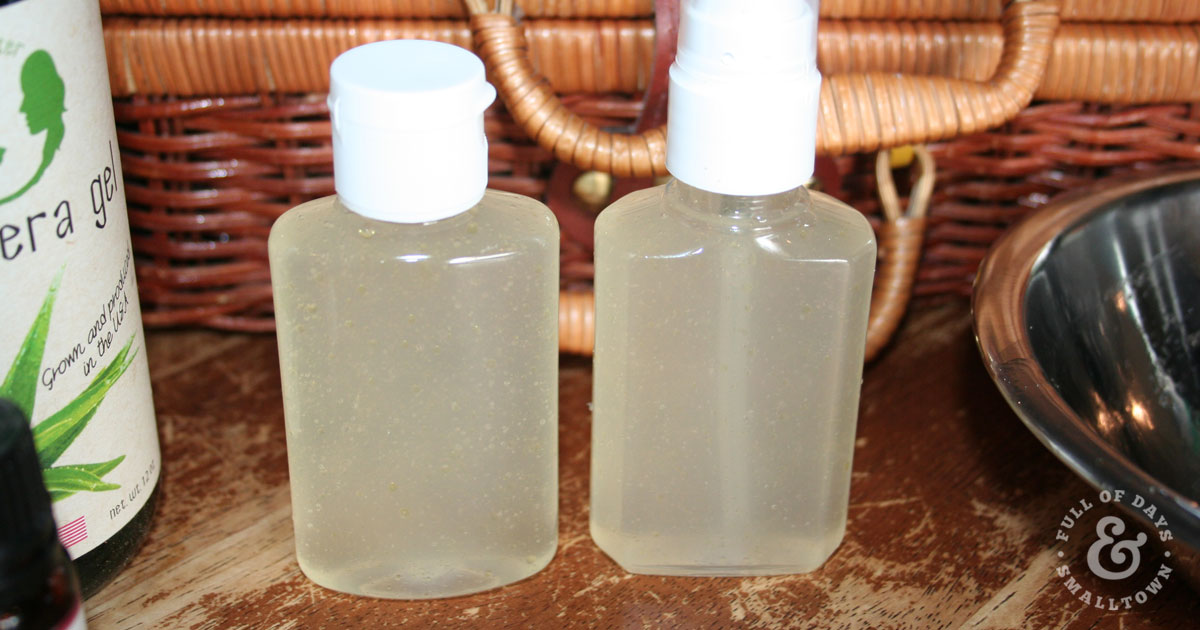 DIY Hand Sanitizer
Make your own DIY hand sanitizer with fragrant essential oils filled with anti-bug goodness! No more harmful ingredients from those store bought brands.
Every Winter, without fail, our kiddos catch the sniffles. It is what it is, but I'll take the sniffles any day over the nasty flu bugs that float around every year. Thankfully, we have come through the cold and flu seasons unscathed for the past couple years (knock on wood!). At times, I wonder if this is due to the hand sanitizer we're constantly slathering on our hands after being out and about?
Placebo effect? Perhaps, but we won't be changing this healthy habit anytime soon! The truth is, washing our hands with soap and water after touching every germ-infested surface (or person) just isn't a reality. Most often, we avoid the antibacterial hand soaps in public restrooms and store bought sanitizers because of the alcohol, triclosan, parabens and fragrances in them.
Most hand sanitizers often contain some form of alcohol, such as ethyl alcohol. This allows for rapid drying and quick absorption into the skin. The alcohol also works as an antiseptic.
Alcohol improves penetration of the skin by essentially "defatting" the skin (or disrupting the oils in the skin) allowing for better absorption and the ingredients to reach the bloodstream more easily. For this reason, repeated use of these alcohol containing sanitizers can often lead to dry cracked skin.
Alcohol-free sanitizers may not be a better option, as these sanitizers often contain triclosan…
If you remember from this post, triclosan may be a hormone disrupting chemical and has contributed to the introduction of bacteria resistant "super bugs" (aptly named for their resistance to modern medicines).
I say triclosan "may be" a hormone disruptor because the FDA is hesitant to draw conclusions based on results from animal testing. This article from the FDA states that "animal studies have shown that triclosan alters hormone regulation. However, data showing effects in animals don't always predict effects in humans. Other studies in bacteria have raised the possibility that triclosan contributes to making bacteria resistant to antibiotics."
The FDA may not want to make conclusions based on animal studies, and I get it…but I'm not one for being a human "guinea pig" until further testing proves otherwise and will steer clear of triclosan when possible.
Based on the research from this article, parabens are preservative chemicals added to many cosmetic products (and foods!) that contain significant amounts of water. The parabens are added to inhibit the growth of microbes (which are often found in water).
The most common parabens used in cosmetics are ethylparaben, butylparaben, methylparaben, propylparaben, isobutylparaben, and isopropylparaben. But a safe bet is to look for any long, unpronounceable word ending in "paraben" and avoid products containing them.
The dangers of parabens are endocrine disruption, cancer and developmental and reproductive toxicity. (For further information, follow this link.)
Maybe! The tricky thing with fragrances is they are "proprietory information", meaning companies don't have to disclose the ingredients used to make them! Yikes!
We wrote an entire post about fragrances and their safety here, but according to the Environmental Working Group fragrances are linked to allergies, immunotoxicity, organ system toxicity, irritation to the skin, eyes and lungs and are an ecotoxicology (harmful to our ecosystem).
All this from something that smells "pretty"? I'll stick to adding scents with benefits.
There are so many essential oils with anti-bacterial properties that by adding these to your homemade hand sanitizer, you can practically turn it into a healthy perfume based around your preferred scents!
Carrying homemade hand sanitizer is such a simple solution to avoiding harmful chemicals and keeping you and your family healthy and germ free!
You can even empty out your store bought hand sanitizer bottles and refill them with your own! I happen to love the special lids that distribute the perfect dime sized squirt. We even buy the travel sized "bad stuff" from the store and empty the contents, just for the great dispenser! These GoToobs would work for the home or car, but I wouldn't recommend tossing them in your travel bag or purse. The lids are not secure and could wiggle free. What a mess!
The great news is, because I add Germ Fighter (or kid-safe Germ Destroyer) essential oils to this homemade sanitizer, we get the benefits of strengthening our immune system and warding off bugs at the same time! These so-called "super-bugs" have not shown resistance to essential oils! Hurrah!
…all this "anti-bad bug" goodness each time you apply a little sanitizer!"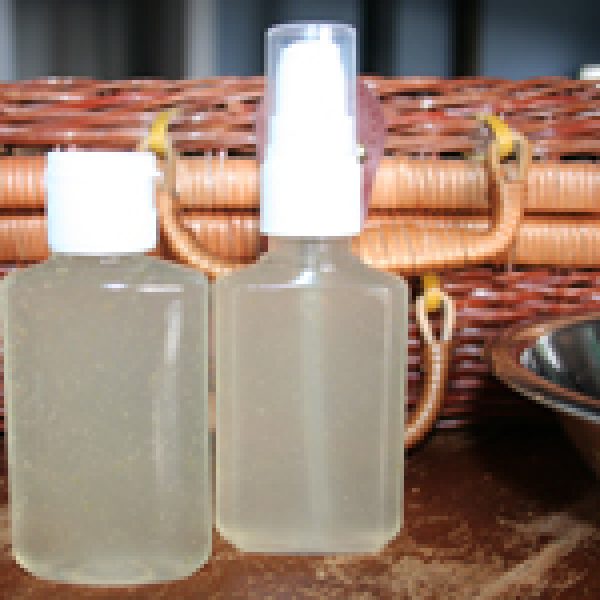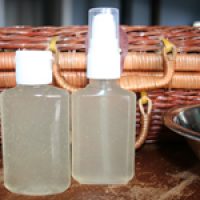 DIY Hand Sanitizer
Make your own DIY hand sanitizer with fragrant essential oils filled with anti-bug goodness! No more harmful ingredients from those store bought brands.
Print
Pin
Comment
Instructions
Add vitamin E and essential oils to a bowl, stir to combine.

Add the witch hazel and stir again.

Last, add the aloe vera gel, stir and transfer to container(s).
Notes
Natural separation of the oils may occur, gently shake bottle before each use.
* If you choose to add vitamin E, your hand sanitizer will last many months as this will naturally preserve your mixture, without the vitamin E your sanitizer should last 3-4 weeks.
** Mix up your favorite scent using any of the following anti-bacterial essential oils: Eucalyptus, Lavender, Peppermint, Lemongrass, Tea Tree (or Melaleuca), Bergamont, Thyme, Cinnamon and Clove. (The Germ Fighter has a nice "Christmas-y scent" with essential oils of eucalyptus, clove and cinnamon, but I also happen to love the scent of Lemongrass.)