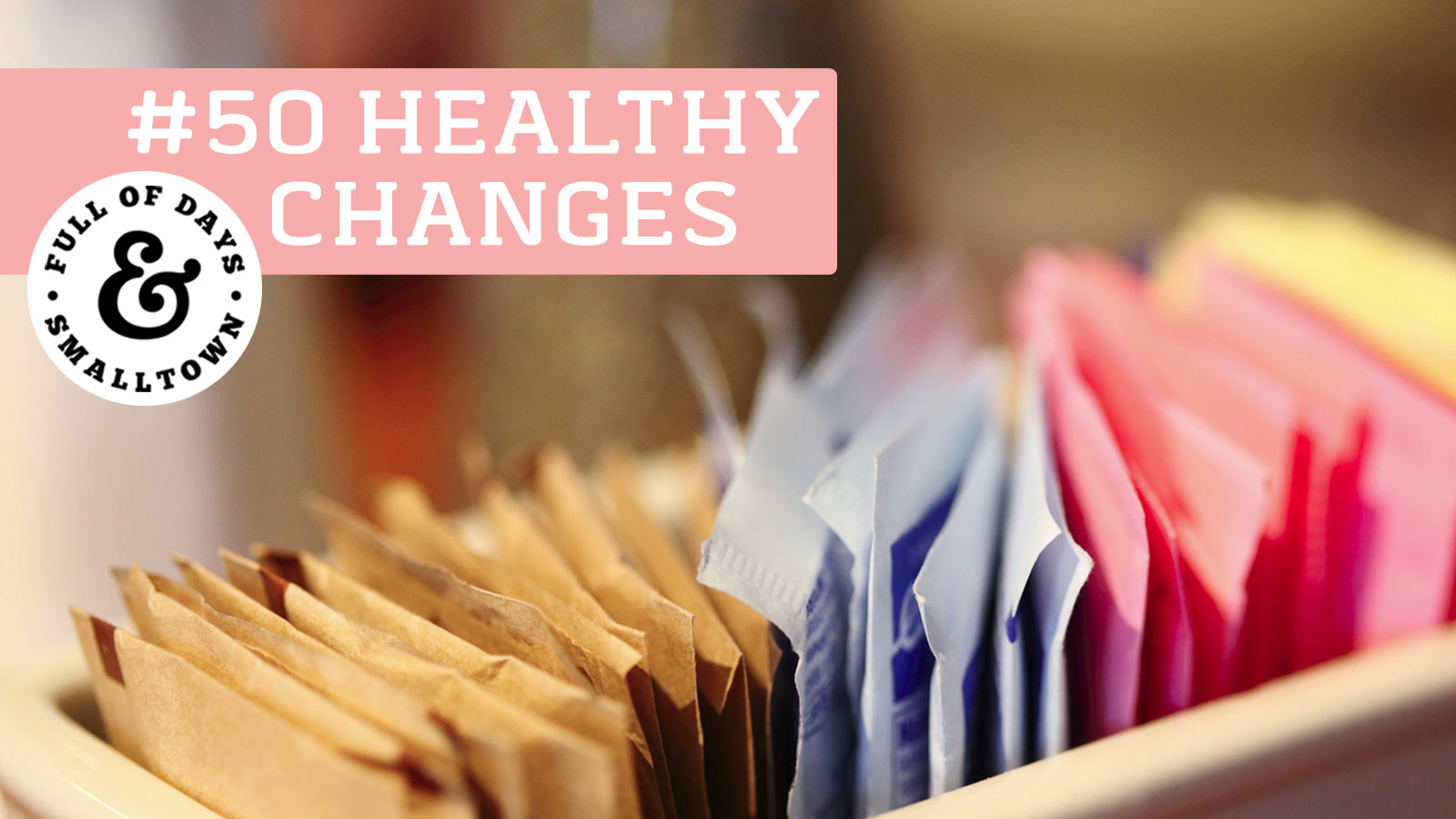 O
ne of the most obvious (yet extremely conflicting) topics in the "health" world is that of sugar. With theory upon theory of what's healthy and what's not, it can get quite confusing. If you're reading this asking yourself, "What's so bad about eating sugar?" then head on over to check out this post about sugar, then watch the video "That Sugar Film". It's an eye opening (and quite entertaining) video on the damaging effects sugar has on our bodies.
So how do we sort through all the options available to us? There's refined sugar, unrefined sugar, natural sugars, sugar-alcohols and sugar alternatives. If you're like me, your head is already spinning. Not to mention, within each of these categories are dozens of options. Let's break them down as best as possible…
Artificial Sweeteners
Decades ago we all thought our lives were improved by the invention of these artificial sweeteners. Allowing us to drink soda pop (sans calories), sweeten our coffee while maintaining our slim waistline, and indulge on "sugar-free", pre-packaged sweets from the store. Pretty awesome, right? WRONG!
We should all be aware by now that artificial sweeteners should be avoided at all cost. Even in small amounts, like in sugar-free gum, these sweeteners are harmful. These "fake" sugars include aspartame (NutraSweet and Equal), sucralose (Splenda), saccharin (Sweet'N Low), acesulfame potassium and neotame. All with dangerous side-effectsall artificial sweeteners should be removed from our diet.
Aspartame – Probably the most dangerous sweetener in the artificial bunch. Scientific research has proven the dangers of this sweetener, yet manufacturers continue to pump this stuff out like they're doing us a "fat-free favor". Unfortunately, studies repeatedly link aspartame with the following:
Hormonal imbalances – These sweeteners can actually change our appetite, causing shifts in our hormones that regulate hunger and satiety in our brains.
Increased hunger/Weight gain – Because of the effect these sweeteners have on our appetite control systems, they have been known to cause weight gain, not weight loss as intended. (Source)
Insulin resistance – Aspartame has been shown to worsen insulin sensitivity to a greater degree than sugar, so all our diabetic friends eating foods containing these sweeteners, thinking they're doing their body a favor, are really doing just the opposite. (Source)
Cancer – The CSPI's (Center for Science in the Public Interest's) Executive Director, Michael F. Jacobson said, "Aspartame has been found to cause cancer – leukemia, lymphoma, and other tumors—in laboratory animals, and it shouldn't be in the food supply." (Source)
Natural sweeteners
Now that we've established to avoid artificial sweeteners at all cost, let's look at natural sweeteners. These are the obvious go-to for those trying to follow a more natural and whole-food diet. Sweeteners such as honey and agave are praised for their unrefined and high-mineral qualities. But not so fast!
These may seem like a healthier option, but unless you're careful about sourcing your honey, you're probably still getting a product that's highly processed and loaded with fructose. Because fructose is the nasty culprit when it comes to the harm it causes our bodies, you're not doing yourself any favors by choosing these options (even when sourcing a raw organic product).
Honey

has a fructose content averaging out to around 53%, and much of the honey at the supermarket has been highly processed. If you can find honey in its "raw", organic state, preferably from local bees

not

polinating on plants and flowers that have been sprayed with chemicals, then honey does have many health benefits when used in moderation. But moderation is key! Ideally, stick to about 1 tsp per day.
Agave

has a fructose content ranging from 70-97%, which is incredibly high considering high-fructose corn syrup averages 55% fructose. Furthermore, because of the processing this syrup (or "nectar") has to undergo to make it to our table, there is virtually zero nutritional value.
The bottom line is, refined fructose fools your metabolism, shuts down your appetite-control system and causes weight gain. "Fructose does not appropriately stimulate insulin, which in turn does not suppress ghrelin (the "hunger hormone") and doesn't stimulate leptin (the "satiety hormone"), which together result in your eating more and developing insulin resistance." (Source)
Beyond that, fructose decreases HDL, increases LDL, elevates triglycerides and blood sugar, and raises blood pressure. Because fructose is broken down in your liver, too much fructose can have the same effect as too much alcohol resulting in NAFLD (or non-alcoholic fatty liver disease). All of this eventually leads to insulin resistance, which is the underlying factor for type 2 diabetes, heart disease and many cancers. (Source)
Maple Syrup
One of my preferred unrefined sweeteners would be maple syrup or maple sugar. No, not Aunt Jemima, or Mrs. Butterworths, those are NOT syrup. Pure maple syrup is an unrefined sweetener that's created by boiling down sap from the sugar maple tree. It contain minerals such as manganese and riboflavin and can be beneficial in small quantities. Grade B used to be the best choice, however maple syrup is undergoing a change to where all syrup will be Grade A and will have names such as "golden", "amber", "dark" and "very dark". (To learn more about maple syrup grading and why the system has changed, read this post.)
Sugar Alcohols
Good "ol" sugar alcohols…these can be recognized by the "ol" at the end of their name. (See what I did there? Clever, I know!) These include the following: Xylitol, Erythritol, Glucitol, Sorbitol, Maltitol, Mannitol, Glycerol and Lactitol.
Sugar alcohols aren't quite as sweet as sugar, but many people like them because they contain fewer calories. This is due to the fact that they're not completely absorbed by our body. However, on the flip-side, if you eat too much you can experience abdominal cramping, gas and diarrhea. OY! 
Also, maltitol has been shown to spike blood sugar, so be careful with that one. Xylitol seems to have very minimal effect on blood sugar, also, in its pure state, the side effects are minimal and it contains benefits like fighting tooth decay, which is why many use it when making homemade toothpaste. (Do take caution as xylitol is toxic to dogs and some other animals, so store it safely out of harms way of your furry friends!)
Sugar alternatives
Sugar alternatives are where I've found my happy place. Stevia, a sweet herb made from the leaves of the South American stevia plant, was a godsend when I quit sugar. I've even experimented quite a bit using stevia in place of sugar in baked goods, candies and drinks.
The tricky part about stevia is that, although completely safe in its whole-leaf state, it may not be as healthy when processed. Many "stevia" sources (such as Truvia) don't use the entire stevia plant when making their sugar alternative. Stevioside and rebaudioside A are the components that make up the stevia leaf. Rebaudioside A is the part of the plant that provides most of the sweet taste, but the two are metabolized differently in your body and remain for different lengths of time. Though still generally recognized as safe (GRAS) by the FDA, you'll want to source your stevia carefully. Look for brands that say "whole leaf stevia" and don't have added ingredients such as agave inulin, erythritol or silica.
Another sugar alternative (that I personally have never used) is Lo Han Guo. It's a natural sweetener, similar to Stevia, but a bit harder to find. Used as a sweetener for centuries in China, the Lo Han fruit is about 200 times sweeter than sugar. If you can find some (perhaps in an Asian market), it might be worth a try.
What about you?
Do you use a sugar not listed here? What is it and why do you like it?
If you're looking to improve your health, regulate insulin and hunger as well as rid yourself of those pesky sugar cravings, then use the information above as a guide to find which sweeteners will be right for you.