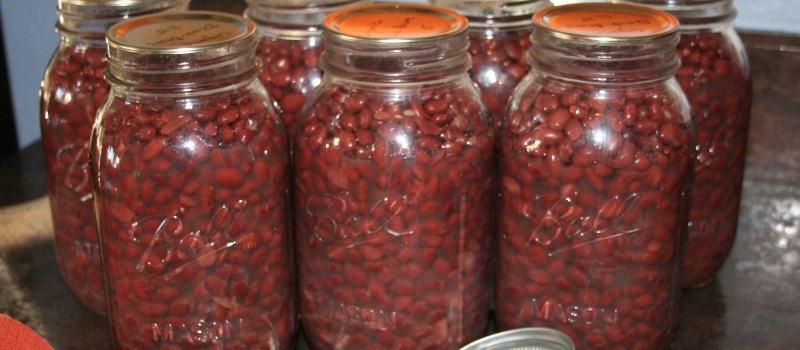 How to Save Money Pressure Canning Beans
With a few extra steps, you can pressure can your own beans and shave money off your grocery budget.
Beans have never been a staple in our household. There just weren't many recipes that we used them in, until recently, that is.
As the cost of food steadily rises, we continue to find ways to help offset our expanding grocery budget. Using beans (known as the "poor man's meat") is a simple fix! We enjoy chilis, soups, stews, burritos, quesadillas and taco bowls with frequency. Most of the time we offset the quantity of meat used in recipes with beans, but it's easy to skip the meat altogether and still have a delicious meal.
It's a cinch to pop open a can of beans, throw in some bone broth, a jar of tomatoes, chop up some veggies, add a few spices and…voila! You have chili. Even without ground beef, this is a winner (especially paired with hot sourdough bread slathered in butter for dunking…#yum). 
A can of organic black beans can cost as low as $1.47 (if buying by the case), but typically costs between $2.45-$3.35. In comparison to the cost of meat, the humble bean is already the hero, but remember we're trying to further offset our budgets to allow for organic, grass-fed meat.
A 5lb. bag of organic black beans cost me $11.50 from Azure Standard. With a few hours of hands on time, zero experience, and minimal supplies, I canned 16 pints of black beans for $11.50. If you bought canned beans, a few at a time, this would add up to $39.20-$53.60, and a case of 16 cans of beans would cost $23.52. As you can see, canning your own beans saves you more than 50%.
To take this one step further, you could splurge for the 25lb. bag of beans and cut your costs down to a whopping $0.47/can, or $7.59 for the 16 pints. (A pint is 2 cups, a typical can of beans contains approximately 1 ½ cups, so the savings is even greater than mentioned above.)
Besides the aforementioned savings, there's also the issue of "digestive discomfort" that seems to accompany mister bean (if you know what I mean…ahem!). This is why canning your own beans, including proper soaking, is a healthier option.
Beans are rich in minerals and B vitamins and also contain omega-3 and omega-6 fatty acids. The long soaking time for beans assures thorough digestibility and assimilation of all nutrients. Soaking beans neutralizes phytic acid and enzyme inhibitors and breaks down difficult-to-digest complex sugars.*
To learn more about canning beans, read this post with a tutorial on soaking and pressure canning black beans.
*Source: Nourishing Traditions, By Sally Fallon