Chicken Banh Mi with Smashed Cucumbers
Chinese five-spice chicken sandwich topped with pickled radishes and carrots, spicy jalapenos, cilantro and a Sambai mayo. Hello delicious!
So we held off on the whole "meal delivery thing" for quite a while. Then we started seeing Sun Basket popping up here and there via social media and decided to take a closer look. Boy am I glad we did!
Sun Basket really hit it outta the park with this meal, too! And it's no wonder they're now our favorite meal delivery service!
So what's the big deal about Sun Basket? And why did they change our minds about using a meal delivery service? Here are our top reasons why we adore (and fully recommend) Sun Basket…and how you can get $35 off Sun Basket meals!
Why we recommend Sun Basket:
Sun Basket offers different, and incredibly delicious options to choose from each week.
You get to choose 2-4 meals per week for 2 or 4 people from just $9.99-$11.49 per meal.
They offer incredible meal options if you follow a Paleo, Gluten-Free or Vegetarian diet.
Most of the recipes take just 30 minutes to prepare, and there are even steps to get the kiddos involved!
All ingredients are certified organic, non-GMO and sustainably sourced! Sun Basket takes the guess-work out of finding healthy organic options/ingredients.
No more hours of shopping at the grocery store! Sun Basket chooses seasonal and pre-measured ingredients, which means it's healthier for us, better for the planet and less waste from unused ingredients that get hidden in the back of the refrigerator (ask me how I know!). 
Help you break out of the recipe rut and try something new! I NEVER would have bought Chinese Five Spice Powder or Sambal Oelek at the grocery store on a whim! Nor would I purchase a large amount just for one recipe (the organic prices on these two items alone would cost $30! That's a lot to spend on something I'm not sure my family will even like). But now that I know my family LOVES these flavors, we'll happily purchase these specialty items for our pantry!
Last, but not least, the convenient delivery! Sun Basket delivers weekly, right to your door! They carefully ship everything in an insulated box using recyclable and reusable packaging materials (we LOVE the reusable ice packs for camping!). 
Wait…there are TWO more reasons why we think you should try Sun Basket. The first, is because you can save $35 on your first order by clicking this link. And second, if you want to try the family meals (which we LOVE as they easily feed our family of 6, making the cost per meal even cheaper!) you can save 50% off your first meal by clicking here! Have we convinced you? If not…then read on for this delicious recipe!
Chicken Banh Mi…have you ever had one? This is a street fair favorite and popular nation-wide with food trucks. So let's talk about what makes this such an incredible meal!
First of all, it's served on crispy, toasted ciabatta rolls (but is easily adaptable for sourdough bread…our favorite!). I'm a sucker for a sandwich served on toasty bread, so I was sold from the start. But then that toasty bread is slathered in Sambal mayo (oh my!) and topped with grilled chicken thighs that have been seasoned with Chinese five-spice. The homemade pickled carrots and radish take the banh mi's over the top with the slightest tang from the pickling brine. And finally, everything is better with a little kick from jalapenos and the freshness of cilantro.
What I love most about Sun Basket is that once you fall in love with a meal, you're now armed and ready with the recipe to add to your weekly meal rotation! BONUS!
OK, I won't keep you any longer…on to the recipe!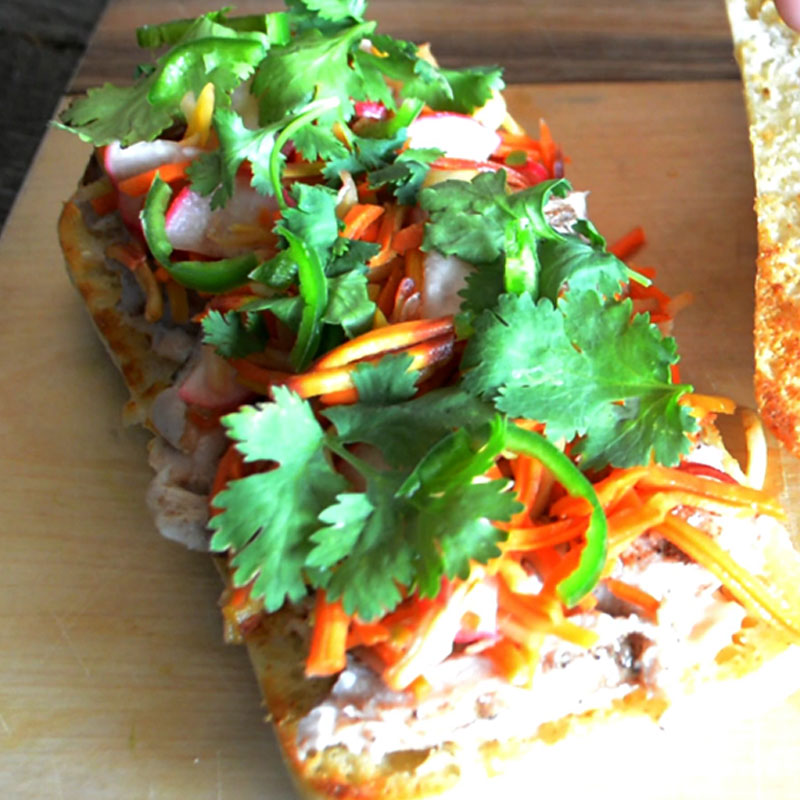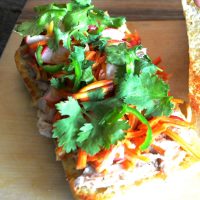 Ingredients
2-4

radishes

sliced thin

1-2

Tbs.

Vietnamese quick-pickle brine*

1/2

cup

carrot

shredded

2

large cucumbers

2-4

cloves

garlic

1

lime

4

organic boneless

skinless chicken thighs

1-2

Tbs.

Chinese Five Spice Powder

4

Ciabatta rolls

7-8

sprigs cilantro

1

jalapeno

optional

4

Tbs.

mayonnaise

homemade recipe

1-2

tsp.

Sambal Oelek

optional
Instructions
Pickle the radishes and carrots. Peel carrots and cut into matchsticks. Trim ends off radishes, cut them in half, then cut the halves into thin half-moons. In a small sauce pot, bring the quick-pickle brine (see recipe below) to a boil. Remove from the heat, add the radishes and carrots and season with sea salt. Cover and let stand, stirring occasionally, while you prepare the rest of the meal.

Smash the cucumbers. Trim the ends from the cucumbers, cut the cucumbers lengthwise into quarters, then crosswise into 2-inch lengths. Finely chop, press or grate enough garlic to measure 1/2 tsp. Juice the lime. In a zip-top bag, combine the cucumbers, garlic and lime juice and season generously with sea salt. Using a wooden spoon, lightly smash the cucumbers. Let stand while you prepare the rest of the meal.

Cook the chicken and toast the rolls. Pat the chicken dry with a paper towel, season generously with sea salt, pepper and the Chinese five-spice powder. In a large frying pan over medium-high heat, warm 1 Tbs. avocado oil until hot, but not smoking. Add the chicken and cook, turning once, until lightly browned and cooked through, 3 to 5 minutes per side. While chicken is cooking, cut the ciabatta rolls in half, lengthwise and set aside. Once chicken is cooked through, transfer to a cutting board to cool slightly, then cut into 1/2-inch-thick slices. Return the pan to medium-high heat and warm the residual fat until hot, but not smoking. Working in batches, add the rolls, cut sides down, and cook until lightly toasted, 1 to 2 minutes. Transfer to a plate.

Prep the garnishes and sambal mayo. Strip the cilantro leaves from the stems. If using the jalapeno, remove the stem, ribs and seeds, then cut the jalapeno crosswise into thin half-moons. (And be sure to wash your hands after handling!) In a small bowl, stir together the mayo and as much sambal oelek as you like. Season to taste with salt.

Assemble the banh mi. Place the roll bottoms, cut sides up, on a work surface and slather with as much sambal mayo as you like. Top each with the chicken, pickled radishes and carrots, cilantro, and as much jalapeno as you like. Close with the roll tops.

Serve. Transfer the banh mi to individual plates and serve with the smashed cucumbers. ENJOY!
Notes
To make Vietnamese quick-pickle brine, mix together 1/4 cup apple cider vinegar + 2 tsp. honey + 1 tsp. fish sauce, adjust according to taste.
Nutrition
Serving:
1
sandwich
|
Calories:
261
kcal
|
Carbohydrates:
27.9
g
|
Protein:
15.8
g
|
Fat:
9.7
g
|
Saturated Fat:
1.5
g
|
Cholesterol:
36
mg
|
Sodium:
903
mg
|
Fiber:
2.4
g
|
Sugar:
4.9
g
Additional Chicken Banh Mi Tips:
You can toast the ciabatta rolls in a 400 degree F oven or toaster oven instead of on the frying pan. Cut the rolls in half lengthwise and arrange, cut sides up, on a sheet pan. Drizzle with 1-2 tsp. oil and season with sea salt and pepper. Toast until lightly browned and crisp, 5 to 7 minutes.
Get your kiddos involved! Kids can measure out the garlic, juice the lime, smash the cucumbers, strip the cilantro leaves from the stems and stir together the sambal mayo! Kids love to help in the kitchen, and we find they're more eager to try unique flavor combinations when they're involved in the cooking!
Looking for More Dinner Recipes?